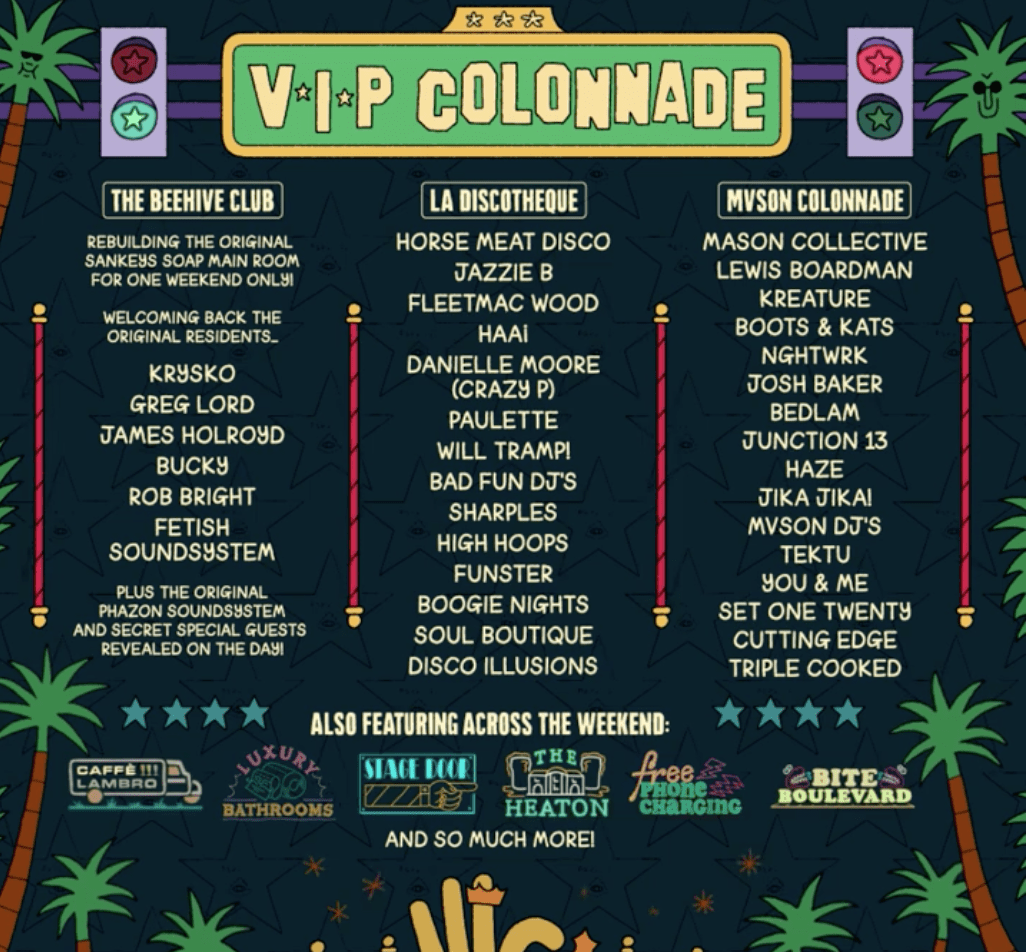 Parklife reveal rebuild of Sankeys for VIP
The all-new VIP arena will house three stages, with Horse Meat Disco, Jazzie B, HAAi and more confirmed to perform, plus a range of extra perks
VIP Colonnade stages:
THE BEEHIVE CLUB
Rebuilding the original Sankeys Soap main room for one weekend only,
with the original Phazon Soundsystem
KRYSKO – GREG LORD – JAMES HOLROYD – BUCKY – ROB BRIGHT – FETISH SOUNDSYSTEM
LA DISCOTHEQUE
HORSE MEAT DISCO – JAZZIE B – FLEETMAC WOOD – HAAI – DANIELLE MOORE (CRAZY P) – PAULETTE
WILL TRAMP – BAD FUNDJS – SHARPLES – FUNSTER + MORE
MVSON COLONNADE
MASON COLLECTIVE – LEWIS BOARDMAN – KREATURE – BOOTS & KATS – NGHTWRK
SET ONE TWENTY – CUTTING EDGE – TRIPLE COOKED + MORE
Final day tickets, weekend bundle and VIP options
available here: www.parklife.uk.com/tickets
Watch the 2018 line-up video here: http://bit.ly/2BExOJT

Parklife 2018
SATURDAY 9TH & SUNDAY 10th JUNE 2018
HEATON PARK, MANCHESTER
https://parklife.uk.com/
With general admission weekend tickets already sold out for Parklife Festival 2018, this year's edition featuring headliners Liam Gallagher, Skepta, The XX, Lorde and N*E*R*D is the fastest selling yet. Year nine will also mark a very special offering for VIP ticket holders in the brand new 'VIP Colonnade' arena, which will boast three stages of music and a homage to the iconic Manchester institution, Sankeys Soap.
Parklife will rebuild the original Sankeys Soap main room – The Beehive Club – in a celebration of its impact on the city's club scene, with the stage hosting the original residents plus the club's legendary Phazon soundsystem. Matt Krysko, (Krysko) says,
"Some people don't really understand the importance of truly great clubs (that have been and gone) and their contribution to culture and the cities in which they exist, they are melting pots of young eager people, many of whom forge relationships in these places that last a lifetime. Speaking on purely a selfish basis, to have the old room re-created and with the original soundsystem, getting together the old residents from my time and the Bugged Out days, even just for a day, will make an old man and many of my friends very happy… and scared, scared that we'll all be acting as if we're in our 20's again. Either-way, I can't fu**ing wait."
Local party starters La Discotheque will host a vibrant selection of DJs such as Horse Meat Disco, Jazzie B and HAAi for their showcase, with MVSON Collective curating their own stage too, while additional perks such as a cocktail & street food village, free phone charging, a selection ofboutiques and luxury bathrooms are also included in the VIP ticket bundles.
Parklife Festival 2018
Date: Saturday 9th & Sunday 10th June
Location: Heaton Park, Manchester
Tickets: po.st/PL18
Website: https://parklife.uk.com/