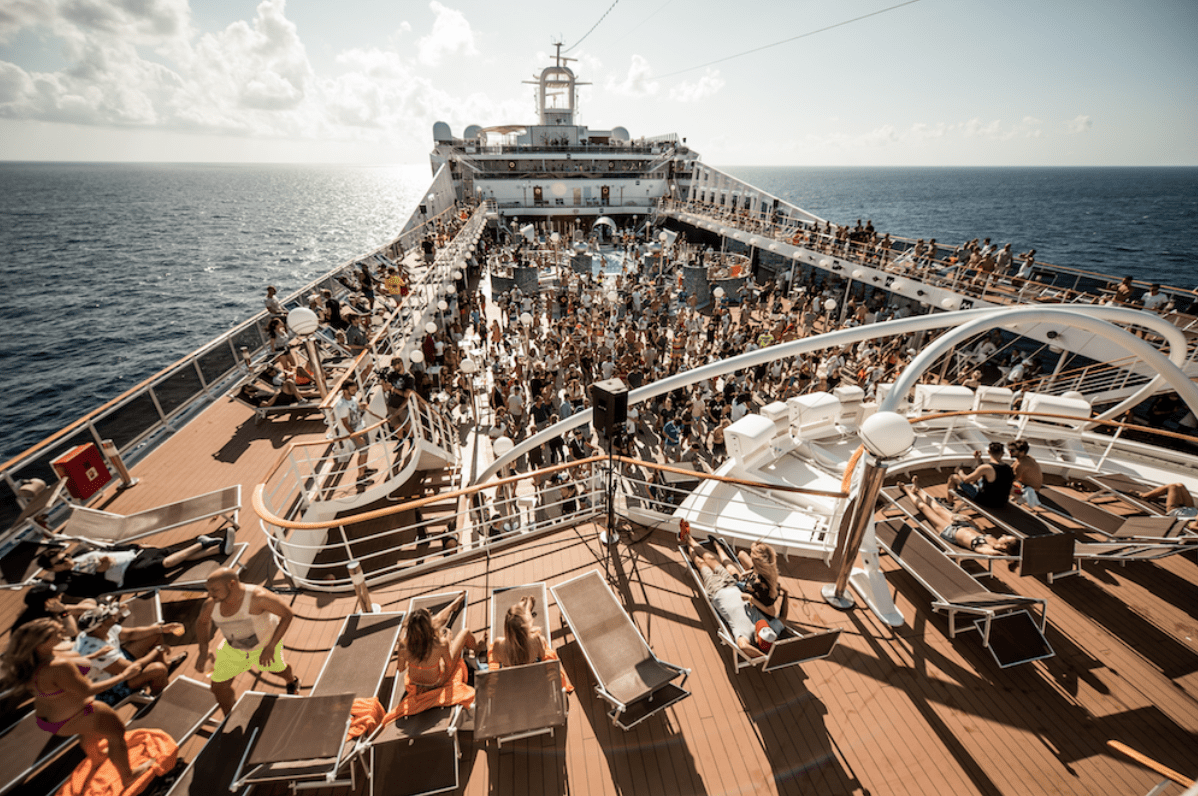 MDRNTY Cruise announces phase 2
Line-up phase 2 of 3 for this year's game-changing MDRNTY Cruise has now been announced, with an enormous 3rd phase still to be revealed.
Joining the already special line-up are the likes of Alci, Archie Hamilton, CAP, DJ Reas, Djebali, Edu Imbernon, Giorgio Maulini, Herodot, James Mc Hale, Jon Charnis, Lazare Hoche, Dana Ruh, Lunar Disco, Mathew Jonson (Live), Mihai Pol, Nima Gorji, and Suciu.
This luxury all-inclusive cruise raises the bar when it comes to parties at sea. It allows you to dance, relax and discover new experiences with the comfort of a luxury cabin to rest your head. The ship also offers an onboard casino, a wealth of bars and restaurants, swimming pools, spa, gym and so much more.
The latest wave of names include many more leaders in their field and is headed up by Wagon Repair label boss Mathew Jonson, whose innovative and on-the-fly live show is second to none. Minimal house and techno will come from tastemakers like Herodot and Frenchman Lazare Hoche, plus deep, jazz tinged house man Djebali also jumps on board. Underground Quality's Dana Ruh is expert in laying down smokey and thoughtful deep house, while dubbed out and tech sounds will come from Fuse's Archie Hamilton.
MDRNTY Cruise Information
24-hour programming
Music will play out for 24 hours non stop on the cruise, with heavyweight names from the worlds of house, techno, minimal and plenty in between all playing, including Ricardo Villalobos, Black Coffee, Stephan Bodzin, Jan Blomqvist, Apollonia, Culoe De Song, Behrouz, Patrice Baumel, Andrey Pushkarev, Audiofly, Eagles and Butterflies, Matthew Dekay, SIT, Hyenah, Osunlade and Ion Ludwig.
"For this second edition, our wish is to present a musical offering that draws on the entire spectrum of underground electronic music, always in an exclusive environment where no one expects to hear it," explains Maxime Léonard, director of MDRNTY.
A Mediterranean trip focused on celebration, relaxation and discovery.
More than just an electronic music festival at sea, MDRNTY Cruise is an ephemeral epicurean experience. That means that on top of the musical offerings, the team behind has curated an electronic trip embellished with pop-up events, artistic and technological shows, film and documentary screenings, exhibitions of contemporary art, electronic yoga soundtracked by specially handpicked DJs and plenty of fun and games and sports, as well as the opportunity to relax and discover two jewels of the Mediterranean: Sardinia and Corsica.
All-inclusive offers
All in all, MDRNTY Cruise is a unique experience for those wishing to enjoy an exceptional getaway, and it offers all-inclusive packages that include:
Cabin accommodation
Unlimited dining
Unlimited drinks (non-premium)
24-hour access to dance floors
4-part payment plans available
From €689 per person in a quadruple room, festival-goers will be able to enjoy all the facilities of the MSC Opera for three full days. The MSC company ship is a leader of maritime tourism in the Mediterranean, has two swimming pools, six bars and three restaurants, and also offers a state-of-the-art health and beauty centre as well as many points of entertainment including a casino, tennis courts, bowling, and high-tech sports club.
About MDRNTY
Since its creation in 2008 MDRNTY, has always been looking for exclusive, unusual places to host the cream of electronic music. Establishing the brand as behind always unmissable events, whether in ski resorts, in a balloon or on the net with MDRNTY +, these unique parties have helped get electronic music out of clubs and into great new locations where an even wider audience awaits. MDRNTY Cruise, whose second edition will take place from 10 to 13 June 2018, will be an unforgettable experience for the 2600 passengers who set sail.
Phase 1/3 line-up
Ricardo Villalobos
Black Coffee
Stephan Bodzin
Apollonia
Andrey Pushkarev
Audiofly
Behrouz
Culoe De Song
Eagles & Butterflies
Hyenah
Ion Ludwig (live)
Jan Blomqvist (live)
Matthew Dekay
Osunlade
Patrice Baumel
SIT (Cristi Cons & Vlad Caia)
Phase 2/3 line-up
Alci
Archie Hamilton
CAP
DJ Reas
Djebali
Edu Imbernon
Giorgio Maulini
Herodot
James Mc Hale
Jon Charnis
Lazare Hoche
Dana Ruh
Lunar Disco
Mathew Jonson (live)
Mihai Pol
Nima Gorji
Suciu
Phase 3/3 line-up
TBA