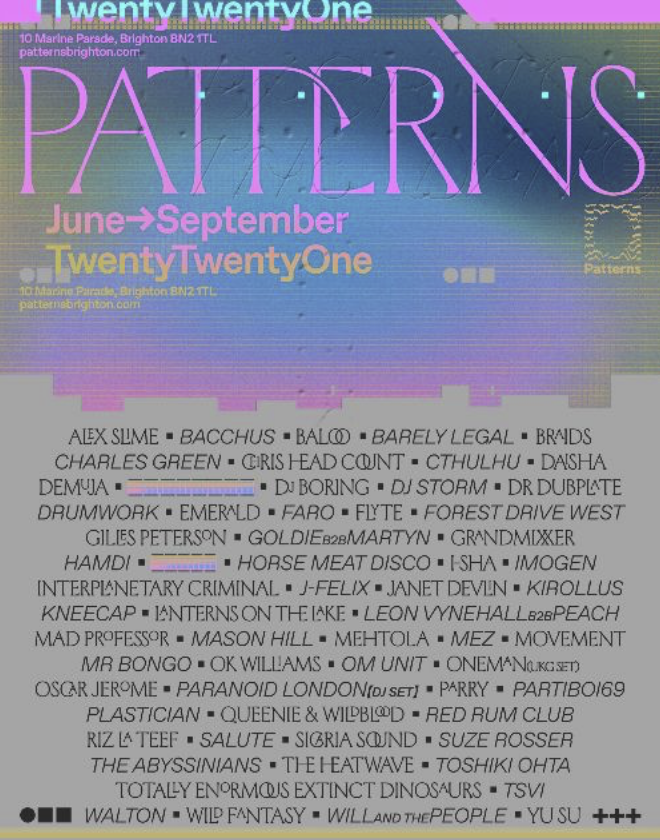 PATTERNS : Back to the dance
PATTERNS : Back to the dance
Goldie B2B Martyn, Leon Vynehall, IMOGEN, Peach, TEED, Riz La Teef, OK Williams, Gilles Peterson + more for June onwards
PATTERNS 
10 Marine Parade, Brighton BN2 1TL, UK
Follow Patterns : insta || facebook || twitter || website
Tickets :  patternsbrighton.com
After what has felt like an eternity without the dancefloor, Brighton's favourite rave cave Patterns is happy to announce a full club programme from this June, returning the much-loved basement space to its intended glory. From June to September, the Patterns team invite a solid-gold set of artists to play including Goldie B2B Martyn, Leon Vynehall, IMOGEN, Peach, Sicaria Sound, TEED, Riz La Teef, OK Williams, Gilles Peterson and more across the first months back. The packed-out calendar unites new faces and old, plus a serious selection of Patterns residents who'll take turns on DJ duties. Full details on line-up and tickets can be found via patternsbrighton.com
Kicking off is a return to the regular Foundations parties on Friday nights, the first instalment on 25.06 featuring Hamdi with a plethora of UKG left-leaning and heavy sounds. He'll be joined by Pavv and Hatter; a dream team set to make the first night go off. On Saturday, Patterns welcomes long term favourites Horse Meat Disco, set to dazzle with a colourful blend of house, disco and club anthems from yesteryear to now. Foundations present the first lady of DnB, DJ Storm, on 02.07, then vibrant deep disco and suave electronic cuts from Demuja up next night. Sicaria Sound will bring low-end heaters and the finest in dubstep explorations on 9.07, then next up there's Barely Legal and IMOGEN set to scale the raw end of techno on 17.07. Calling all garage heads, Oneman goes in with a fully UKG set for Foundations on 23rd. Finishing off the month is the finale, OM UNIT up for Foundations then Forest Drive West & Walton finishing off the month on a high.
August opens with a belter as Patterns once again become the Pride parties from Friday, starting with Patterns Does Pride to Sunday Secret closing the weekend. There's a super line-up TBC on Saturday 07.08, keep your eyes peeled for more news. Turning up the temperature next weekend is The Heatwave presented by Foundations and Tropicalé, and then two absolute legends join forces for a B2B set to impress on Saturday 14.08 – Goldie and Martyn. Not to be missed. Towards the end of the month we have two heavyweight selectors; Riz La Teef + Mez & Grandmixxer, who'll journey through a selection of bass, grime, UK Funky + more. Leon Vynehall and Peach step up on 28.08, then for the final weekend in August there's the UK icon Plastician on Friday Gilles Peterson and Yu Su play for Percolate.
Moving into Sept and there's another stellar month on the cards, opening with a Free Jungle Party from Foundations featuring Alex Slime and Agora, expect hi-tempo, hi-energy dubs from the pair. Blah Blah Blah host on Saturday 04.09 with Totally Enormous Extinct Dinosaurs, then on the weekend of 10th/11th Rinse FM's Emerald will heads up the bill on Friday with Dr Dubplate, and Paranoid London following on Sat. Foundations are back on the 17th, then on Saturday there's a surprise in line as one of the nations favourite duos plays the basement. Patterns will host the Brighton leg of the Boiler Room tour on 22.09 with rising star OK Williams and Nervous Horizon's TSVI. Rounding off September, a fast rising star in the nUKG scene to be announced + salute for Foundations, and DJ Boring with a 5-hour all night long set on Saturday 25th. Choose wisely, or head to as many as you can.
Patterns have been a long-standing hub for the music scene in Brighton, a place for the forward-thinking party people to dance, connect and feel with their favourite artists. The team are very excited to be making the return to live events. As well as the basement club space, Patterns' sea-facing terrace serves as the perfect weekend hang-out spot for cocktails, a solid selection of beers and sourdough pizza (with their newly launched pizza brand 'Cutting Shapes') soundtracked by the resident DJ's. 
Learn more at Patternsbrighton.com
PATTERNS BRIGHTON : June > September
FRI 25.06 Foundations x 23 Degrees: Hamdi, Pavv, Hatter
SAT 26.06 Horse Meat Disco
FRI 02.07 Foundations: DJ Storm
SAT 03.07 Demuja
FRI 09.07 Foundations x Tropicalé: Sicaria Sound
FRI 16.07 Foundations Free 140 Party – Bacchus, Cthulhu, Baloo B2B Movement
SAT 17.07 Barely Legal & IMOGEN
FRI 23.07 Foundations x Bubbly Social – Oneman (UKG Set)
SAT 24.07 PERCOLATE – TBA
FRI 30.07 Foundations x FL: Om Unit
SAT 31.07 Accidental Meetings – Forest Drive West & Walto
06.08 BRIGHTON PRIDE – Patterns Does Pride
SAT 07.08 BRIGHTON PRIDE – CC:Disco & Moxie
SUN 08.08 BRIGHTON PRIDE – Sunday Sundae
FRI 13.08 Foundations x Tropicalé – The Heatwave
SAT 14.08 Goldie B2B Martyn
FRI 20.08 Riz La Teef + Mez & Grandmixxer
SAT 21.08 Leon Vynehall B2B Peach
FRI 27.08 Plastician
SAT 28.08 PERCOLATE – Giles Peterson & Yu Su
03.09 Foundations Free Jungle Party – Residents
SAT 04.09 Blah Blah Blah – Totally Enormous Extinct Dinosaurs
FRI 10.09 Foundations x 23 Degrees – Emerald & Dr Dubplate
SAT 11.09 Memory Box – Paranoid London
FRI 17.09 Foundations – Interplanetary Criminal & Bailey Ibbs 
SAT 18.09 TBA
WED 22.09 Boiler Room Tour – OK Williams & TSVI
FRI 24.09 Foundations – TBA & salute
SAT 25.09 DJ BORING All Night Long
PATTERNS 
10 Marine Parade, Brighton BN2 1TL, UK
Follow Patterns : insta || facebook || twitter || website
Tickets :  patternsbrighton.com