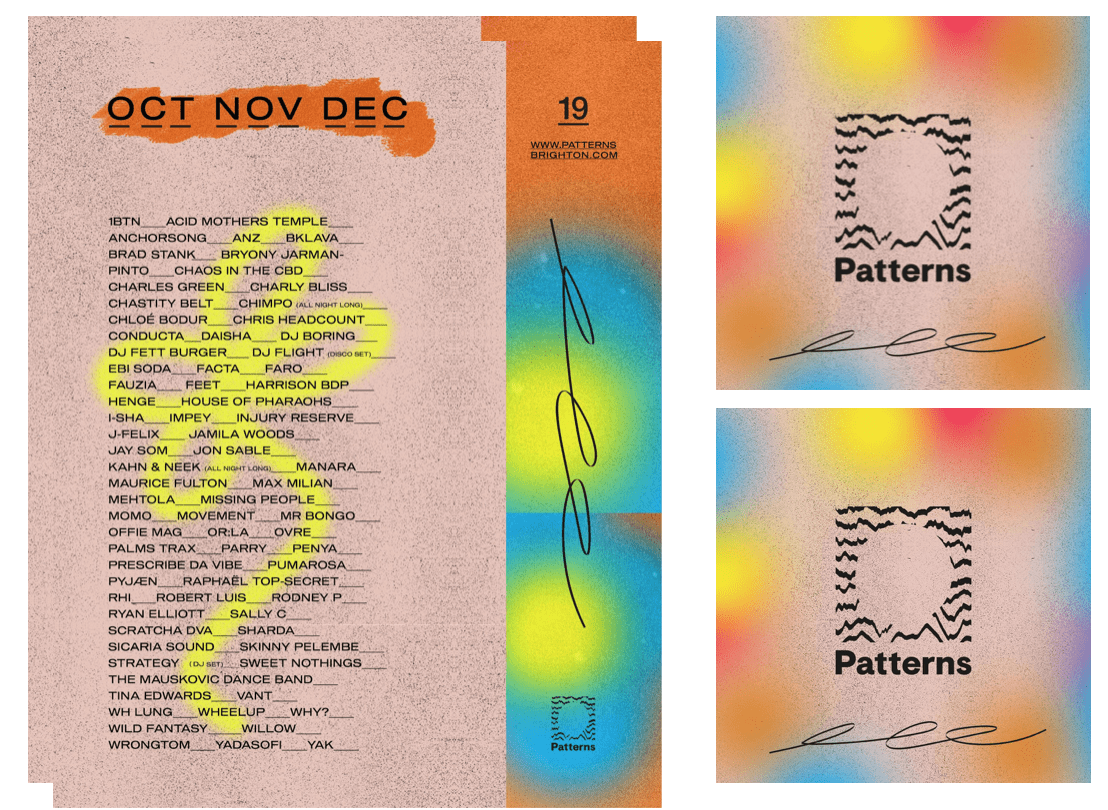 Patterns launches brand new residents led 'FOCAL' concept
Patterns launches brand new residents led 'FOCAL' concept, plus DJ Fett Burger, Joy Orbison, L U C Y, Batu, Ryan Elliott, Eclair Fifi, Willow, Kahn & Neek, Palms Trax, Raphaël Top-Secret, Maurice Fulton, Sally C, Chaos In The CBD + more to round off 2019
PATTERNS
10 Marine Parade, Brighton BN2 1TL, UK
Follow Patterns : insta || facebook || twitter || website
Patterns has solidified its reputation as the cities premiere dancing spot by bringing forward-thinking and far-reaching sounds to Brighton week in, week out. Always distinctive and diverse; the line-ups span from left-leaning techno stompers to hi-energy grime, dusty disco grooves to heads down hip-hop. To see the year out, Patterns has curated a packed-out calendar of parties and live shows, featuring DJ Fett Burger, Joy Orbison, L U C Y, Batu, Ryan Elliott, Eclair Fifi, Willow, Kahn & Neek, Palms Trax, Maurice Fulton, Sally C and more. And, there's more huge news with the launch of 'FOCAL'.The idea is simple, each resident will in time invite an artist they have a connection with to play with them all night long. FOCAL will not be defined by set times; each party will unravel naturally. First off Charles Green presents : Ryan Elliott, followed by Methola presents : Willow. Tickets and more information for shows : http://patternsbrighton.com/
– NEW TERM –
There's plenty of action in fresher's this September, kicking off with high-brow heat from L U C Y who plays the regular Foundations session on the 20th. Next up, there's Patterns faves Horse Meat Disco heading to the basement, joined by residents Mr Bongo. A special one is in store on Sept 23rd as Boiler Room takeover with a heavy bill. On a different tip, there's discerning jazz from an Offie Mag presented night with Chloé Bodur, Yadasofi and Ebi Soda, and rounding off the week is a free jungle party from Foundations gang on the 27th and Or:la with Batu and Momo with angular techno and cosmic creations on the 28th; the final instalment of her residency.
October kicks off with the return of garage gang Klub Kiwi, hosted by label boss Conducta with guests Sharda and PDV; expect badboy basslines to soundtrack the night. On Saturday 5th it's Sex Tags Mania head honcho DJ Fett Burger who makes his club debut with a three hour set of  dance-floor  oddities. The following weekend it's Manchester's finest, Chimpo, heading to the basement all night long and on Saturday 12th October, it's the very first FOCAL event. For the primary party, long-term Patterns resident Charles Green invites Ryan Elliott to join him; a DJ / producer who has been a source of inspiration for Charles. In the later half of the month, SHOOK and Foundations bring Scratcha DVA to the club, there's Cooking with Palms Trax ft. Raphaël Top-Secret, plus Kahn & Neek play all night long, and Soirée presents Harrison BDP.
Starting November with a dose of low-end theory it's Foundations x 23 Degrees on the 1st with a host of dubstep and bass's breakout names. FAUZIA & Sicaria Sound, i-sha & Layce will journey through sounds from the 140 to 160 BPM spectrum. Brighton based independent label Tru Thoughts celebrate their 20th anniversary on 2nd with global hip-hop, soul and more. On the 9th it's the second date in the FOCAL series; this time it's Methola inviting revered selector and producer Willow to join him in a session that'll span left-leaning techno, acid and breaks. Also through November see DJ Boring and Maurice Fulton play at separate Patterns in house parties, DJ Flight heading to the club space with a disco-fuelled agenda and more Foundations sessions with Manara and ANZ, and a Free Liquid Party. There are a few more big names to join through this month too; keep your eyes on socials for updates.
December is another big month in the Patterns diary with solid selection of names joining each week. Ones to watch include the Brighton stop of the In Dust We Trust UK tour with Chaos In The CBD and Jon Sable on 7th December, who'll be playing all night long in Patterns' much loved rave space. The following Saturday, Belfast's finest Sally C returns with her trademark selection of nostalgic classics and dusty rare grooves, one not to miss. For a taste of what is in store, check her Boiler Room here. There's a belting line-up in store for NYE, which brings together two of Pattern's favourites selections for what will be a trip into 2020. And of course, there'll be more Foundations sessions on Friday's for those fans of all things Drum N Bass, jungle, hip-hop, grime and more. More information will be released soon.
Patterns also hosts live shows and intimate jazz events as part of it's regular offering. Live shows across the rest of the year include Plastic Mermaids, House of Pharaos, VANT, Skinny Pelemble,, Yak to name just a few. The venue is also teaming up with OFFIE Mag for their a jazz series with Chloé Bodur, Yadasofi, Ebi Soda, PYJÆN and. For more information on the live offering, head to http://patternsbrighton.com/
Patterns is a centre for creativity in the city; a hub for new music, art and culture in Brighton and beyond. The basement welcomes hundreds of music lovers each week; a perfect gig space and live music venue, whilst the upstairs is a casual hangout area where visitors can relax inside or on the beach-facing terrace, ideal for those summer months. Patterns is the perfect spot to immerse yourself in the local Brighton lifestyle, a venue much loved by it's creative locals as well as visitors to the city.
Follow Pattern's playlists on Dice for some club sounds :
<iframe src="https://open.spotify.com/embed/user/dice.fm/playlist/1DefFkmnyAJLuOoiQFaxkE" width="300″ height="380″ frameborder="0″ allowtransparency="true" allow="encrypted-media"></iframe>
– PATTERNS LISTINGS –
– FRESHERS WEEK –
20.09 Foundations: L U C Y 
21.09 Patterns with Horse Meat Disco & Mr Bongo
23.09 Boiler Room:
26.09 Jazz Club: Offie Mag presents Chloé Bodur, Yadasofi & Ebi Soda
27.09 Foundations: Free Jungle Party
28.09 Or:la invites: Batu & Momo
Q4 LISTINGS 
04.10 Foundations x 23 Degrees: Klub Kiwi with Conducta, Sharda & PDV
05.10 Patterns with DJ Fett Burger 
11.10 Foundations x Tropicale: Chimpo (All Night Long) 
12.10 Charles Green presents FOCAL: Ryan Elliott
18.10 Foundations x SHOOK: Scratcha DVA 
19.10 Patterns invites Soirée with Harrison BDP
25.10 Foundations x Materials: Kahn & Neek (All Night Long)
26.10 Cooking with Palms Trax ft. Raphaël Top-Secret 
01.11 Foundations x 23 Degrees: 140 vs 160 with Fauzia & Sicaria Sound, I-SHA & Layce
02.11 Tru Thoughts 20th Anniversary08.11 Foundations: Free Liquid Party
09.11 Mehtola presents FOCAL: Willow 
15.11 Foundations x SHOOK: Manara & Anz 
16.11 Patterns with DJ Boring
22.11 Foundations x Front Left Facta + more TBA
23.11 Patterns with Maurice Fulton
29.11 Foundations x Strictly Bangers: DJ Flight (Disco Set)
30.11 Patterns invites Accidental Meetings
06.12 Foundations:
07.12 Patterns invites In Dust We Trust with Chaos In The CBD & Jon Sable (All Night Long) 
13.12 Foundations:
14.12 Or:la invites Sally C 
31.12 NYE line ups TBA
26.09 Jazz Club: Offie Mag presents Chloé Bodur, Yadasofi & Ebi Soda
23.10 Jazz Club: Offie Mag presents PYJÆN & TBA (Worldwide FM)
21.11 Jazz Club: Offie Mag presents: Project Karnak – TBC
PATTERNS
10 Marine Parade, Brighton BN2 1TL, UK
Follow Patterns : insta || facebook || twitter