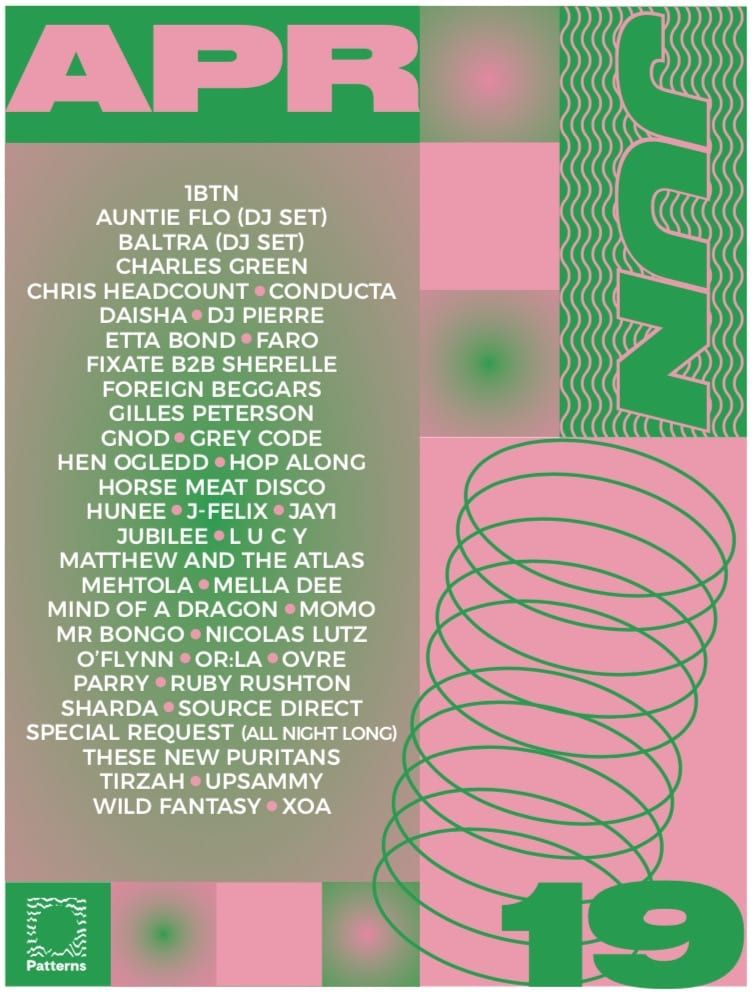 PATTERNS News: Brighton's favourite seafront dancing spot from April to June 2019
Any South Coast based music aficionado can tell you that Patterns is the go-to spot to catch breakthrough and established artists week in, week out. With warmer months on the horizon, Patterns announce a solid-gold collection of names who'll be joining from April to June; the likes of Nicolas Lutz, Special Request, Or:la, DJ Pierre, Hunee, Jubilee, These New Puritans, upsammy, Tirzah, Baltra, Sherelle and plenty more. There's fresh live events including regular jazz shows, residencies, a next-level Great Escape programme (after parties too) and brand new club concepts to look forward to. Armed with a top quality sound system and an intimate basement space perfect for letting loose, Patterns is the place to experience sounds far-reaching and forward-thinking. Tickets available here : https://bit.ly/2HaYXut
Kicking off the programme in April is a heavy weekend with the next in Foundations locals-focused Jungle party series on Friday 5th, then Mella Dee taking over the basement space on Saturday with his usual blend of fierce warehouse-friendly, industrial noises all night long. Next weekend starts with Foundations and Shades who'll be coming together to present a night of immersive art and hip hop. Then on the 13th April we get nostalgic with Chicago icon, legend and all round don DJ Pierre; expect only the finest acid selections. The 20th sees pioneer Special Request with an all night journey through left-leaning club selections and angular jungle, house and techno. Patterns plays host to two heavy after parties for Brighton Music Conference the following week; bass oddities and club anthems from NY's Jubilee on Friday 26th, then the Saturday 27th sees cosmic man of mystery and My Own Jupiter boss Nicolas Lutz play downstairs – definitely not one to miss.
Moving in to May and there's more heavyweight parties, starting with a hi-energy DnB takeover from Foundations x SWTCH on 3rd May headed by. Continuing her residency, Or:la invites upsammy and Brighton based Charles Green to join her on selection duties. The Great Escape take over Brighton the week after, and as always, Patterns is home to the highly anticipated 'The Late Escape' after sessions; Friday is all about garage and bass as Conducta presents Klub Kiwi, inviting Mind Of A Dragon, Sharda and L U C Y to hold it down. Saturday's edition of 'The Late Escape' is set to be a left-leaning special with a massive line-up and curator to be announced. Another double festival weekender, Patterns teams up with Funk & Soul Weekender on the 17th / 18th for a weekend of soulful sounds, Friday's bill features Auntie Flo & XOA with Gilles Peterson stepping up in the booth on Saturday. Next week, Foundations invite Tropicalé to host a Free Carnival Party. There's a special affair on 25th as Patterns welcomes the one and only Hunee to the basement for one of his famed sets, bringing warm, eclectic and groovin' tracks to Brighton. Dancing shoes a must. Finishing off the month in style are Foundations and 23 Degrees with a 160 Special, there'll be footwork, drum and bass, jungle and more from Exit Records family Fixate B2B with Sherelle, fresh from a killer Boiler Room debut.
Rounding off the Q2 programme in June is another serious team of selectors and live acts. Feel-good disco and house comes from the Horse Meat Disco gang on 1st June, always a guaranteed grand time. One for the high-level BPM heads, Patterns teams up with Materials on 14th for a history of DnB session with Source Direct – an artists who's played an integral part in the scene since the 90s. Find lo-fi, smooth jams and acidic chuggers from Baltra on 15th June as he heads to Brighton for a special DJ set. The weekend after, there's jungle and beyond from Grey Code and guests as Foundations team up with Wheel It to celebrate all things jungle and DnB. Ninja Tune signee O'Flynn also joins in June, a breakthrough name being championed by the likes of Four Tet, FaltyDL and more – he'll be downstairs on June 22nd. There's more to come too, keep an eye on Patterns socials for announcements. Tickets for all shows vary in price, more info here : https://bit.ly/2HaYXut
In the past four years, Patterns has established itself as a hub for creativity in Brighton and further afield, striving to curate a space for fresh new music, art and culture in the community. As well as the club space downstairs designed to provide the ultimate sonic club experience, Patterns' ground floor also serves as an ideal hangout where visitors can relax inside or on the beach-facing terrace. Patterns is an ideal spot to immerse yourself in the local Brighton lifestyle, whether a local or out of towner visiting for a day or two.
PATTERNS Q2 CLUB LISTINGS
TICKETS : https://bit.ly/2HaYXut
05.04.19 Foundations Free Jungle Party
06.04.19 Patterns with Mella Dee (All Night Long)
12.04.19 Foundations x Shades:
13.04.19 Patterns invites Memory Box with DJ Pierre
19.04.19 Escape In the 90s with Full Intention
20.04.19 Patterns invites Soirée x Emergency Room: Special Request (All Night Long)
26.04.19 Foundations: Jubilee (Official BMC After party)
27.04.19 Patterns with with Nicolas Lutz (3 Hour Set) (Official BMC After-party)
03.05.19 Foundations x SWTCH:
04.05.19 Or:la invites upsammy and Charles Green
10.05.19 The Late Escape: Conducta's Klub Kiwi with Mind Of A Dragon, Sharda and L U C Y
11.05.19 The Late Escape: TO BE ANNOUNCED
17.05.19 Foundations x Funk & Soul Weekender: Auntie Flo, XOA + more TBA
18.05.19 Patterns invites Funk & Soul Weekender with Gilles Peterson
24.05.19 Foundations x Tropicalé: Free Carnival Party
25.05.19 Patterns with Hunee (3 Hour Set)
31.05.19 Foundations x 23 Degrees 160 Special: Sherelle B2B Fixate
01.06.19 Patterns with Horse Meat Disco
07.06.19 Foundations
08.06.19 Patterns invites Good Life
14.06.19 Foundations x Materials: A History of DNB with Source Direct
15.06.19 Patterns with Baltra (DJ Set)
21.06.19 Foundations x Wheel It: Grey Code
22.06.19 Patterns with O'Flynn
28.06.19 Foundations
29.06.19 Patterns invites
LIVE SHOW HIGHLIGHTS
04.04.19 Jazz Club: Tenderlonious presents Ruby Rushton
06.04.19 Tirzah
10.04.19 Etta Bond
18.04.19 These New Puritans
04.05.19 Bakar
21.05.19 Maisha
+ MORE TBA : Follow via socials for announcements