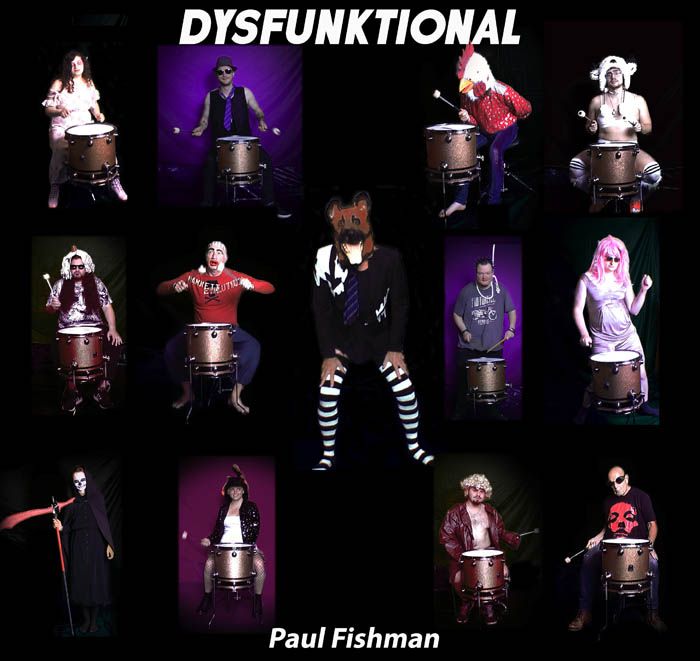 Paul Fishman- electronic artist, composer and record producer releases autism-inspired single "Dysfunktional"
Paul Fishman: electronic artist, composer and record producer is a globally renowned creator of innovative electronic music. He has worked with some of the biggest names in the music industry, as well as producing and composing music for many internationally acclaimed feature films. Paul is set to release a new single "Dysfunktional" on 31st March 2023 which will be made available across all streaming platforms.
Paul Fishman has been involved in electronic music since aged 17 when he joined London's Cockpit Theatre experimental music group, performing works by Stockhausen, Cage, Terry Riley and other contemporary composers. While studying composition at the Guildhall School of Music was signed to Warner Brother Records and mentored by Derek Taylor. During the 80's he formed the group Re-Flex who achieved international success with both album and single "The Politics of Dancing". Although regularly performing in the UK, the band first gained attention in America, where they topped the US dance charts, had a Billboard hit and toured extensively supporting The Police and The Thompson Twins. They were among the first of a wave of UK artists to be featured on MTV.
Paul's knowledge of electronics gained him a reputation as a respected session musician and was in demand by film composers. He has worked with legendary artists and record producers (Public Image Limited, Elton John, Slade, Trevor Horn etc.) As a record producer, among his credits include mixing tracks for Motown's Marvin Gaye & The Temptations, artists signed to Prince's Paisley Park label and UK artist Yazz. Throughout his career he has continued to produce a wide range of different styles of music, from dance, pop, soul, jazz and even classical. Among his film credits are – 'Superman', 'Death Wish', 'Breakdance' and produced and mastered iconic soundtracks 'Get Carter', 'The Internecine Project' (Roy Budd) and 'Just a Gigolo' (David Bowie & Marlene Dietrich).
Returning to a love of electronics, with the goal of creating music that was different and outside current trends, in 2019 Paul released  "It's About Time – Part 1". The album is entirely instrumental, boldly attempts to combine electronic music with different genres, where 'space age' cyber-funk and ambience get to live together with 'big tunes'. This was followed in 2020 by  "It's About Time – Part 2" . Later that year an unreleased album of songs written and recorded with Dave Harris (Fashion, Rick Wright Pink Floyd etc.) under the name Boom Boom called "2 Into the Groove" was made available. In 2021, Paul released "Art Official Intelligence", an album of new songs which featured the singles 'Bad Man' 'Lockdown', 'Going Down Slow' and 'On', supported with videos produced by Paul.
The new single "Dysfunktional" is the first to be released from the forthcoming album "Abnormal"- out later this year and was inspired by his relationship with autism. He explains: "…I have spent a considerable amount of my life with those who like myself are "on the spectrum". They are among the most creative and intelligent people I've had the fortune to meet and truly capable of thinking outside the box because they are. For many, it does not represent a disability but a gift as it is the ingredient that makes them different and exceptional. To be an artist, it is a requirement".
"Dysfunktional" features Paul on vocals and keyboards but also some select musicians: Leo Richardson is regarded to be among the best sax players in the UK and a leading figure within Be Bop jazz. Todd Oliver, Paul's son, a very gifted guitarist and artist, has performed on many releases including with UK singer Kwabs. Dave Harris on B vox- Paul simply describes as "a legend, good friend & Bume".
The track was created with "The mothership" aka Lilly, named after his mother. He explains: "Born during lockdown, Lilly is a modular synthesiser system, a distant cousin of Tonto that has slowly grown and evolved. It is an extremely versatile musical tool, capable of creating complex rhythms that surprisingly work well with funk and is featured throughout my new album Abnormal. Similar to my mother, Lilly is on the spectrum and totally outside of the box."