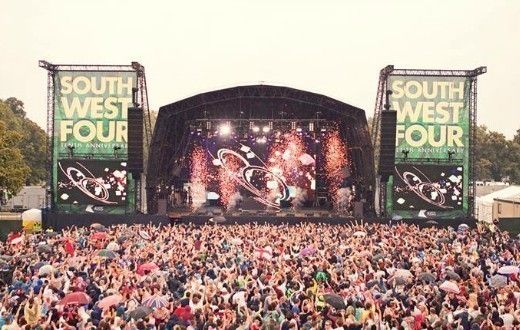 Paul Kalkbrenner, MK, Andy C & Booka Shade added to SW4 line-up…
With the sun shining on Clapham Common for the first time this year, SW4 fever is certainly starting to take hold. Monday's news that the mighty deadmau5 will return to the Capital this summer to close this year's festivities has captivated the minds of many. Anticipation has been replaced by excitement as we countdown the months until the Canadian superstar makes his South West Four debut and his only London performance this year. Deadmau5 follows in the footsteps of Maceo Plex, Marco Carola, Netsky [Live] and Skream to play SW4 Sunday, whist Above & Beyond, Alesso, Jamie Jones, Markus Schulz and Sasha are amongst the acts already confirmed for SW4 Saturday.
Keeping to our promise of delivering you the VERY best the names the electronic music world has to offer, we can now announce four pioneering musical forces to our August Bank Holiday weekend extravaganza…
JUST ADDED TO SW4 SATURDAY
PAUL KALKBRENNER LIVE (EXCLUSIVE UK SHOW 2014)
BOOKA SHADE LIVE
Having filled arenas across the world with his energetic compositions, Berlin techno institution Paul Kalkbrenner finally makes his SW4 debut in 2014. As one of the first artists to be signed by Ellen Alien's revolutionary BPitch Control imprint in the '90's, the hugely popular live act has gone onto leave his mark on the German's capitals musical development. After writing the platinum selling soundtrack 'Berlin Calling' and delivering an excellent performance in the film of the same name, Kalkbrenner has achieved complete domination in underground circles. During his live sets you will hear nothing but his own melodic productions, which he rearranges each time to deliver a unique performance. We're pleased to welcome him to Clapham Common for his only UK performance this year – get ready for SW4 Calling!
Beloved worldwide for their dancefloor classics, SW4 2014 witnesses the long overdue debut of Frankfurt's finest Booka Shade. Following huge releases on R&S Records, Harthouse and Tommy Boy, Booka Shade moved to Berlin in 2002 to form their own 'Get Physical' Records, with leading artists M.A.N.D.Y and DJ T. From here their productions like 'Mandarine Girl', 'Night Falls' and 'Body Language' turned the German duo of Walter Merziger and Arno Kammermeier from breakthrough artists into one of the most significant electronic music acts of the past two decades. Fast forward twelve years and the guys have now released five albums and continuously toured the world. In 2014 Booka Shade will bring their brand new live show to SW4 which will feature cuts from their back catalogue along with showcasing their new album 'EVE'. We cannot wait.
JUST ADDED TO SW4 SUNDAY
MK
ANDY C
Another act making his long awaited SW4 debut in 2014 is undeniably the hottest property in house music right now; Marc Kinchen aka MK. Having been responsible for creating some of the defining sounds and biggest house tracks in the 1990's, including 'Burning' and his pioneering remix of Nightcrawler's 'Push The Feeling On', MK took a break from dance music until 2011 when he remerged more prolific than before. Through his timeless productions, MK's renasissance has infuenced a new generation of fans resulting in his sound becoming more dominant today than it ever has been. After releasing 'MK In The House' for Defected in 2013, it was clear that MK was back to his very best, with his remix of Storm Queen's #1 single 'Look Right Through' becoming the pivotal track. Further remixes of Disclosure, London Grammar, Hot Natured, Haim and Paloma Faith are additional evidence of his huge demand and with continued dominance on the cards in 2014, we cannot wait to welcome the Area 10 boss for a house music masterclass.
Whether it's causing havoc on our Main Stage or anarchy is his own arena, Andy C's standout performances at SW4 over the years have made him one of the most popular acts that we showcase each summer. Universally recognised as one of the greatest DJs to walk the planet, The Executioner has helped to shape drum & bass for over twenty years. Repeatedly scoring awards for 'Best DJ' by the likes of DJ Magazine, National D&B Awards and the Drum & Bass Arena Awards amongst others, Andy's long-standing contribution to the scene is unrivalled. After selling out his upcoming 'Andy C All Night' event in just a few days, his huge fanbase will arrive on Clapham Common in great numbers for the next uncompromising DJ set from their hero. As one of dance music's most sought after acts, we're delighted that Andy has once again chosen South West Four for his exclusive London festival appearance.
SW4 SATURDAY & WEEKEND TICKETS INCREASE IN PRICE TUESDAY
With the monumental headliners now announced alongside fifteen mammoth names across the weekend, our 2014 instalment has enjoyed record breaking sales so far. The Saturday and Weekend Saver tickets are now due to sell out but we are giving you until NEXT TUESDAY 18TH MARCH AT MIDDAY to purchase these last remaining tickets. After this point tickets will increase to the standard price so don't leave it any longer to get yours for this exclusive discount.