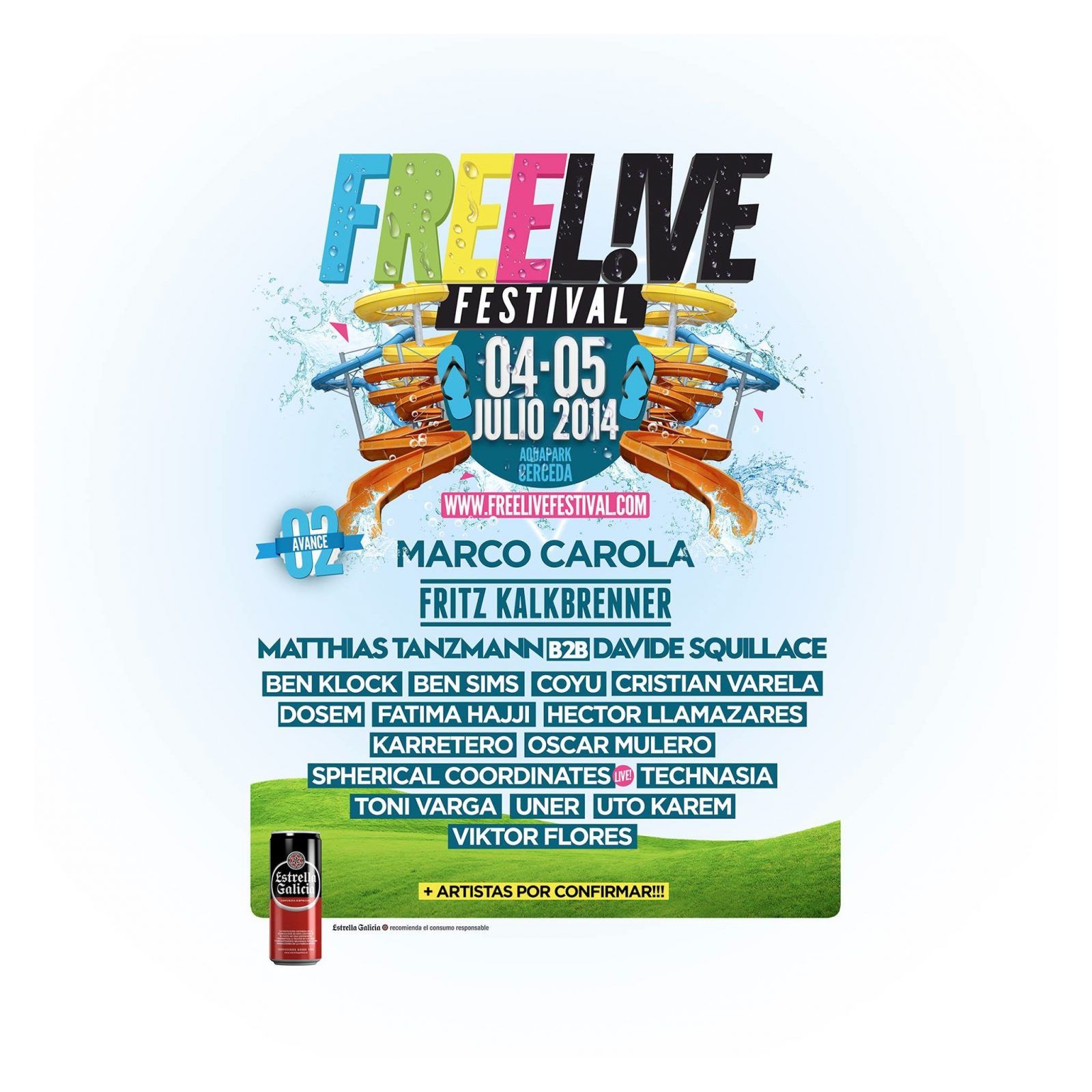 Freelive Festival announces line-up
Freelive Festival
4th and 5th of July
Cerceda's Aquapark in A Coruña, Spain
Marco Carola, Spherical Coordinates (live!), Davide Squillace B2B Matthias Tanzmann, Ben Klock, Uner, Technasia, Toni Varga Héctor Llamazares, Uto Karem, Fritz Kalbrenner, Óscar Mulero, Ben Sims, Cristian Varela, Coyu, Viktor Flores
During the 4th and 5th of July people from around the world are invited to vibrate to the electronic rhythms of Freelive Festival's Second Edition at Cerceda's Aquapark in A Coruña, Spain. The first names for the 2014 festival are already confirmed and cover plenty of techno bases.
The first headliner for Freelive 2014 is Marco Carola. Over the course of the last two decades, Italian Marco Carola has made a lasting impact on the techno world. Always focussed on an inherently funky, sleek and stripped back brand of minimalism, Carola has helped develop the genre both with his own productions and albums but also as the pioneering head of labels including the likes of Design Music, Zenit, Question, One Thousand Records and Do.Mi.No as well as the Music On night in Ibiza.
Brit and fabric regular as well as Machine resident Ben Sims will also play, as will Spanish Suara boss Coyu and German pin up Fritz Kalkbrenner plus DC10 heroes Davide Squillace and Matthias Tanzmann who will play back to back. Another great artist confirmed is Ben Klock. He is resident at Berghain Club and a leading representative of the underground techno sound of Berlin, so he is an essential artist for Freelive 2014. Charles Siegling aka Technasia is another one playing who has a truly characteristic techno sound and Davide Squallace is also playing – he is the tech house legend that plays amazing sets at Circo Loco each summer.
UNER is one of the most important names of the new generation of Spanish electronic music producers. His musical training allowed him to develop at a very early age a different dance music concept, based on the pleasure for harmony and the search for a unique, personal sound. Freelive also presents one of the newest acts on the scene – Spherical Coordinates live! It is a team project between Oscar Mulero and Christian Wunsch. Both of them have worked hard to release some great EPs on Token Records and Pole Group, but nowadays it the pair also do a fine live act and Freelive will be one of the first festivals who will host them: techno lovers will be pleasured by them!
Toni Varga is the resident of Elrow and this year he repeats last year's antics at Freelive Festival due to how much of a success his set was in 2013. Other acts playing include Hector Llamazares, one of the most important DJs in the north of Spain, Uto Karem and Karretero, an essential Madrid DJ and resident at Reverse Club.
Freelive Festival tickets at official outlets are 35€ each and there will be more news about the full line up in the coming weeks. Freelive Festival offers two days of fun with the best electronic music on unique stages and with great camping so stay tuned!
www.freelivefestival.com