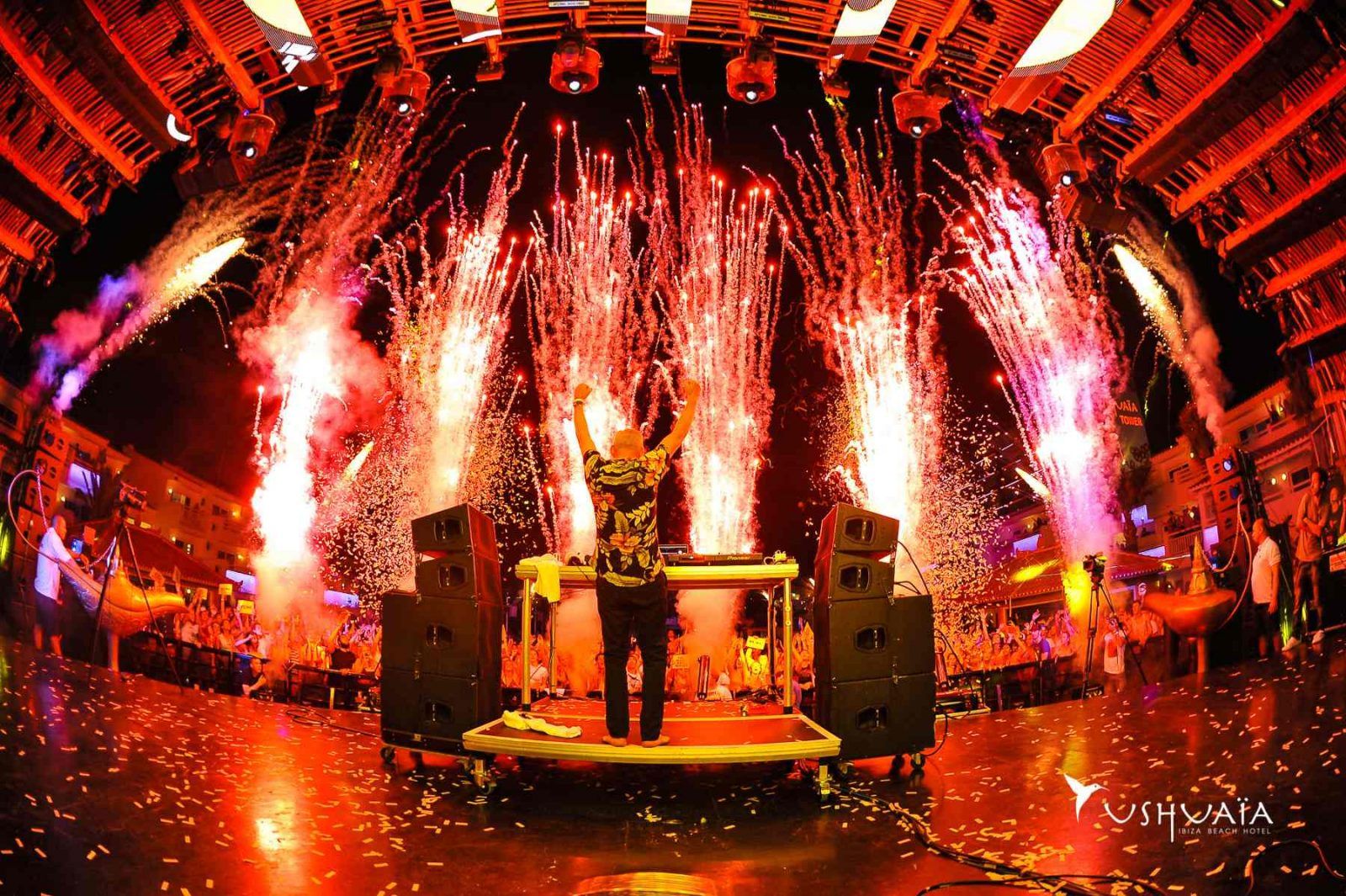 Pete Tong Announces Le Grand Bazaar Closing Party
A free daytime beach hangout for the island's clubbing community that becomes a full-blown party destination at dusk, Pete Tong's Le Grand Bazaar at Ushuaia has quickly become this season's hottest ticket.

Four events in and Le Grand Bazaar has already welcomed evening performances from Calvin Harris, Pharrell Williams, Fatboy Slim, Hot Natured (debut Ibiza live performance), Idris Elba, Nervo and more. And with forthcoming events with Afrojack, Carl Cox, Eats Everything, Luciano, Paul Kalkbrenner, Reboot, Hot Since 82, and beyond, the weekly fiesta holds true to its promise of bringing together global headliners with the finest underground talent.

This week's night-time event features a Jacked takeover, with Afrojack joined by Quintino, Shermanology, Mass Prod, Bobby Burns, Leroy Styles, Apster, and Pete Tong himself.

One of the first closing parties on the island, Le Grand Bazaar's eagerly anticipated climax on 30th August will feature Pete Tong, Carl Cox and Eats Everything, with Pete first playing on the beach alongside Negru and Garagem.
Beginning on the sands at the Ushuaïa Beach Club & Restaurant, the free daytime beach party is where industry figures and Ibiza's local crowd assemble to hear a soundtrack of blissed out electronica from guest DJs, hosted on alternate Fridays by Traktor Cookery School's bbq concept (this week features Carl Craig and Dubfire on the grills cooking for invited guests) and Fact (Barcelona).
Continuing the daytime activities next door, Ushuaïa's Magic Garden hosts a hippy market every Friday featuring stallholders selling vintage fashion, jewellery and various objet d'art.

Each week at 5pm, Pete records a very special Le Grand Bazaar version of his international All Gone Pete Tong radio show which is broadcast live on Ibiza Sonica, and recorded for transmission across America on electronic music station Evolution on iHeartRadio, Clear Channel's digital radio platform, and around the world via his numerous international partnerships. A special guest DJ takes over from 6pm – 7pm, before the party moves inside Ushuaïa.
All artwork and visuals for Le Grand Bazaar are by leading British artist, Damien Hirst. Matt Twist has used Hirst's artwork to design unique illustrations for the event, the bold look and colour palettes of which match the vibrant ethos of this season's premier Ibiza party.
Listings information:
'LE GRAND BAZAAR'
9 AUG
CLUB
JACKED TAKEOVER WITH AFROJACK / QUINTINO / SHERMANOLOGY / MASS PROD / BOBBY BURNS / LEROY STYLES / APSTER
BEACH
PETE TONG / TATO / TRAKTOR COOKERY SCHOOL / KENNETH BAGER
16 AUG
CLUB
PETE TONG / PAUL KALKBRENNER / REBOOT / HOT SINCE 82
BEACH
PETE TONG / MAGIT CACOON / MASS PROD / FACT BCN
23 AUG
CLUB
PETE TONG / LUCIANO
BEACH
PETE TONG / MIGUEL CAMPBELL / TRAKTOR COOKERY SCHOOL / KENNETH BAGER
30 AUG
CLUB
PETE TONG / CARL COX / EATS EVERYTHING
BEACH
PETE TONG / NEGRU / GARAGEM / FACT BCN
Fridays until 30 August
2pm to Midnight
Tickets: 50 EUROS
http://www.ushuaiaibiza.com/en/tickets/

USHUAÏA IBIZA BEACH HOTEL
PLAYA D'EN BOSSA 10 • 07817 SANT JORDI DE SES SALINES • IBIZA
VIP RESERVATIONS +34 605 366 422