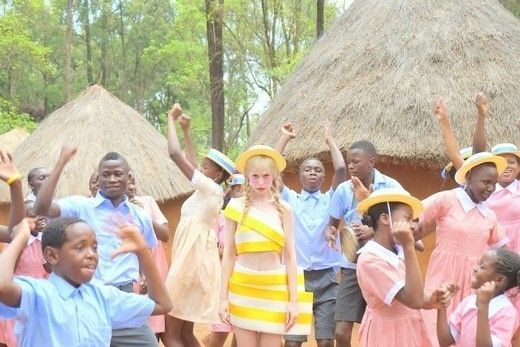 Petite Melle – Baby Love
In her new joyful Gospel pop tune Baby Love, Petite Meller takes us on a new voyage into her absurd fantasies. The song explodes with joy and exuberance; dizzy drumbeats colliding with a catchy handclap chorus and jazz saxophone, creating Petite's most hedonistic party song to date. In Petite's signature style, the track is paired with a colourful video set in Africa. Petite has always been inspired by the sounds of Africa in her music, so choosing to set the location here was an innate creative decision.
"Baby Love is my Freudianic term for 'Jouissance' (Enjoyment)- a transcendental dance of love, an a'Cappella to convey pleasure out of pain."- Petite Meller
Exploding with carefree inhibition, the surreal video was inspired by cinematic scenes from Brigitte Bardot's 1956 film "And God Created Woman". Petite describes this as a song for 'broken hearted schoolgirls', and a spirit she also found in the children she met in Nairobi.