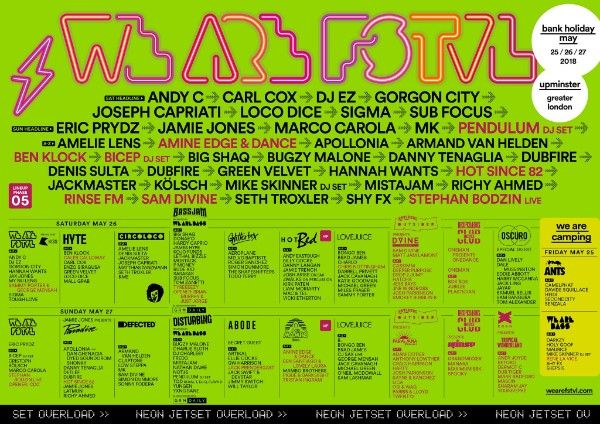 Phase 5 lineup announcement for We Are FSTVL
Having already announced a line-up of jaw-dropping electronic and grime titans, there's no stopping the unforgettable Bank Holiday Weekender event, We Are FSTVL as they reveal Phase 5 with a storm of top talents including Amine Edge & Dance, Hot Since 82, Rene LaVice, Caleb Calloway and fast-rising Lovejuice Records acts Sammy Porter and George Mensah. Two new stage arenas have also been confirmed, Kopparberg Outsider who collaborate with D-Vine Sounds and Paravana and Desperadoswho team up with Rinse and Oneman.
No stranger to the festival, french hip hop inspired house duo, Amine Edge & Dance are back again. The CUFF label heads will bring their ice cold stylings to the Cafe Mambo arena. Joining Jamie Jones' acclaimed Ibizan hedonistic party, Paradise is British DJ, house music producer and DJ Awards winner Hot Since 82, known for his Labyrinth party concept which had its UK exclusive at London's Tobacco Dock last weekend. His Balearic beats will be back this May alongside already confirmed Apollonia, Richy Ahmed, Latmun, Shonky and more. Global institution HYTE has also welcomed the multi-genre' Caleb Calloway, whose tropical vibes and underground sounds will get crowds in full summer spirit. We Are Bass introduce Rene LaVice, the Canadian whose breakthrough hit 'The Calling ft. Ivy Mairi', A-Listed on Radio 1 and Billboards top 40 dance charts, leading him to take over Radio 1's longest running Drum & Bass show. Accompanying the We Are FSTVL stage are Sammy Porter & George Mensah, who guarantee a stomping set.
Rounding off the stage arenas are Kopparberg Outsider who will be sure to pioneer the very best creative and imaginative music over 2 days. They will be teaming up with supernova Sam Divine's imprint D-Vine Sounds for Sunday presenting her trademark "good vibes" with Matt Jam Lamont, Hatcha, Jnr Windross and Jess Bays. Kopparberg Outsiders will also present Paravana, having already announcedAdam Cotier, Twenty2 and Josh Parkinson, Kopparberg Outsiders will also present Paravana, with more details soon to follow, you can be certain the essence of the island life will be in the air. Additional monster drink brand, Desperados will takeover too, with host partners in Oneman, the DJ who 'single-handedly re-invented old school garage' and Rinse FM, who have been transmitting uncompromising and innovative music since 1994, rest assured, both line-ups will fail to disappoint.
A recent economic survey conducted by a leading economic tourism research analyst has revealed there was a total gross economic impact of over £17.6 million from the 2017 We Are FSTVL show, benefitting a wide range of businesses in the surrounding area. With such a positive economic impact on the community, it's no wonder We Are FSTVL one of London's leading go-to dance events.