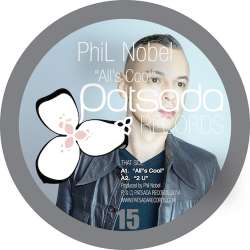 Phil Nobel – All's Cool / U 2
Patsada Records finds itself at release number fifteen with the "All's Cool" / "U 2" single, a reminder of how they've approached the journey thus far. Managed by Miss Mee and Phil Nobel, Patsada delivers once again on its promise of soulful, funky house inspired by the revered NYC, Chicago, and San Francisco house scenes.
In a move that's symbolic for the label, the release sees its co-founder Phil Nobel finally coming forward from behind the scenes. Previously pulling strings in the shadows, he lets the lights flood over his house format tinkering, which proves to be crafty and masterful right from the top. Coming at the two tracks double-blind, the release suggests the funky Parisian influence of early supporter Phil Weeks, the Robsoul Recordings boss and previous collaborator with the Patsada label. Whether it be the shuffling tech groove and classy piano flutters of "All's Cool", or the glitchy, robotic nu-nu-disco of "U 2", this body of work sounds instantly fresh and familiar — the characteristics of classic timelessness.