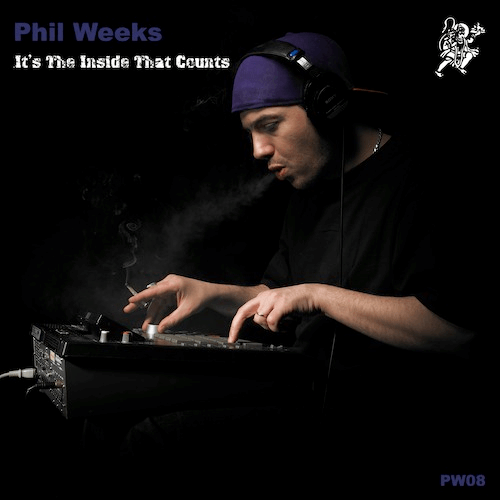 Phil Weeks – It's The Inside That Counts
Hot off the heels of his current smash 'Searching4Love' featuring Ladybird, French house connoisseur Phil Weeks unleashes his highly anticipated new release for Robsoul – 'It's The Inside That Counts'. Already a hit with the club masses from USA to Ibiza, 'It's The Inside That Counts' comes with a giant 'chugga – chugga' bass groove, bumping beats and armed with a killer sample vocal from Loleatta Holloway's classic, 'Dreaming' that explodes on the dance-floor! Also featured on the release is the heavy MPC300 + TB303 beats fused combo, 'Another 303 Groove', which sees Phil flex his real time live editing skills delivering another playful slab of dynamite house music!
"These 2 tracks are just so fun to play, I've been rocking them so much since I made them. People are going crazy everywhere!" – Phil Weeks
Phil Weeks is a house music purist. Whether DJing or producing, the Parisian with the huge personality delivers raw beats influenced in equal measure by classic Chicago house and nu-school French flair, underpinned with a hip-hop attitude. His long running Robsoul Recordings also defines him as one of the most skilled label heads in underground house music. In the studio Phil is dedicated to classic hardware like Akai's MPC 3000 sampler and Roland's TR909 drum machine. He has released more than 250 tracks and remixes since his debut in 2000, working with labels including 2020 Vision, Music For Freaks, Brique Rouge, Detour, Adult Only and his own Robsoul, which is responsible for the majority of his original output. Phil's work can also be found in the collaborations Fries & Bridges (with Hector Moralez) and PS Project/Bubba Beats & Kid Piston (with DJ Sneak). Production highlights include Phil's three albums 'Love Affair' (2011), 'Yeah I Like That' (2003) and 'Raw Instrumental' (2012), alongside style-defining singles 'Hypnose', 'It Put Me Well' and 'All Day Every Day'. The music has been heavily supported by international dance press including achieving accolades such as MixMag's and De-Bug's 'Album Of The Month', while DJs ranging from Danny Howells and Yousef to Mark Farina and DJ Sneak consistently play his tracks. Behind the decks, Phil has racked up enough air miles to take him around the world several times over, with appearances at the world's leading house clubs – Watergate, Queen's Club, Sankeys, Circus, Ministry of Sound, Back to Basics and Stereo are all regular haunts, alongside his Paris residency 'Get Underground' at the infamous Rex Club. Phil has also fully embraced the relationship with his fans and house music fans in general – whether through his popular 'Underground Chronicles' video diaries on YouTube or his personal relationships on Facebook. His recent release, 'Live At Paladium', has already been licensed to numerous popular compilation series including Nick Fanciulli In The House, Defected In The House Ibiza 2014 mixed by Simon Dunmore for Defected, Kontor Sunset Chill 2014, Toolroom Knights Mixed by Doorly and Blue Marlin 2014 for CR2. His last collaboration with Ladybird, 'Searching4Love', has been supported hugely by the dance music masses. Other forthcoming projects include a remix for Mark Fanciulli 'The Fall' on Objektivity and a remix for JR from Dallas 'Slow City Groove' on Gourmand Music.
NEW ROBSOUL 15TH ANNIVERSARY LIMITED EDITION T-SHIRTS!
To mark Robsoul's 15th anniversary, Phil has made some cool new limited edition Tees.
Check these out! http://www.shop.robsoulrecordings.com
PHIL WEEKS DJ DAIRY / TOUR NEWS

2014 has been a very busy year so far for Phil Weeks, having completed a US tour in the Spring, he is now in full swing touring with his choca-bloc Summer dairy. You can catch him at his Ibiza residency for with Magna Carta at Sankeys and he will be joining Luciano for the opening night of Luciano & Friends on July 2nd, plus many other guest slots on the White Isle confirmedŠ
June 2014
01/06/2014 France- Les Jardins Suspendus/Marseille
06/06/2014 Spain- Jerusalem Club/Valencia
08/06/2014 Romania – Poiana La Palilula/Craiova
12/06/2014 Spain- Adult Only at Vetro/Barcelona
14/06/2014 Portugal – Industria Club/Porto
21/06/2014 Spain- Magna Carta at Sankeys/Ibiza
22/06/2014 France – Form Music at Wanderlust/Paris
26/06/2014 France – Get Underground at Rex/Paris
28/06/2014 Holland – Nomads Festival/Amsterdam
July 2014
02/07/2014 Spain – Luciano & friends at Cova Santa/Ibiza
12/07/2014 Germany – LOVEiT at Flugfeld Böblingen/Stuttgart
19/07/2014 Spain- Magna Carta at Sankeys/Ibiza
25/07/2014 UK – Secret London performance – details soon!
August 2014
02/08/2014 Spain- Magna Carta at Sankeys/Ibiza
13/08/2014 Croatia-WOTG, Kalypso at Barrakud/Pag
30/08/2014 France – Get Underground at Rex/Paris
September 2014
Sat-13/09/2014 Spain- Magna Carta at Sankeys/Ibiza
October 2014
13/10/2014 Spain- Rex Club at Underground/Ibiza
18/10/2014 Germany – Rote Sonne/Munich
23/10/2014 France – Get Underground at Rex/Paris
December 2014
19/12/2014 Germany – Rashomon Club/Rome