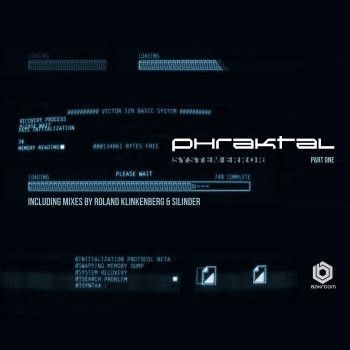 Phraktal – System Error
System Error [Part One] is the first single taken from Phraktal's forthcoming debut artist album, "Why 1 is One and 2 is Two", on Christian Boshell's new Bakroom label.
Phraktal are one of Ireland's most exciting prospects for 2015, formed by Christian Boshell & John O'Dwyer (Casper), who have both been highly active within the Irish electronic music/club scene for some years now. Their album is set for release in February 2015 and covers a multitude of genres, ranging from sci-fi inspired electronica, ambient soundscapes, breaks and tech-house, through to techno. "System Error" is a perfect introduction to the duo's highly original, quirky electronic style. They create decidedly danceable gems by flexing their diverse production skills, avoiding easy and obvious sounds within the electronic spectrum.
This single release also features an amazing deep dub techno interpretation of "System Error" by Roland Klinkenberg (straight off the back of his recent success on Joris Voorn and Edwin Oosterwal's respected GREEN imprint), and a deeply groovy, beautiful melodic re-rub by Silinder (aka Gavin Mulhall from Dublin), who has previously had many fine releases on influential labels such as Renaissance, Sudbeat, Lowbit and Proton.
Phraktal's Bakroom label is planned to become an eclectic musical melting pot of productions from both established artists and previously unreleased raw talent. The first release ("In the Name of the Dogs") was from up-and-coming Turkish DJ/Producer Evren Ulusoy, whose driving deep house is currently topping many people's playlists. Further singles and remixes featuring the likes of the legendary Jamez (Touché Records), Silinder, Phraktal, Astronivo and Atty Mezcal are set to follow.
Phraktal's album "Why 1 is One and 2 is Two" is scheduled for release in February 2015. "System Error" (Part Two) will appear afterwards, with remixes by OUD!N13 & Astronivo.