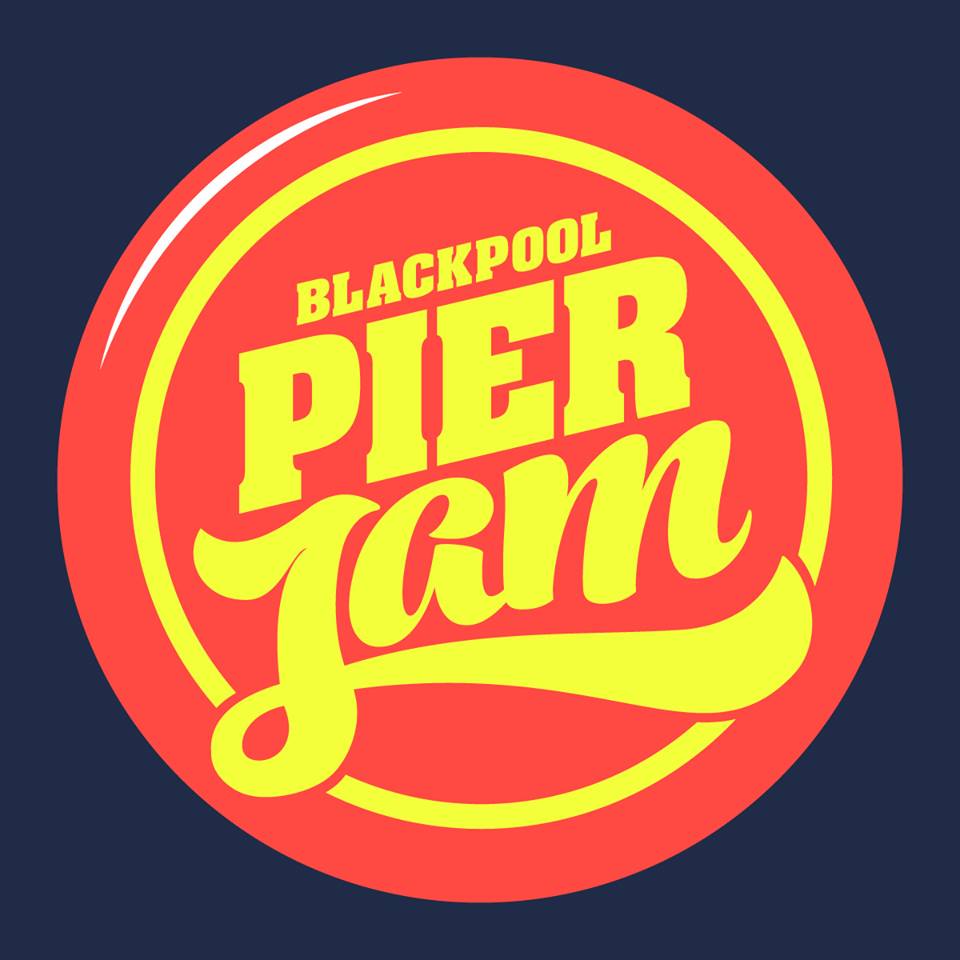 Pier Jam Announces 2016 Summer Season…
We are pleased to announce that the North West's most exciting annual series of daytime clubbing events; Pier Jam returns to Iconic Blackpool North Pier for Summer 2016 with 4 huge dates featuring the biggest DJ talent around including MK, Basement Jaxx (DJ Set), Duke Dumont, Tchami, Hannah Wants, DJ EZ & More, launching on Saturday 23rd July.
After a successful debut season in 2015 at the historic seaside venue which saw over 12,000 party people soaking up the sunshine, sea air and drawn in by the cutting edge line ups, Pier Jam have pulled out all the stops to deliver their biggest line ups to date across 4 events continuing on from July's launch party on Saturday 20th August, Saturday 3rd September & closing this years annual series on Saturday 17th September.
The launch party of Pier Jam 2016 on Saturday 23rd July, features non other than Pier Jam firm favourite, MK; the DJ / Producer responsible for creating some of the defining sounds and biggest tracks of early house, smashing the UK charts with his remixes of Storm Queen's 'Look Right Through' & & Wankelmut's 'My Head Is A Jungle' and is now influencing a new generation with his unique, stripped back style. Joining MK we welcome Super-stars Basement Jaxx for an exclusive DJ set. Best known for their vibrant live shows, carnival vibes, and string of chart-topping singles, such as Romeo and Good Luck, as a DJ duo, Felix Buxton and Simon Ratcliffe are a force to be reckoned with. Their DJ sets expertly weave together a tougher sounding vibe to Basement Jaxx's live persona, with edgy dance music productions.
Next up we welcome Claptone to the bill. Even though many have heard of him, following his highly regarded remix of Gregory Porter's Liquid Spirit, no-one truly knows who or what he is. The only certainty however, is the captivating music he makes. It never fails to bind those who hear it under his spell. Continuing to intrigue fans, mysterious DJ duo Camelphat are also set to play the launch party, as well as Defected's man of the moment Sonny Fodera.
Part 2 of the Pier Jam 2016 summer series takes place on Saturday 20th August with another monster of a line up. Chart-Topping DJ / Producer Duke Dumont heads up the line up, a performer who clearly needs no introduction having stormed the UK charts in recent years with huge tracks such as 'Need U', 'I Got U' & 'The Giver".
Highly in-demand French DJ / Producer Tchami joins Duke Dumont for Pier Jam Part 2. Hailing from Paris, Tchami, is no stranger to the dance music industry. Rewind to 2014, Tchami's remix of Janet Jackson's "Go Deep" became an instant over night hit! With much critical acclaim, he soon followed up with his first original production "Promesses" with Kaleem Taylor via Fool's Gold Records. Having gained the support from some of today's top DJs such as A-Trak, Nick Catchdubs, Dillon Francis and Skrillex, Tchami's career is already off to a great start!
Finishing up the headliners for the 2nd instalment of the 2016 summer series, we welcome UK Chart Toppers Philip George & DJ SKT as well as Sleepin' is Cheatin' head honchos Tom Zanetti & K.O Kane
Pier Jam Part 3 takes place on Saturday 3rd September headed up by Pacha music awards' 2015 Best Bass DJ & BMA's 2015 Best DJ; Hannah Wants. A child of the garage generation, Hannah Wants has validated herself as a world renowned DJ with some serious credentials. Armed with an innate desire and passion to practice the art of DJing from a young age, Hannah Wants has acquired an individual hard-hitting style and true competence behind the decks as well as a global army of supporters that will see her name remain at the forefront of the electronic music scene.
Coming out from the shadows for a unique daytime party, Pier Jam revelers will not disappointed when Shadow Child brings his bass heavy house style to the party at part 3 alongside WMC Award Winner Shiba San, BBC Radio 1's Monki & Pier Jam firm favourites who wowed the crowds at last years event; UK Chart regulars & DJ Duo Tough Love.
Following a sell out show at last year's summer series, with tickets selling out in a matter of days, we welcome back Garage legend DJ EZ to head up Pier Jam Part 4 – 2016's Closing Party which takes place on Saturday 17th September. Widely regarded as being one of the best DJs to grace planet earth, he can only be described as a charming music phenomenon, saluted by the industry for being one of the most creative mixers with instinct and technical prowess.
Easily one of the most recognisable names on the garage/grime scene, Preditah is also set to play the 2016 closing party alongside Simma Black Label boss & Rinse FM resident, Low Steppa.
Royal T, DJ Q & Flava D will be teaming up as TQD to bring Pier Jam fans a marathon 4 deck set & exclusive dubplates and last but buy no means least north west based tech-house producer Bontan completes the headliners for the 2016 summer series.
Pier Jam is all about quality electronic music with the outside atmosphere and sea views creating a special kind of vibe. With 4 stages including 2 outdoor, no other event delivers such a summer soaked day time party, backed by a soundtrack designed for real house music fans. Imagine dancing all day, whilst watching the sun go down over the sea; a clubbing memory that is hard to beat.
Director of Pier Jam, James Cohen comments "After a successful season last year we are very excited to return to Blackpool North Pier for our annual series of events for summer 2016. The response for our debut season from the attendees, the acts & the venue were phenomenal and we are overcome with how many people have already embraced the Pier Jam brand & it's ethos"
"This year clubbers can expect the bar to be raised even higher with our biggest line ups to date, more production & even more SFX, whilst we continue to ensure Pier Jam remains the North West's most exciting annual series of daytime clubbing events"
For those looking for a unique day-time party vibe, tickets start from just £15 and are available at www.pierjam.com. Early Bird tickets have already sold out for the Launch Party on Saturday 23rd July and we urge party-goers to purchase tickets in advance to avoid disappointment.
*** TICKETS ON SALE NOW AT WWW.PIERJAM.COM ***
EVENT INFORMATION:
Saturday 23rd July
Pier Jam Part 1 – The Launch Party
MK
Basement Jaxx (DJ Set)
Claptone
Camelphat
Sonny Fodera
Doors: 14:00hrs – 23:00hrs / Age: Over 18's Only (Photo ID required) / Price: £15+BF (Early Bird SOLD OUT), £20.00 (1st Release Standard), £25.00 (Final Release Standard) £35+BF (VIP)
Saturday 20th August
Pier Jam Part 2
Duke Dumont
Tchami
Philip George
DJ SKT
Tom Zanetti & K.O Kane
Doors: 13:00hrs – 23:00hrs / Age: Over 18's Only (Photo ID required) / Price: £15+BF (Early Bird), £20.00 (1st Release Standard), £25.00 (Final Release Standard) £35+BF (VIP)
Saturday 3rd September
Pier Jam Part 3
Hannah Wants
Shadow Child
Shiba San
Monki
Tough Love
Doors: 14:00hrs – 23:00hrs / Age: Over 18's Only (Photo ID required) / Price: £15+BF (Early Bird), £20.00 (1st Release Standard), £25.00 (Final Release Standard) £35+BF (VIP)
Saturday 17th September
Pier Jam Part 4 – 2016 Closing Party
DJ EZ
Preditah
Low Steppa
TQD (Royal T, DJ Q, Flava D)
Bontan
Doors: 14:00hrs – 23:00hrs / Age: Over 18's Only (Photo ID required) / Price: £20+BF (Early Bird), £25.00 (1st Release Standard), £28.50 (Final Release Standard) £35+BF (VIP)
VENUE:
Blackpool North Pier, North Pier Promenade, Blackpool, FY1 1NE
TICKET AGENTS
www.pierjam.com
www.skiddle.com / Tel: 0844 884 2920
www.ticketline.co.uk / Tel: 0844 888 9991