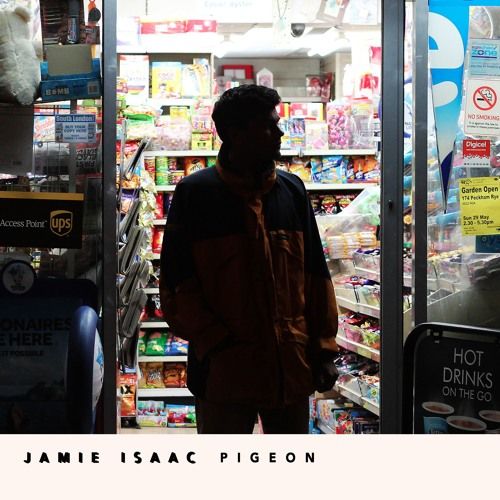 Jamie Isaac - Pigeon
Jamie Isaac today releases 'Pigeon', a new cut taken from his much anticipated debut album 'Couch Baby'. 'Pigeon' follows the launch of new single "Find The Words" and is beautifully languorous, further showcasing the singer, songwriter and beatmakers many talents and the breadth of influences that the record encompasses. He also shares a short film made in collaboration with The Fader set against the backdrop of his home of South East London where he delves into the album, songwriting process and love of jazz.

The recent video shot by Grammy nominated director Dexter Navy spliced two other tracks from the record, 'All My Days' and first single 'Last Drip',into a stunning short film featuring cameos from collaborators King Krule, Rejjie Snow and more – you can view it here.

Steadily gaining notoriety over the last couple of years through a string of taster releases, remixes and features, with his debut album 'Couch Baby' prodigious 21-year-old Jamie Isaac finally paints his vision in vivid colours, the scope and scale of his quiet ambition writ beautifully large. 'Couch Baby' follows his recent 'Loose Grip' mixtape release, which comprised remixes of his debut LP from all his SE LDN collective; King Krule, Rejjie Snow, Jesse James Solomon, amongst others.

Despite ring-leading the new South East London scene Jamie Isaac cuts his own distinct dash. Over the course of two acclaimed EPs, 'Blue Break' and 'I Will Be Cold Soon', he carefully mapped out his music's gorgeously sparse and brittle terrain, tying together strands of jazz, soul, trap, classic hip hop and avant-garde electronica to stunning effect.
With influences as disparate as classic jazz, Noughties R&B, 90s hip hop, and futuristic electronics, it's ultimately sound which could only be born in 2016 by one man, Jamie Isaac. He's already earned firm fans as widespread as Zane Lowe, Pitchfork, Lauren Laverne, Huw Stephens and NME, and is on route to becoming one of the most talked about UK talents of 2016.

Both vinyl and CD versions of 'Couch Baby' will also come with collectors-edition fold-out fanzine featuring exclusive artwork and a download code of the 'Loose Grip' mixtape, the first opportunity to own the mixtape in full.

WATCH 'LAST DRIP' (remix feat. Rejjie Snow) here: https://youtu.be/SsUdRAWAc1g

WATCH the short-film here: https://www.youtube.com/watch?v=nYQz0eFhirM

ALBUM PRE-ORDER

Rough Trade – http://smarturl.it/JI-CouchBabyRT
iTunes – http://smarturl.it/JI-LastdripYT
Amazon – http://smarturl.it/JI-CouchBaby-Amdig
Google – http://smarturl.it/JI-CouchBaby-Gplay

UPCOMING LIVE DATES


July 12th Bermondsey Social Club, London – SOLD OUT

October 19th Corsica Studios, London
http://www.ticketweb.co.uk/event/236799
http://dice.fm/jamie-isaac-19th-oct-corsica-studios-london-tickets