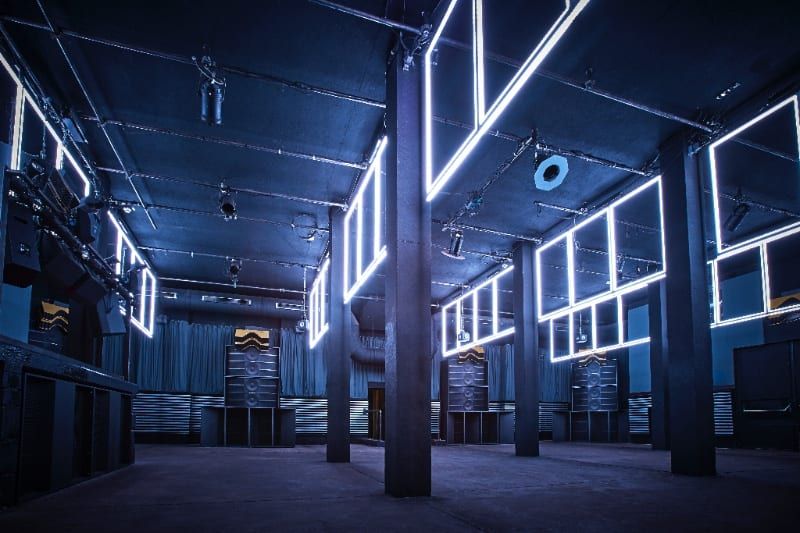 Pioneer Pro Audio Installs its biggest-ever sound system at Berlin nightclub Magdalena
Berlin nightclub Magdalena has installed the biggest-ever sound system custom designed by Pioneer Pro Audio. Housed in a former power plant built in 1903, Magdalena's main room has a modest capacity of 800. But the club's owners wanted high SPL and coverage of the space surpassing that of any other venue on the planet. The huge system comprises eight three-metre GS-WAVE dancefloor stacks with eight tweeter pods overhead, plus two WAV-SUBs coupled at the front of the DJ booth and two more directly opposite at the back of the room to create a power alley of pure subsonic frequencies down the centre of the room.

"We wanted a world-class system that would produce huge sound, and Pioneer Pro Audio has delivered it – and more," explains Daniel Mizgalski, Magdalena's co-owner. "Nowhere in our main room is untouched by the music."

For the first time, the GS-WAVE stacks were customised by adding a second NL4 port to enable modular cabling, resulting in reduced cable length and equal resistance to each stack. Two additional WAV-LENS lenses were also modified: one to fly above the DJ booth and one at the back of the room. The booth has two XY-218S 18-inch twin bass subwoofers and four XY-122 two-way full range speakers. The whole system is powered by Powersoft amplifiers, including the massive K20 – the masterpiece of the flagship K Series and used here for the first time in a Pioneer Pro Audio system – with Pioneer pre-sets and in-built DSP. Three of these, capable of delivering a massive 2 x 9000 W/ch @ 2Ω, have been assigned to power the mighty GS WAV-SUBs.

With the lowest weight and highest efficiency, the K Series – which set a new milestone in switch mode amplifier technology when it was launched – is out in force at Magdalena. In addition to the K20, the on-board DSP featured on all the specified models is controllable remotely via the proprietary Armonía Pro Audio Suite™, granting granular control over any parameter of the processing dynamic in order to optimise the Pioneer system. This includes ten x K2 driving the ten x Pioneer GS WAV-LENS lenses; two K3 powering the four XY-122; a K6 running the pair of XY-218s and eight K10 powering the sixteen GS WAV-LOWs. Finally, a pair of M50 DSP amplifiers are partnered with the eight GS WAV-TWPODs. By using fully parametric filters on each channel, IIR equalisation and custom FIR in Armonía, Pioneer is able to achieve a finer resolution in the DSP than if using a stand-alone device.

After becoming redundant as a power station in the 1920s, the building that now houses Magdalena changed hands several times over the course of 90 years before the club's team moved in during November 2014. "We've made a lot of renovations to bring this historical monument back to life and this sound system is the last piece in the puzzle," says co-owner Christian Mill.

"To use eight stacks in a room of this size is unheard of," says Pioneer Pro Audio Manager, Alex Barrand. "It was a challenge to get the configuration right and avoid cancellation, but we pulled it off and the result is high SPL and coverage of every inch of the space."

As well as high SPL and total room coverage, the scale of the system serves other purposes. Magdalena is open for long periods of time – sometimes from midnight on Friday to 10am on Monday – so the new sound system has to be capable of handling prolonged use without losing power. "This system has so much in reserve, it can run for as long as necessary and deliver the power when needed," explains Pioneer Pro Audio's Barrand. "It'll also last for years because it's not being worked too hard," he adds. And because the system is running at a fraction of its capacity, clubbers can spend hours at a time on the dancefloor without feeling the same level of fatigue they would get from a system straining to reach full volume.

After hearing the new system for the first time, Stereo Jack, resident DJ at Magdalena, remembers: "I was crying. The energy comes to you, grabs you and, in a way, the sound system dances you around."

Magdalena is the latest in a line of world-renowned nightclubs to partner with Pioneer Pro Audio. Since launching in 2013, our versatile range of speakers has been installed at venues including Sankeys, KM5 and Ushuaia Tower in Ibiza, Café D'Anvers in Antwerp, and Sound Nightclub in Los Angeles.
MAGDALENA INSTALLATION IN DETAIL
Main room:
GS WAV-SUB x 12
GS WAV-LOW x 16
GS WAV-LENS x 10
GS WAV-HORN x 8
GS WAV-TWPOD x 8
DJ booth:
XY-122 x 4
XY-218s (subs) x 2
Amp room:
K2 DSP x 10 (GS WAV-LENS x 10)
K3 DSP x 2 (XY-122 x 4)
K6 DSP x 1 (XY-218s subs x 2)
K10 DSP x 8 (GS WAV-LOW x 16)
K20 DSP x 3 (GS WAV-SUB x 12)
M50 DSP x 2 (GS WAV-TWPOD x 8)