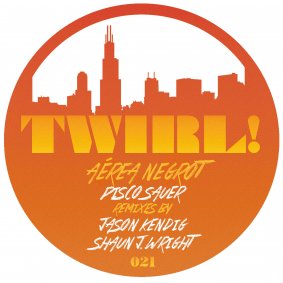 Aerea Negrot - Pisco Sauer EP
Aerea Negrot offers up the 'Pisco Sauer' EP on Shaun J. Wright & Alinka's Twirl imprint this February, accompanied by remixes from Honey Soundsystem's Jason Kending and Shaun J. Wright himself.
The inimitable Aerea Negrot has grown to become a highly respected figure in the Berlin underground scene over the past few years. Originally hailing from Venezuala before relocating to the German capital, Negrot has regularly played at clubs such as Salon Zur Wilden Renate, Griessmuehle, about://blank, Suicide Circus and an appearance at Berghaun's Panorama Bar in 2018 amongst releasing material on BPitch, Batty Bass and more.
Here though we see Aerea Negrot return to Twirl, following a remix of the label-heads' 'Need Someone' back in 2015, with a new single in the shape of 'Pisco Sauer'. The original mix leads and lays focus on dynamic, crunchy drums, heady resonant bleeps and murky bass arps at its core while soft pads and cinematic leads ebb and flow within.
Honey Soundsystem's Jason Kendig steps on remix duties next, turning in a more refined take on things, extracting the soul of the original and reshaping it with a more direct groove-driven feel before Twirl co-founder Shaun J. Wright rounds out the package with his remix, opting for off-kilter electro drums and mind-bending analogue arpeggios whilst stirring in the elements of the original throughout.
Aerea Negrot's 'Pico Sauer' is out on Twirl! on 22nd February 2019.
Tracklist:
1. Pisco Sauer
2. Pisco Sauer (Jason Kendig Remix)
3. Pisco Sauer (Shaun J. Wright Remix)