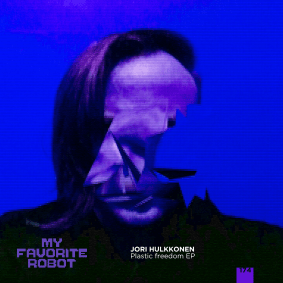 Jori Hulkkonen - Plastic Freedom EP
In the lead up to the release of Jori Hulkkonen's 21st artist album, 'Simple Music for Complicated People', comes this four-track sampler showcasing the sounds to be found on this landmark release.
2018 sees Hulkkonen celebrate the 25th anniversary of his debut release. That's a quarter of a century to all you non-mathematicians! "In a way I wanted to do an album that continues the journey I've been on with these last 4 albums on My Favorite Robot Records, but I also wanted to add some references to some of my older releases, you know for the true heads out there", Jori quietly whispers from behind his trademark wineglass and a cigarette.
Starting off with futuristic and dark r'n'b sung by Jori himself in Finnish, '6n Jaakaappi' was constructed almost entirely of samples recorded from a very noisy fridge backstage at legendary Helsinki club, Kuudes Linja. Next up, 'Black Rainbow is an instrumental funeral ballad with a slavic vibe, mixed with an 808 and funky drummer beats. Classic Jori.
"On the Road to Miero" was written after musical novice Hulkkonen went to see a true maestro, Ennio Morricone performing live in Finland some while back. Incorporating elements from deep house and an ethereal vocal performance from up-and-coming Finnish artist Leeko, the track was Jori trying to "sound as Italian as possible and not failing completely". Something he pulls off with aplomb!
Finally, "Plastic Freedom" revisits some of the Detroit-esque sound and rhythm scapes of Jori's classic releases back in the 90's. As opposed to modern DAW-based productions, it was recorded as a live jam and edited down later.
This wonderfully varied selection raises the question as to whether the album will fill in the gaps between these eclectic tracks so take the listener further into the outer realms of sound and space. The answer will come in September.
Jori Hulkkonen's 'Plastic Freedom' EP is out on My Favorite Robot Records on 27th July 2018.
Tracklist:
1. 6n Jaakaappi
2. Black Rainbow
3. On The Road To Miero (feat Leeko)
4. Plastic Freedom