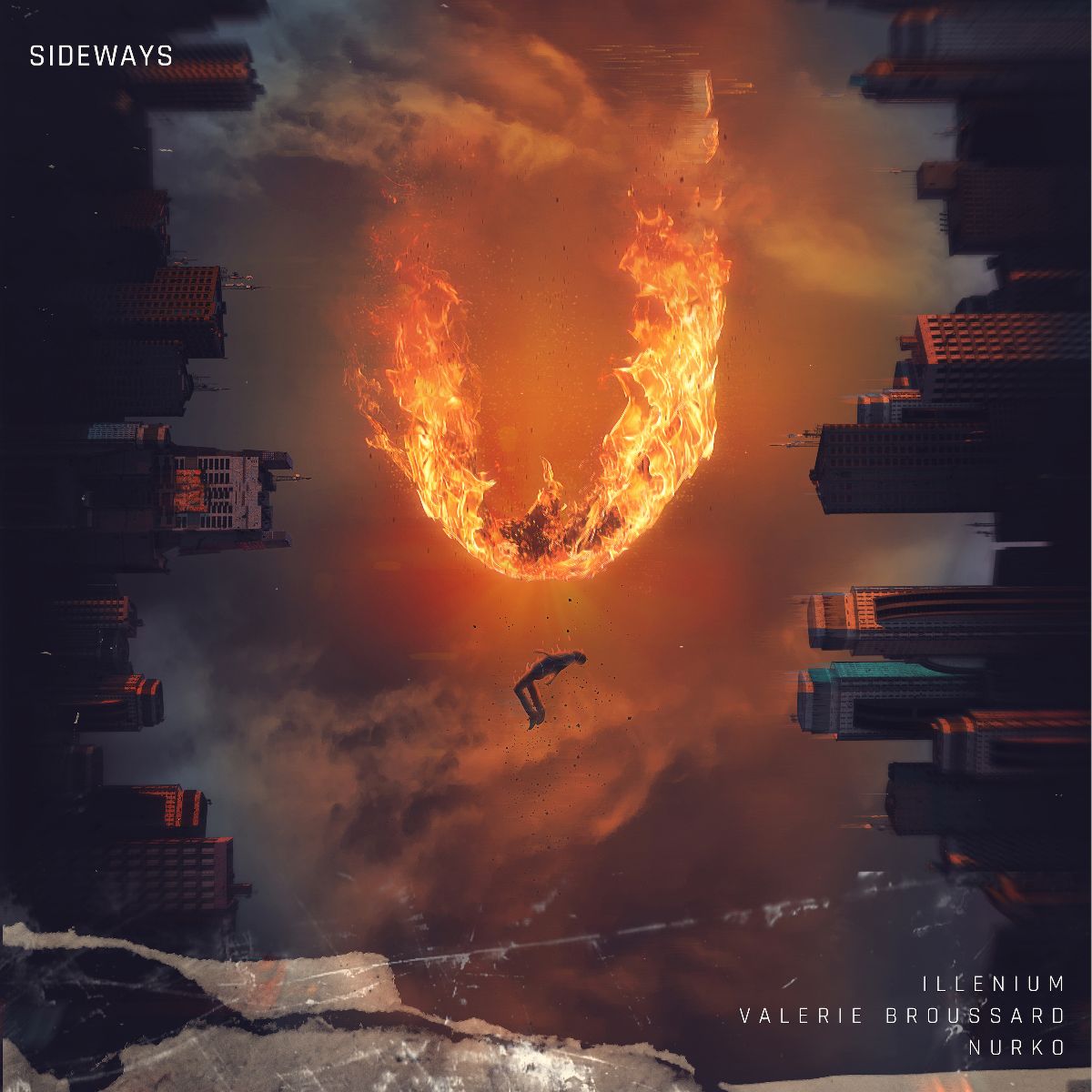 Platinum Crossover Electronic Artist And Producer/Dj Illenium Shares New Single
'Sideways' is ILLENIUM's latest single leading up to the release of his fourth album, Fallen Embers and is preceded by songs including "Nightlight" (120M global streams), "Hearts on Fire" with Dabin feat. Lights (50M global streams) and "First Time" feat. iann dior, which is currently crossing over to US Top 40 radio and has over 20M global streams. ILLENIUM now has accumulated over 220M global streams on all of his 12Tone Music releases and collectively has more than 5B global streams on his entire catalog.
Sharing the message behind the song, Valerie Broussard states, "'Sideways' was written as an ode to a friend who was struggling with her mental health during Covid lockdown. Having struggled similarly in my own life, I wanted her to know I would always be there for her, even when it felt like the world was falling apart."
ILLENIUM adds "I loved working with Valerie and Nurko on this track. The vocal has so much emotion and musically we created a song with an almost jubilant air. I wanted it to be a celebration of making it through this crazy year all of us just had."
"We each inspired one another during the creative process", says Nurko. "This has been a really rough year for everyone, but no matter how tough it is, it's good to have somebody to stick with you through it all, no matter what."
ILLENIUM's highly anticipated album, Fallen Embers, will be released this summer.
About ILLENIUM:
As one of the most successful crossover electronic artists today, Denver-based producer/DJ ILLENIUM, née Nick Miller, has elevated dance music via his bold, progressive take on the genre. His expansive sound, which mixes elements of celestial electronic, mellow alternative, rock-fuel dubstep, emotional indie and pop-tinged bass music, has topped the U.S. charts, and garnered more than 5 billion collective streams.
Recognized as one of Billboard's Top Dance/Electronic Artists of the 2010s, ILLENIUM brings his dynamic music to life via his live show, which has dominated festivals like Coachella, Lollapalooza, Bonnaroo and EDC. His 2019 Ascend Tour, which featured a five-piece live band, sold out landmark venues like Madison Square Garden, STAPLES Center and three consecutive nights at Red Rocks Amphitheatre.
About Valerie Broussard:
You can feel Valerie Broussard's dynamic vocals and emotionally charged songwriting in massive smash collaborations, through hundreds of film, television, and video game placements, projected from some of the biggest stages in the world, and within her solo output. Garnering just north of half a billion total streams, her voice and pen power Kygo's "Think About You" and "The Truth" as well as the 2019 League of Legends theme "Awaken" with Ray Chen. Her music rings out on tentpole programming across NETFLIX, The CW, ABC, Prime Video, SyFy, HBO, and more. Meanwhile, her solo output has garnered praise from Refinery29, OnesToWatch, and many others. Beyond music, she remains a staunch advocate for a myriad of causes. Diagnosed with dyslexia as a kid, she fought hard to learn how to read, eventually devouring The Lord of The Rings and Harry Potter series and expanding her sci-fi and fantasy fascination any chance possible. Now, she pushes for literacy and even launched a de facto online book club, purchasing Hot To Be Anti-Racist by Ibram X Kendi for various followers to read together with her. She also campaigned door-to-door for Barack Obama and has participated in multiple Women's Marches. However, there was still one final frontier left for the platinum-certified singer, songwriter, and vocal engineer to chart a course for…
On her debut EP Voyager [AWAL], she presents her own brand of cinematic space pop uplifted by otherworldly vocals, vivid lyrics, and expansive vision.
About Nurko:
Jack Leech always knew he would be making music, it just took a while for him to find the perfect fit. Growing up in New Jersey in a family with generations of artists, he was encouraged to be creative from birth. Picking up both drums and piano as a child and studying music in college, he applies his classical knowledge of music and music theory to buzzing genre blending sounds as Nurko.
Wanting to create a sound he hadn't heard yet, Nurko decided to channel his emotions into a style of electronic music uniquely him, starting with his first big track, "Goodbye," in 2015. Since then, his next release "Your Embrace," continued to give his fans what he likes to call, "the feels."
In 2018 he showed no signs of slowing down with multiple singles like 'Sunsets', 'Right Now' and 'Promise Me' all garnering over 1 million plays on Spotify. His unofficial remix of Halsey's hit single 'Without Me' surpassed 10 Million plays on the infamous tastemaker Trap Nation.
For Nurko, the melody is everything. Whether it's in a low key trap track, or the perfect soundtrack to a your pre-game, do not mistake his music for another soon to be forgotten future bass track. Nurko makes music you can listen to on loop, discovering new layers with each play.