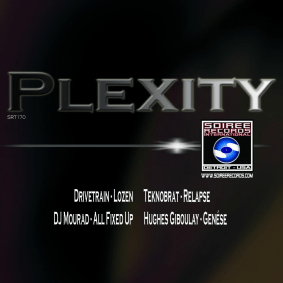 Various Artists - Plexity
Detroit label Soiree Records follows up their last well received EP with a fantastic new four tracker that draws on a collection of various artistic talents for a more techno inclined offering that comes riddled with the "simplistic complexity of subliminal melodic aggression."
Drivetrain is Derrick Thompson, founder of Soiree Records International and a key Detroit artist who also runs Xplor Music and has electrified dance floors around the planet for over twenty years. His excellent 'Lozen' is, he says, a "paradoxal tribal eruption and filtered patternization built on barbaric harmonic algorithms." In other words it's an abrasive, heavyweight techno track with big chords that demand you dance. Label debutant but real scene veteran Teknobrat is next and hails Ottawa City. He serves up the superb 'Relapse' which features a twisted, distorted analog synth abducted by a rancid 909 beat machine. It's a bristling, hugely energetic track that will blow up on the 'floor.
A vinyl addict since the eighties turned globetrotting spinner, Tunisian DJ Mourad offers the brilliantly fresh 'All Fixed Up' which takes an expedition through incalculable rainbows of acid-tech and the unexplained. It's fluid and mysterious and truly heady. Last but not least, Hughes Giboulay from France is another debutant on the label who here delivers an emotionally driven affair with rich chords, stuttering rhythms and rich bass.
All four cuts here are expressive, forward looking tracks that confirm Soiree Records International as one of the most essential Motor City labels out there.