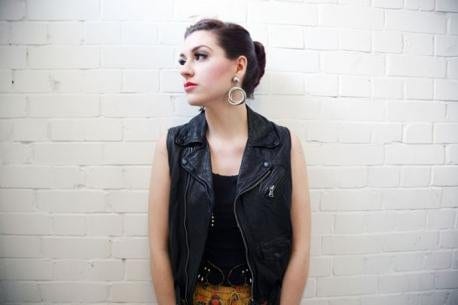 Podcast 163: Moxie
Moxie is many things: a Londoner born and bred, raised on raving and records; a seasoned DJ, playing big-room clubs and sweatbox basements worldwide; a charming radio host, as at home on national FM as regional stations and independent start-ups. It's this balancing act between the underground and the mainstream that's seen her become one of the UK's hottest DJs.
Starting out covering for Sinden's Kiss FM show in 2010, Moxie began guesting on pirate radio station Rinse and regularly DJing on the London club circuit. Her DJing experiences have been as broad and ambitious as her tastes. Moxie's selections of house, techno, disco and garage have seen her reach such wide and varying audiences that she became so in demand, the legendary super-club fabric invited her to play their Room One no less than six times in 2014.
Moxie may be at home in the club, but she also shines on the airwaves. After being selected for BBC Radio 1's 'In New DJs We Trust' 2013 series, 2014 saw her graduate to dance music's upper ranks by covering for DJ Heidi's Residency show, and going onto host her own Residency slot the same year and continues to do so. Throughout this mainstream exposure, though, she's remained loyal to her independent roots. After landing her own show on east London's NTS Radio in 2011, she's been hosting the same slot ever since and has been heavily involved in the station's development.
Her work includes hosting in-depth interviews under the title 'Moxie Presents', inviting legends such as Jeff Mills, Laurent Garnier and newcomers Lapsley and Formation onto the show. As well as six-hour takeovers with renowned guest DJs, she also programmes and hosts special broadcasts around the world on behalf of NTS Radio, including the 2014 Red Bull Music Academy in Tokyo.
Through NTS Radio, Moxie has also started a compilation series, 'Moxie Presents' which is moving into its 3rd instalment in 2016 showcasing producers she supports on her radio shows. Both volumes have featured a broad selection of artists including Lone, Medlar, Ikonika, Kowton, SCNTST & Lord Tusk. Gaining heavy support across BBC Radio 1 and a nod from key publications such as Resident Advisor, XLR8R, FACT and Mixmag, 2016 sees a highly anticipated third instalment in the works.
Moxie has also recorded mixes for a range of platforms: FACT, Warehouse Project, Boiler Room, RBMA Radio, iD Magazine, Truants, Solid Steel and each one has had their own, special treatment; pulling together her years behind the decks, on-air and in the club, with passion, knowledge and flair.
At the start of 2016, Moxie announced the launch of 'On Loop.' A nomadic club night and record label with dates confirmed in London, Glasgow, Manchester, Paris, Lyon, Glastonbury Festival and beyond. On the label side of this On Loop is set to become a physical outlet for selected cuts taken from the 'Moxie Presents' compilation series. With her talent for selecting and promoting quality music, Moxie's ascent to the top is as smooth as it is earned.