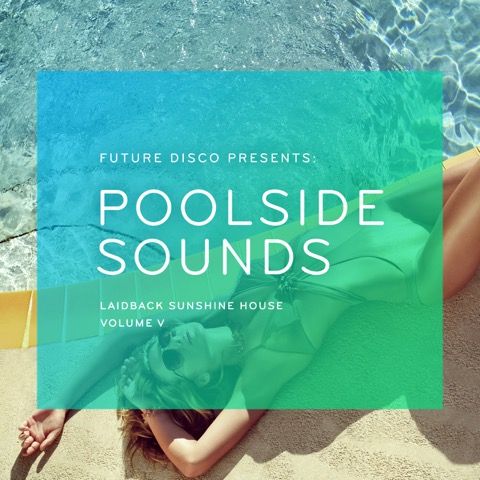 Future Disco Presents - Poolside Sounds, Volume 5
The essential sunbathing soundtrack is back. Poolside Sounds is now well established as the go to house and disco album for the summer and Volume 5 in the series does not disappoint. Future Disco head honcho Sean Brosnan once again delivers a seamless mix of handpicked laidback summer anthems.
Sean has built up a reputation as a key tastemaker on the scene. He has carefully crafted a mix taking you from sunrise to sun down, selecting key artists and tracks. Jamie XX, Four Tet, KDA, Maribou State, Sasha, Leon Vynehall all feature on this latest instalment. Whether it's the pre-party, after party or the soundtrack to your recovery the next day this is sure to be the soundtrack at the hottest holiday destinations this summer, Ibiza, Croatia and beyond.
The album will be supported throughout the summer via various Poolside themed events in the UK and Europe. The Future Disco brand continues to grow with Ibiza dates confirmed for Carl Cox's last ever residency at Space in Ibiza and Gottwood festival confirmed, amongst other exciting parties to be announced over the summer. Future Disco Volume 10 also drops at the end of the year with visual brand update in progress and extensive marketing campaign to go alongside the release.
Tracklist:
1. With You. – Felt This (feat. Brittany Foster)
2. Kaasi – Those Days
3. PillowTalk & Soul Clap featuring Greg Paulus & Crew Love – Love Train
4. Leon Vynehall – Blush
5. James Fox – Feeling Free
6. Jamie xx, Four Tet – SeeSaw (Club Version) (feat. Romy)
7. Fort Romeau – Saku
8. T.M.A – Hummingbird
9. Waterson – Tell Me (KDA Club Edit)
10. Oma Nata – Baiana
11. Ephemerals – You'll Never See Me Cry (Ambassadeurs Remix)
12. CrissCross – Not A Bit (Original Mix)
13. Hyenah – Soak It (Andre Lodemann Remix)
14. Maribou State – Rituals (Sasha House Mix)
15. Few Nolder – One (Karl Friedrich Remix)
16. Robot Love – Numbers Station
FUTURE DISCO EVENTS
10th June 2016 – Gottwood Festival, Anglesey, UK
19th July 2016 – Space, Carl Cox's The Revolution: The Final Chapter, Ibiza.
26th July 2016 – Space, Carl Cox's The Revolution: The Final Chapter, Ibiza.
TBC – Obonjan Festival, Otok Obonjan, Croatia.
FOLLOW FUTURE DISCO
Facebook: https://www.facebook.com/futuredisco
Twitter: https://twitter.com/futuredisco
Instagram: https://www.instagram.com/future_disco
YouTube: https://www.youtube.com/futuredisco100
Spotify: https://open.spotify.com/user/futurediscomusic