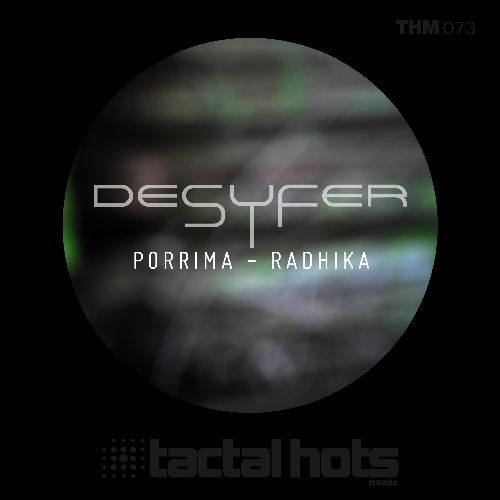 Desyfer - Porrima / Radhika
The next release from Tactal Hots Music, the dedicated North West (UK) underground label, is a dynamic double-header from Desyfer, who is in firing form following his widely popular remix (with FOTN) of Mark Youssef & Novikoff 'Elevation' (THM072).
'Porrima', with its teasing percussive intro, smoothly builds into a powerful monster. Underpinned with beefy Moog bass and breaking down with resounding, highly memorable melodic motifs, this is a masterfully hypnotictrack that demands attention, with an intense attention to detail throughout.
In perfect juxtaposition, 'Radhika' explores a parallel, yet different side of the masterful producer's creative palette. Hissing hi-hats, old-school leads and analogue synths, pay homage to Desyfer's roots, while his innate melodic mastery shines again. Blurring genre boundaries is a given, as hetwists 'Radhika' into a whirlpool of explosive energy.
Spencer Hickson (aka Desyfer) is a multitasking music producer, DJ and label owner, who has been involved in the music industry for over 25 years. As an early pioneer of the underground scene his depth of knowledge and unbounded creativity have seen him continually develop and evolve as an artist.
By joining the dots between the likes of Desyfer's massive anthem '831' (Global Beat, 1999); 'Tula' (featured on the 'City Rats' movie soundtrack, 2009); 'Then Again' feat. Jesse (Tactal Hots, 2011); and his more recent productions, such as 'Ritorno' and 'Neuro' (both Tactal Hots, 2017); a picture emerges of an artist dedicated to carefully producing music that embeds itself into the listener's heart and soul – quality over quantity, every time.
He has also produced under numerous other guises over the years, including Phoenix (check 'Rise Up' on Solid Silver Recordings, as featured by Sasha in his landmark 1995 BBC Radio 1 'Essential Mix', and now recently remixed for its 20thanniversary). Then there's the Sundogs project (with fellow producer FOTN) and a collaborative pairing with Hipnosys – all bearing the mark of a creative mind constantly exploring new ideas.
With numerous releases spanning the late 90's and 00's, the launch of his own label was a natural progression for Spencer and 2010 saw the birth of Tactal Hots Music – a fitting tribute anagramming the name of his friend & mentor, Scott Latham, who partnered him as Phoenix. From the first signing of French producer Eric Franchet and continued collaborations with FOTN & Hipnosys, Tactal Hots, has steadily built its reputation as a go to label for quality underground tunes.
Desyfer Info:
https://twitter.com/desyfer
https://www.facebook.com/desyfer831
Tactal Hots Info:
http://www.tactalmusic.com
https://twitter.com/tactalhotsmusic
https://soundcloud.com/tactalhotsmusic