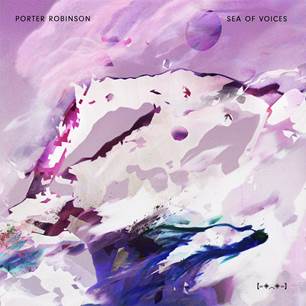 Porter Robinson – Sea of Voices
Porter Robinson has revealed "Sea of Voices", the first track from his upcoming debut artist album worlds via twitter.

Gauzy and atmospheric with vocals that float above an ethereal-shoegaze soundscape, "Sea of Voices" signifies a shift in Porter's sonic direction and hints at the cinematic breadth of worlds music to come. The track, now available on iTunes, is a statement of intent that sees Porter embracing a beautifully loud-yet-vintage aesthetic and disavowing formulaic club-ready dance music.

"I don't want to be the flag bearer for any genre. I don't want to change the game," Porter explains. "I really just want to have my own signature, my own sound. I know it sounds crazy, but I want to start my legacy."

On writing worlds Porter explains, "I only had the inkling of the idea that I wanted to do something different. I needed to do something that was honest and real." So he turned down countless DJ offers to spend a year devoting himself to a process of introspection and reinvention. "I figured that one way to develop a unique identity as an artist would be to combine all my favorite things in music — it would result in something that is really personal, a collective expression of my taste and experience. Something nobody else has."

Thus begat worlds (due out later this year on Astralwerks/Virgin EMI), a cinematic excursion that fuses Porter's technological prowess with his love of evocative melody.

With his creative pulse no longer hinging on BPMs, "Sea of Voices" represents the continued progression of Porter's artistic evolution; one that sees him embracing the elegant and unexpected in ways that extend far beyond music and into a fully fleshed-out artistic vision.

Porter recently set the new tone, announcing the album with this cryptically beautiful 10-hour teaser video.