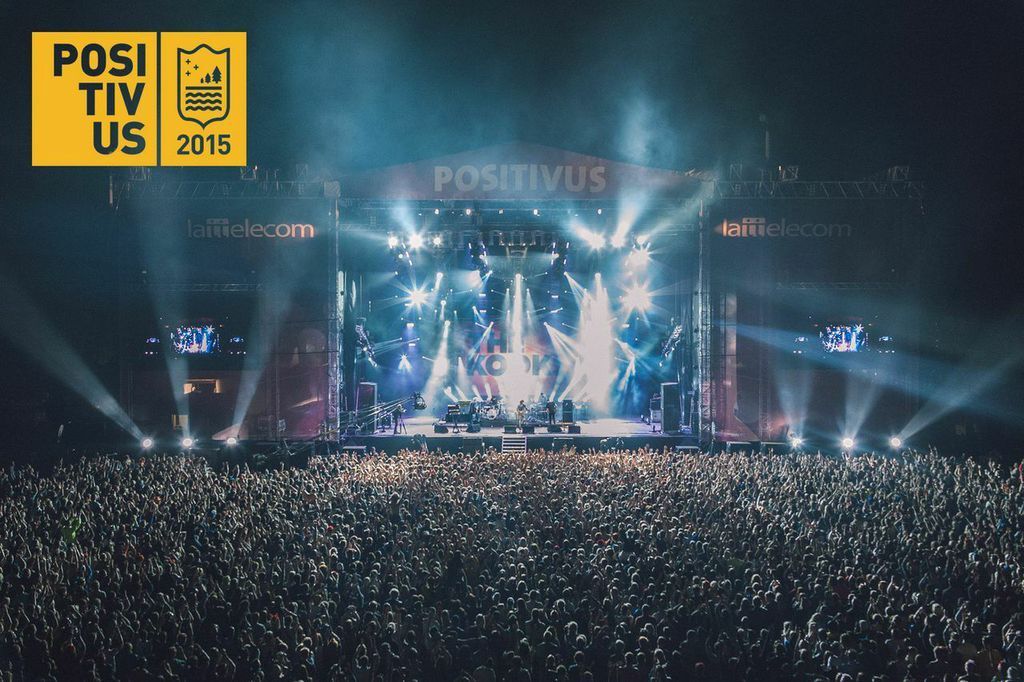 Positivus Festival: The Hidden Gem in the Baltics
Unconventional Swedish pop-stars Elliphant, mysterious Bokka from Poland, beatbox favourites from Latvia PeR, blues legend Eugene "Hideaway" Bridges and many more artists join Positivus festival lineup to create even more vivid offer for lovers of various genres of music.
On Friday the first artists to perform on the main stage will be blues legend from New Orleans Eugene "Hideaway" Bridges; together with the Latvian blues band Coolmans Report he will present true guitar riffs, enthusiastic vocals and blues that will grab your heart.
Today several bright artist names are added to Nordea Stage lineup. Elliphant music comes from the depths of Swedish subculture; not without a reason the band has been called the most unconventional pop-stars of Sweden. Elliphant freely floats between different genres of music – energetic pop-rap blends with synth-pop and Jamaican rhythms are joined by vibes of dub step and punk rock while all is held together by band's incredible vitality. The musical union Bokka is one the most mystical phenomenon of Polish Indie scene – nobody has any idea about the true identities of the musicians, during shows their faces are covered in mirror masks and apart of music with features of synth-pop, dream-pop, shoegaze and electronic they don't say a word. The princess of Polish pop-music Iza has attracted attention of the big music industry players around the world with her sound experiments and mixes of hip hop rhythms and airy melodies; she has even written music and made a movie together with Snoop Dogg. Meanwhile the band PeR successfully blends beat box with elements of swing and jazz and creates inspiring rhythms and fresh sound.
The artists of Palladium stage will be joined by Neon Saturdays who are inspired by indie/ alternative rock and electronic music and play around with rough rhythms of guitar and active rhythm sections creating a powerful musical performance that is acclaimed both in Latvia and UK.
On the I Love You stage a special vibe will be created by Finish dream-pop union NEØV, who twines together ever-changing melodies with dreamy pop-music. Meanwhile, the night parties on Friday and Saturday will be hosted by DJ Pēteris Bajārs and DJ Klāvs Lauls.
The ninth edition of Positivus festival will take place in Salacgrīva on July 17-19 and as usual it is going to be an important event for those who appreciate high quality music and crazy parties.
The confirmed artists of the festival so far…
Lattelecom Stage: Robert Plant and the Sensational Space Shifters, Placebo, Kasabian, Tom Odell, Jungle, Warpaint, Ewert and the Two Dragons, St. Vincent, Basement Jaxx, Everything Everything, DaGamba + Sinfonietta Riga + Juventus, King Gizzard & the Lizard Wizards, Fenech-Soler.
Nordea Stage: Jack Garratt, Charlie XCX, Lamb, Rival Sons, Kate Boy, Peace, Indiana, Public Access T.V., East India Youth, The Sound Poets, Max Jury, Ghostpoet.
Palladium Stage: Vök, Rangleklods, Soak, Jennie Abrahamson, Triana Park, Sigma, The Big Bluff, Rīgas Modes, Pienvedēja piedzīvojumi, Moontalk, Garbanotas Bosistas, Laime Pilnīga, DJ Jonathan Toubin, Badass Yuki, cirkl, Curly Strings, Gorõ Lana, Lexsoul Dancemachine, MiaMee, Tallinn Daggers, DJ Toms Grēviņš/ Oded Kafri.
I Love You Stage: Mona de bo, Super Besse, Inokentijs Mārpls, Momend, Laika Suns, The Bongo Club, Galvanic Elephants, Würffel, DJ Krankenwagen, Zebra Island, Parára, Future Folk Orchestra, The Werg, Sibyl Vane, The Pink Elephant, Matīss Kļaviņš, Alise Joste.
Red Bull Music Academy Stage: Araabmuzik, Egyptian Lover, Dorian Concept Trio, DJ Sliink, Breach, DJ AI-VA, DJ Mr Krime, Without Letters, Dave Storm Live, Break Da Funk, Avoid Dave, Grind Live, Münpauzn, Bandmaster, Smthing Smthing, DJ Quest & Paul Oja, Mr Nestor, Niklāvz, Formacja/ Mr Krime Live Band.
Before the festival there will be more artists announced to perform on the six stages of the festival as well as the program of Ādažu čipsu Cinema Tent. The main partner of the festival is Lattelecom, supporters are Nordea and Tuborg. The latest festival news can be heard on radio SWH – the official Positivus Festival radio. The taste of the cinema tent is added by Ādažu čipsi.
Tickets:
3 day ticket without camping costs EUR 65,00
3 day ticket with camping costs EUR 71,00
VIP ticket costs EUR 200
One day ticket price EUR 35
A separate camping site pass costs EUR 8.
Tickets are available at www.positivusfestival.com, www.seetickets.com (UK), www.tikketi.fi (Scandinavia), www.ticketmaster.de (DE).
How to get there:
There is nothing easier than getting to Positivus Festival, even if you've never been to Latvia before and have no idea where Salacgrīva is located. You can travel by plane, taxi or the Positivus Express.
The easiest way of getting to Riga is by flying with airBaltic, an airline that offers flights to and from 53 global destinations. You can find your nearest direct or connecting flight at airbaltic.com.
Once in Riga, the next step is to get from Riga to Salacgrīva and Positivus Festival is offering two ways to do it – with BalticTaxi and Positivus Express. BalticTaxi offers the festival visitors a comfortable and advantageous taxi service, delivering them from any location in the Latvian capital of Riga, directly to the festival location in Salacgrīva. BalticTaxi cabs are regularly stationed at the "Rīga" RIX airport, so you can catch a green coloured cab and head straight to the festival straight after landing. This year's BalticTaxi travel voucher costs EUR 76 one way. One voucher permits up to four people to travel in the same cab for the same price. For visitor convenience during the festival, the BalticTaxi cabs will be permanently stationed in an accessible and visible spot at the second festival entrance, sparing worries about calling cabs in advance or waiting for them to arrive.
The fast and comfortable Positivus Express, which will depart from the "Olimpia" shopping mall, located at Āzenes str. 5 in Riga, Latvia, is a great and affordable way to reach the festival site. The Express will drop the passengers off directly at the festival entrance. The Express fare is currently EUR 6.50 one way. We advise you to get your tickets now, due to the limited number of seats available. You can get more information about the BalticTaxi voucher and the Positivus Express ticket rules, as well as purchase both here: www.positivusfestival.com/en/store/eticket/
If you've chosen to take the car, then don't forget that you will require a car parking pass, which will be purchasable at the festival site.
Camping Site:
In order to enter and stay at the camping site, each camping site visitor needs to acquire their own camping site ticket, which costs EUR 8. The camping site will offer access to a shower for a separate fee.
For the third year in a row, Positivus Festival, in partnership with the tourism and active leisure equipment store "Gandrs", are fostering lighter travels by offering two or four person pre-ordered tents in the heart of the camping site, at the "Gandrs village". Considering visitor comfort "Gandrs" is offering special deals on camping and tent related items. More info on the campsite and rent a tent here: www.positivusfestival.com/en/for-visitors/merrild-camping-site/
Taxi / Shuttle Service:
For comfortable travelling, the Positivus Festival shuttle and BalticTaxi travel vouchers to or from Salacgrīva are also currently available on the site. Taxi drive from any spot in Riga to festival site is just EUR 76,00 (max four persons), The Positivus Express fare is currently EUR 6.50 one way. Tickets for the official Positivus Express, BalticTaxi vouchers, camper parking spaces are only available at www.positivusfestival.com.