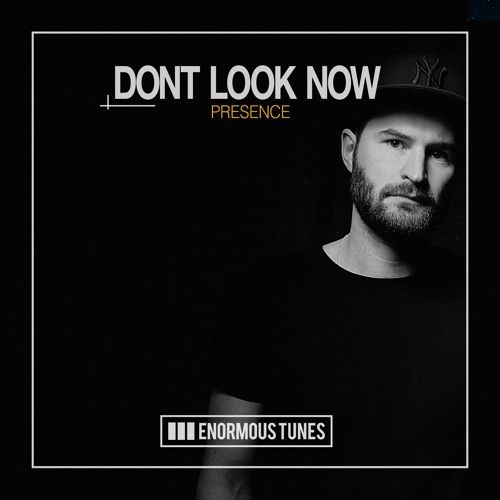 Dont Look Now - Presence
With previous releases on credible imprints Nervous Records and Anjunadeep, 2 million YouTube plays on just one single, and the likes of Nora En Pure & Sonny Fodera supporting his work, UK producer Dont Look Now raises the bar with a 12-track, emotive-house LP.
Reinvigorated UK producer Dont Look Now has released his debut artist album 'Presence' on agenda setting Swiss label, Enormous Tunes. The fresh house record features 12 pristine, catchy house tunes including previously released singles 'All Day All Night' on Sirup Music, and 'Drink Talk', also onEnormous Tunes – a track that has now picked up nearly half a million streams on YouTube with itsCalippo remix. This is an artist who stands out from the pack weaving warmth and melody into his production. Check out Dont Look Now's silky smooth style in 'Presence' on Soundcloud.
A little fact unknown, this Brighton-based producer has had significant success over the past decade under his birth name, Ad Brown, as well as aliases including; Maxi Valviona, Lethal Legend and Dub Delay. Releasing on labels like Sony BMG, Pacha, Toolroom and Ministry Of Sound, he has also remixed for Kylie, Usher and Example, supported the likes of Calvin Harris, and held various key residencies including M1NT in Shanghai, plus toured the world over at such hotspots as Pacha NYC.
Under a new alias, Dont Look Now is the sound of a skilled producer moving forwards and showcasing a more refined sound; ones that's passionate and emotively driven. To date, his sound has won over house heads online with previous track like 'Feels Like' picking up 2.1 million plays on YouTube, he's remixed on Nora En Pure's 'Come With Me' and received support from the lady herself plus key tastemakers likeMichael Calfan, Sonny Fodera, Kid Massive, Moguai and AN21. Vital labels have given him recognition with signings to Nervous, Anjunadeep and of course, Enormous Tunes, where he joins an illustrious list of producers including EDX, Croatia Squad, Alex Kenji, Moguai, and Jerome Isma-Ae.
Says the artist himself, "I've always loved house music, and a few years ago I realised I needed to step back from writing the type of music which I had become known for, and fully commit to creating my own style, even if it meant essentially starting from scratch and walking away from remixing mainstream artists. Having spent some serious time working on new music and using some lovely analogue gear, I am excited to finally release my album."
The result is 'Presence', 12 tracks of summer-ready, glistening house music that will pump in the clubs as well as on terraces and by the pool. The album kicks off with the already popular 'All Day All Night', with its rousing vocal and sun kissed synth lines, big piano chords and hip swinging claps, and 'Drink Talk' featuring a vocalist from The Voice UK and keeping the tropical house vibes alive.
Then comes 'Make Me Say', a more tender and deep track with late night keys, and – soon to be released as single number 3 in July 2018 – 'Ammunition', with its squelchy house beats and twinkling melody phrases, with standout vocal and big bassline. Album title track 'Presence' brings a sound deep and romantic, followed by the uplifting and feel good track 'Want You', featuring diva vocals and colourful chord stabs to let the good times roll.
The second half of the album rolls through the tender and intimate grooves of 'Dopamine', before picking up the energy with the elastic drums and Ibiza-ready chords of 'Higher'. Always offering a beach house vibe that is scorching hot and with perfectly paced drums and warm bass, 'Maybe', 'Crussh' and 'Hold It Down'capture this vibe, whereas 'Rap Music' shows Dont Look Now's excellent range and ability to toughen things up – a sound more akin to his club sets in contrast to his more polished sound on this album.
This is an accomplished album of perfectly poised house music, sleek basslines and summery keys, all topped off with catchy vocals that will make it one of the most essential albums of the summer. Dont Look Now proves that his new style is very much, his best yet.
'Presence' by Dont Look Now is out now on Enormous Tunes. Check out the album mini mix nowhttps://soundcloud.com/enormoustunes/dont-look-now-presence-mini-mix
LINKS
www.soundcloud.com/dontlooknow00
www.instagram.com/dont_look_now00
www.facebook.com/DONTLOOKNOW00
http://bit.ly/DontLookNow_Spotify