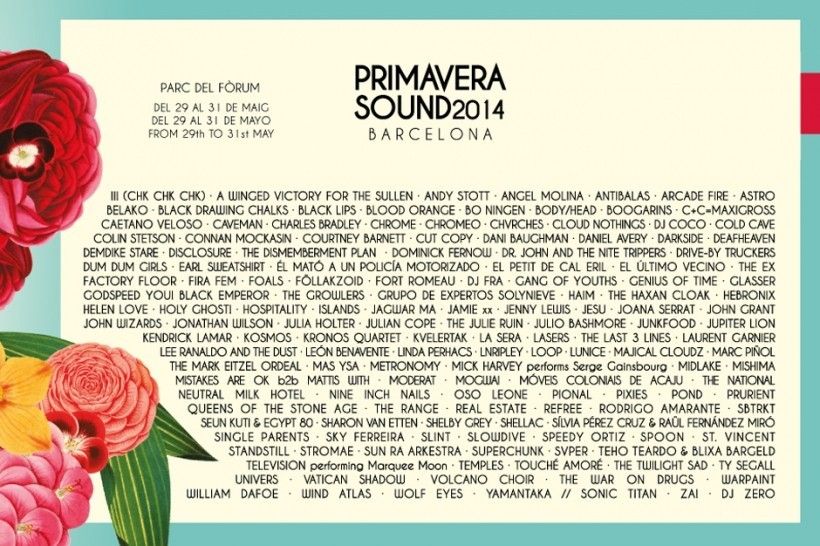 PRIMAVERA SOUND 2014 ANNOUNCES MORE ACTS!
"Primavera" is in the air and three new bands will be joining the main programme in the Parc del Fòrum: The Americans Future Islands and from Dublin, Girl Band, who will both play on Thursday 29th May and the British artists FKA Twigs, who will play on Friday 30th.
Future Islands scale new heights. After being on the labels Upset The Rhythm and Thrill Jockey, the band signed to the influential British label 4AD at the beginning of this year and will release their fourth album soon. A record that is opportunely called "Singles" on which they express the poppier side of their sound, that is full of familiar choruses and home synthesisers.
Girl Band are from Dublin and after only a couple of EPs and the impressive single "Lawman" they have become one of the bands of the moment. While they are preparing their debut album their concerts sell out wherever they go thanks to a sound that takes a little from minimalism and from krautrock repetition and a little from electronic music, but that also has powerful guitars and a singer with an impressive vocal style.
FKA Twigs is a young English dancer and producer who self edited her first tracks with videos of them all on Youtube, this caught the eye of the Young Turks label that release her on their label in 2013
TICKETS AND SALES POINTS
The price of the full festival ticket is 175 € until 7th February (in La Botiga del Primavera Sound – Ases, 1 –it has a special price of 170€).
From 8th February to the beginning of the festival it will cost 195 €. Exceptionally, in La Botiga del Primavera Sound it will still be on sale at the price of 170 € until Monday 10th February inclusive and from Tuesday 11th the price will go up to 190 €.
The sales points are Ticketmaster, Atrapalo, Portal Primavera Sound, la botiga del Primavera Sound, Ticketscript, Fnac Francia, Seetickets, Paylogic and Vivaticket.
In order to help those interested in buying tickets there will once again be the option of paying in instalments. The price of this kind of full festival ticket is 180 € until 7th February. From February 7th the Price will be 200 €. Only to be bought through Primavera Sound Portal.
Primavera Sound 2014 VIP full festival ticket in Barcelona is on sale too at the price of 250 €.
Accreditations of PrimaveraPro Basic are also available at the price of 225€ and PrimaveraPro Premium at 300€.
The concerts on Wednesday 28th May in the Parc del Fòrum will be free.
CONFIRMED ARTISTS 28.01.2014
MONDAY 26th MAY
– Apolo: Darren Hayman & the Trial Separation, The Free Fall Band, Tigercats
TUESDAY 27th MAY
– Apolo: Antibalas, Chicha Libre
WEDNESDAY 28th MAY
– Parc del Fòrum: Él Mató a un Policía Motorizado, Fira Fem, Holy Ghost!, Sky Ferreira, Stromae, Temples
– Apolo: The Brian Jonestown Massacre, Har Mar Superstar, Holy Ghost! Djs, Niña Coyote eta Chico Tornado
– La [2] de Apolo: Showcase La Castanya: Aries, Beach Beach, Me and the Bees
– Teatre Principal: Jamie xx & friends
– El Teatro Latino: The Ex, Full Blast, Paus, Shellac
THURSDAY 29th MAY
– Parc del Fòrum: A Winged Victory for the Sullen, Andy Stott, Antibalas, Arcade Fire, Bo Ningen, Caveman, Charles Bradley, Chrome, CHVRCHES, Colin Stetson, Disclosure, El Petit de Cal Eril, El Último Vecino, The Ex, Föllakzoid, Fort Romeau, Gang of Youths, Glasser, Grupo de Expertos Solynieve, Jamie xx, John Wizards, Julian Cope, Julio Bashmore, Kosmos, Lasers, LNripley, Lunice, Majical Cloudz, Metronomy, Midlake, Moderat, Móveis Coloniais de Acaju, Neutral Milk Hotel, Pond, Queens of the Stone Age, The Range, Real Estate, Rodrigo Amarante, Shelby Grey, Shellac, Single Parents, St. Vincent, Standstill, Sun Ra Arkestra, Svper, Touché Amoré, Warpaint, William Dafoe, Wind Atlas
FRIDAY 30th MAY
– Parc del Fòrum: !!! (Chk Chk Chk), Angel Molina, Astro, Black Drawing Chalks, Body/Head, C+C=Maxigross, Darkside, Deafheaven, Demdike Stare, Dominick Fernow, Dr. John and the Nite Trippers, Drive-By Truckers, Factory Floor, Dj Fra, The Growlers, Haim, The Haxan Cloak, Jagwar Ma, Jenny Lewis, Jesu, Joana Serrat, John Grant, Julia Holter, The Julie Ruin, Kvelertak, The Last 3 Lines, Laurent Garnier, Lee Ranaldo and the Dust, León Benavente, Linda Perhacs, Loop, Mas Ysa, Mick Harvey performs Serge Gainsbourg, The National, Oso Leone, Pional, Pixies, Prurient, Refree, SBTRKT, Sharon Van Etten, Slint, Slowdive
SATURDAY 31st MAY
– Parc del Fòrum: Belako, Black Lips, Blood Orange, Boogarins, Caetano Veloso, Chromeo, Cloud Nothings, Dj Coco, Cold Cave, Connan Mockasin, Courtney Barnett, Cut Copy, Dani Baughman, Daniel Avery, The Dismemberment Plan, Dum Dum Girls, Earl Sweatshirt, Foals, Genius of Time, Godspeed You! Black Emperor, Hebronix, Helen Love, Hospitality, Islands, Jonathan Wilson, Junkfood, Jupiter Lion, Kendrick Lamar, Kronos Quartet, La Sera, Marc Piñol, The Mark Eitzel Ordeal, Mishima, Mistakes Are Ok b2b Mattis With, Mogwai, Nine Inch Nails, Seun Kuti & Egypt 80, Sílvia Pérez Cruz & Raül Fernández, Spoon, Superchunk, Teho Teardo & Blixa Bargeld, Television performing Marquee Moon, Ty Segall, Univers, Volcano Choir, Za!
– Els Vermuts del Primavera (Parc de la Ciutadella): Flamaradas, Renaldo & Clara, Speedy Ortiz, Súper Gegant, The Twilight Sad
SUNDAY 1st JUNE
– Apolo: Chromeo, Cloud Nothings, Dave P, Ty Segall, Vàlius
– La [2] de Apolo: Showcase BCore: Cuello, Fuckin' Bollocks, No More Lies
– BARTS: Angel Olsen, Grouper, Joana Serrat, Juana Molina
– Els Vermuts del Primavera (Parc de la Ciutadella): Berlinist, Boogarins, Dum Dum Girls, Hospitality, La Sera, The Mark Eitzel Ordeal