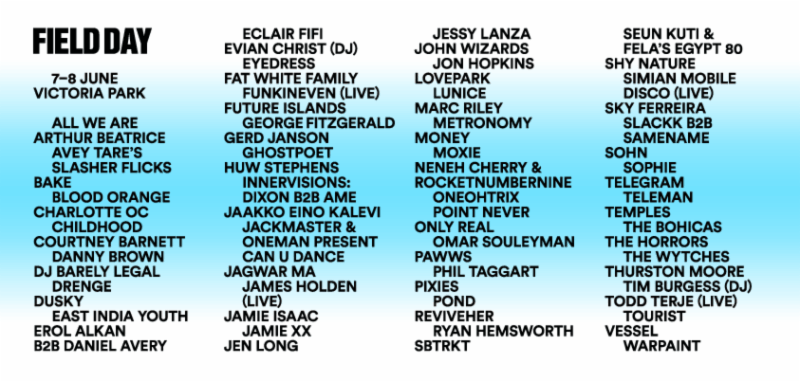 More acts added to Field Day…
After announcing our Field Day Europe events in Turin, Amsterdam and Paris last week, we are thrilled to add four brilliant names to the Field Day London line up.

We are honoured to welcome the legendary Thurston Moore to Field Day on Saturday 7th June. A key member of one of our all-time favourite bands, the art/punk rockers Sonic Youth, Moore has been involved in numerous side projects and has worked with everybody from Yoko Ono, Dinosaur Jr and Beck to Merce Cunningham and Gus Van Sant. His new solo album is to be released by Matador in September and we can't wait to have him at Victoria Park.

We are verypleased to confirm band of the moment, Future Islands, who will be joining Pixies, The Horrors, Temples and more on Sunday 8th June. Their sound is one part melancholic, one part euphoric, full of animated basslines, robust drum machines and questing keyboards, all set off by Samuel T Herring's remarkably distinct, soaring vocals. And since that performance on David Letterman earlier this month, we are impatient to see Baltimore's most quixotic and emotionally involving trio live on stage at Field Day.

Also confirmed for Field Day Sunday are Heavenly signed psychedelic act The Wytches with their 50s surf riffs, melancholic shuffles and kaleidoscopic stage performance, as well as buzzy newcomers Lovepark. More exciting news coming soon.