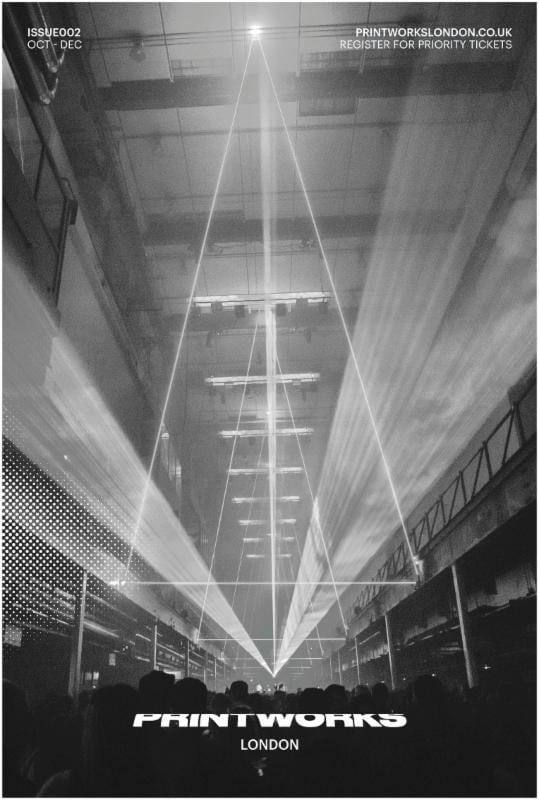 Printworks London Announce Issue 002 Music Series
Following a launch series that firmly established Printworks London as a respected addition to London's music and culture landscape, this autumn its door will open again for Issue 002: a 10-week music series running from October to December 2017.
Printworks London's debut series, Issue 001 featured festival takeovers from Melt! Junction 2 and Snowbombing, label showcases with Galaxiid, The Hydra presents Klockworks and Knee Deep in Sound, a dedicated drum & bass show from UKF, SomeVoices a 500 person strong choir and guests including Paul Kalkbrenner, Seth Troxler, Maya Janes Coles, Luciano, The Martinez Brothers, Daphni, Booka Shade and Motor City Drum Ensemble.
Expanding in scope Issue 002 will feature a genre-spanning series of events taking in techno, electro, house, drum & bass, live performance and more. New tweaks to sound and production, a wide range of bars and a street food courtyard will all ensure that Issue 2 will deliver some of the city's most unmissable events this autumn.
All Issue 001 events sold out, please sign up to be the first to receive lineup details and for priority access to tickets: http://printworkslondon.co.uk
"Printworks London is a venue unlike any other in the capital and I'm so excited about the launch of this innovative space. Thousands of Londoners will be able to enjoy experimental and captivating events here in the future and, thanks to the Night Tube, they won't have to worry about getting home from this part of the city. This is fabulous news for London's night time economy." – Night Czar, Amy Lamé
LINKS & FURTHER INFORMATION:
http://printworkslondon.co.uk
LOCATION:
1 Printworks
Surrey Quays Road
London SE16 7PJ
SOCIAL MEDIA:
www.facebook.com/Printworks-London
www.twitter.com/printworks_ldn
www.instagram.com/printworkslondon