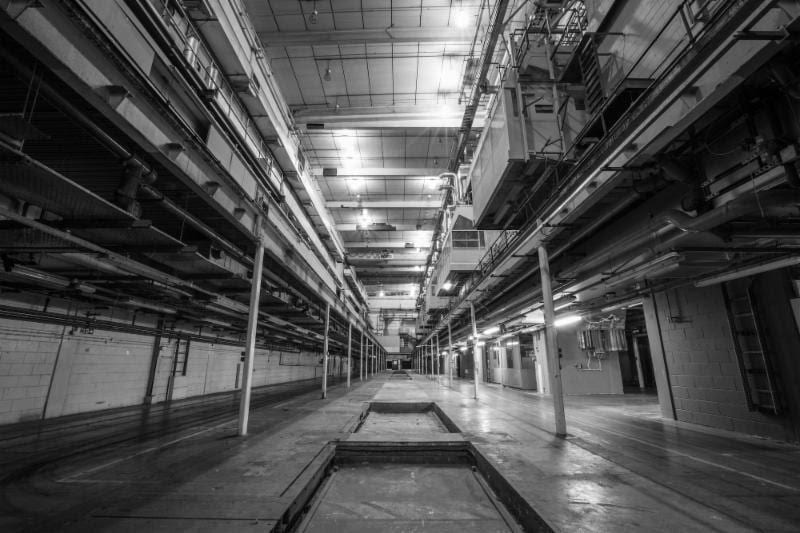 Printworks London Issue 001 – Series Announced – Nina Kraviz, Gold Panda, Luciano
Series listings have been revealed for Printworks London Issue 001, the debut music series from London's new, experimental, temporary cultural hub, scheduled to run at a limited 2,500 capacity from February to April 2017 only.
Printworks' cavernous, industrial Press Halls will welcome a succession of club culture's leading figures with the likes of Daphni, Nina Kraviz, Seth Troxler, Floating Points, Luciano, Adam Beyer and more, set to headline a genre-spanning programme of events for Issue 001.
Offering a different and immersive experience, events will run from midday to 10pm, with ten hours of action both on and off the dancefloor. Printworks' corridors will reveal a matrix of intrigue with a bar for every occasion, street food stands and vast chill-out areas providing plenty of entertainment throughout the day.
Two rooms of music will offer vastly different environments with the colossal scale of the soundproofed main room making for many epic dancefloor moments. Printworks room 2 will provide an intimate environment to enjoy some of the scenes most exciting emerging talent with lineups curated by some of the country's most progressive promoters including Superstition, Portal and Into The Woods.
The anticipated Launch Extravaganza will take place on Saturday 4th February with a colossal, three-way back-to-back headline set from industry giants, Seth Troxler, Loco Dice and The Martinez Brothers.
Making the most of Printworks' unique setting, bizarre and curious machinery will be left in situ and the soundproofed main space allows for those attending the events to enjoy the music without disturbing the local community. Each event will benefit from bespoke production with fully-fitted L'Acoustic and SB28 loudspeakers, custom designed mechanical lighting truss and over 100 lasers and spotlights to illuminate the dramatic industrial features.
In addition to the soundproofed main room, Printworks plan to minimise the impact on residents by directing customers to and from nearby stations through signposted and steward-manned routes via non-residential areas. Local SE16 residents will also benefit from 50 free balloted tickets to all ticketed events and a space within the venue dedicated entirely to community use.
Running at a limited 2,500 capacity for the debut series, presale tickets starting at £22.50 will be available from 6pm on Thursday 8th December with general sale tickets available to purchase from midday on Friday 9th. For priority access to tickets, please register at: http://printworkslondon.co.uk
In addition to the music offering, Printworks are busy at work locking in a vibrant selection of cultural events with plans for food festivals, exhibitions, orchestral performances, immersive theatre with even more the pipeline.
The planning application for temporary use of the Printworks as a culture, music and arts space is currently under consideration by Southwark Council. If approved, events would take place from early 2017.
Saturday 4th February
LAUNCH:
EXTRAVAGANZA
R1: SETH TROXLER B2B LOCO DICE B2B THE MARTINEZ BROTHERS |
WILLIAM DJOKO
R2: KRANKBROTHER | GEDDES | G. WALKER
Saturday 11th February
SNOWBOMBING PRESENTS
LINEUP TBA
Saturday 18th February
MAYA JANE COLES & FRIENDS
ALAN FITZPATRICK | DANIEL AVERY | KIM ANN FOXMAN
MARIBOU STATE (DJ SET) | MAYA JANE COLES | MAX COOPER (LIVE)
WAX WINGS B2B ALINKA RATNER
Saturday 25 February
JUNCTION 2 PRESENTS
R1: ADAM BEYER ALL DAY LONG
R2: TRUESOUL: JOEL MULL | KEVIN OVER | RESET ROBOT
In association with Relentless & Mixmag
Saturday 4th March
THE HYDRA PRESENTS
DAPHNI | FLOATING POINTS (DJ SET) | GOLD PANDA | DOLAN BERGIN |
PLUS VERY SPECIAL GUEST TBA
Saturday 18th March
MELT FESTIVAL PRESENTS
R1: CHRIS LIEBING | JULIA GOVOR | KIASMOS (DJ SET) |
MIND AGAINST | RECONDITE (LIVE) | MORE TBA
R2: SUPERSTITION: TOMMY FOUR SEVEN | INIGO KENNEDY I TIJANA T I PATHWORKS | TAPEFEED VS PLEIADES |
FLAMINIA (LIVE) I OSSA DI MARE (LIVE)
Saturday 25th March
NINA KRAVIZ PRESENTS GALAXIID
FULL LINEUP TBA
Saturday 1st April
KNEE DEEP IN LONDON
R1: HOT SINCE 82 | MATTHIAS TANZMANN | BUTCH | MATHIAS KADEN
MORE TBA
Saturday 8th April
LUCIANO & FRIENDS
R1: LUCIANO | GUTI (LIVE) | ADAM SHELTON
R2: INTO THE WOODS: ALEX CELLER | SCOTT KEMP | KOLO & DYZE | TEREK CHARBONNIER | G. WALKER
Saturday 22nd April
THE HYDRA PRESENTS
LINEUP TBA AFTER NYE
Friday 29th April
COMING SOON
INEUP TBA AFTER NYE
Saturday 30th April
KLOCKWORKS
LINEUP TBA AFTER NYE
**TICKETS LIMITED TO 2,500 PER SHOW**
**TICKETS STARTING FROM £22.50**
SIGN-UP FOR PRIORITY ACCESS TO TICKETS: http://printworkslondon.co.u