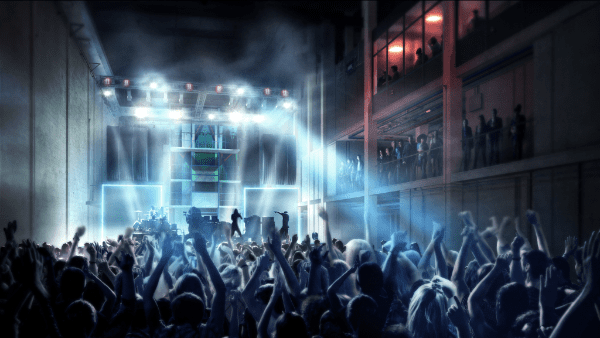 Printworks London Launch New 3000 Capacity Live Venue
Following a hugely successful inaugural year of pioneering electronic programming in one of Europe's most talked about spaces, Printworks London has announced ambitious plans to launch a new, 3000 capacity live room in its already iconic venue.
Printworks will simultaneously increase its commitment to electronic events, and make bold steps into arts and culture programming to create a unique creative hub for the city.
Opening on 23rd March, the new room within the sprawling venue will host some of the biggest and most acclaimed live acts today, whilst retaining the unique, much lauded electronic space it is already famous for. As such, 2018 will see Printworks become a key tour stop for live music artists.
The first live show in the new space will come from art-rock psychedelic favourites Django Django (23rd March), followed by a programme including shows from drum and bass titans Pendulum (14th April) and multi-instrumentalist Tokio Myers (10th April).
Printworks is also expanding on its programme to further embrace arts and culture, kicking off the focus with a year long residency from YOUTH CLUB Archive, who will be allowing access to its tens of thousands of youth subculture images from the past four decades for the first time. Dedicated to preserving, sharing, educating and celebrating youth culture, the non-profit organisation will host an exhibition as well as building an open workspace and dark room facility which will see them work with a team of volunteers and interns to digitise hundreds of thousands of previously unseen negatives and prints.
The arts and culture programming will be overseen by Tamsin Ace, head of festival programme at London's renowned culture hub Southbank Centre.
Bradley Thompson, MD of Broadwick Live says:
"We feel hugely privileged to have helped breathe life back into this remarkable landmark since it opened its doors as a venue in 2017. It was always our ambition for Printworks to lead the way not just in era defining electronic music events, but across all arts. In Printworks, we truly believe that we have one of the most incredible venues there is today, and we're absolutely committed to giving people unparalleled production, programming and experiences throughout the cultural spectrum."
Tamsin Ace, head of festival programme at Southbank Centre says:
"I'm excited to be part of the team creating a new arts and culture programme for Printworks. With such a different space to play with, Printworks offers the opportunity for artists to create something truly unique."
Meanwhile, holding true to its commitment to host world-class electronic music events in one of the most individual venues in Europe, Printworks will continue to evolve its club space with developments in its sound, lighting and video systems, designed and supplied by Manchester-based production company dbnAudile. Using some of the newest technology on the market, sound in the electronic space has been upgraded with the introduction of an extensive d&b audiotechnik J and V-Series system, providing audiophile-grade sound quality and next-level bass performance throughout. The visual system retains the signature Kinesys moving rig technology and introduces LED video screens, running content by Digital Insanity. Lasers from Dragonfly complete the package. These enhancements promise to take the already breathtaking audio visual experience for which Printworks is acclaimed to its next level.
Having opened in 2017 in the industrial surroundings of the former Metro and Evening Standard printing facility, the groundbreaking, multi-purpose venue has already delivered a celebrated year-long programme of electronic events whilst also playing host to events including the star-studded live launch of Gorillaz latest album 'Humanz', Tom Misch and Afropunk Festival, and music video shoots for stars including man of the moment Stormzy.
With a rich history in booking and promoting award-winning events and festivals across Europe including Field Day, Snowbombing, Lost Village, South West Four and Hideout, venue runners Broadwick Live looks forward to the next evolution of its flagship venue which will allow the team to continue to innovate in electronic music whilst embracing broader programming.
Roger Madelin, Head of Canada Water Development comments:
"Broadwick Live and Vibration Group have created a unique venue for London at the Printworks. We are happy to see the next stage of the Printworks' evolution take shape with the addition of the live music venue. We are evaluating a number of cultural spaces within our Masterplan for Canada Water and I am reassured by the success of the Printworks' current use."
With more shows to be added throughout the year head to printworkslondon.co.uk and follow @Printworks_LDN for more information.