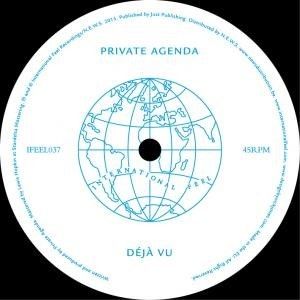 Private Agenda – Déjà Vu
International Feel's newest signing Private Agenda are taking us back to a time when soul first met synthesisers, shoulder pads were as vital as the right Berlin address and Sheffield met the sonic Caribbean playground of Compass Point.
It was from this juxtaposed melting pot that the early seeds of Alfredo's Balearic Beat movement gathered pace and 'Déjà Vu' is a cocktail of Linda Di Franco, a Roxy Music-esque aesthetic, bound together by elements of the inventive, contemporary production values of artists such as Todd Terje and Prins Thomas. 'Freefalling' on the reverse proves a fitting reflection of Private Agenda's wider vision. Finding sonic roots in early Balearicism – ethereal vocal lines over delicate percussion.
Uniting their disparate tastes and talents for the first time, the trio's debut single, 'Déjà Vu', provides a wonderful introduction to their world; where production values are as detailed as they are bombastic; lyrics, as reflective as they are bold.
Private Agenda are Martin, Sean & Nick. Martin's first synthesiser was an organ. He met Sean in German class. Sean was famous at school for his Mercuryesque indie-rock-band stage presence and was especially dedicated to the art of songwriting. A few years later in Berlin, Martin moves in with Nick. The first time they worked together, they went for hours straight without a break. "I wanted to watch him mix music forever, it was magic," Martin recalled. Although it could have happened anywhere, Berlin was the place they all came together for the first time. Ladies and gentlemen, Private Agenda.