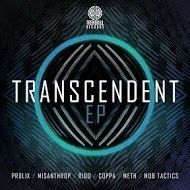 Prolix – Transcendent EP
Prolix is undoubtedly a name familiar to D&B fans the world over. Having notched up releases on Ram Records and Playaz, remixes for the likes of Moody Good on MTA/OWSLA and the collaborative 'Project Trendkill' album with Gridlok, this producer has proven himself capable of creating precision-crafted dancefloor killers. And that's precisely what he delivers here. A collaborative effort between himself and five peers, the 'Transcendent' EP pushes boundaries and showcases some of Prolix's favourite drum & bass artists.
TRANSCENDENT
"Transcendent came about after meeting with Misanthrop at a few gigs. We had both been fans of each other's work and had spoken a lot online but never worked together, and we felt we should! This track was premiered by DJ Friction on BBC Radio 1 and chosen by Crissy Criss on 1Xtra as his 'Ace of Clubs' track of the week, but it has also had a great reaction from DJs outside D&B like Excision and Datsik."
EXPLORATION
"'Exploration' was started in the Czech Republic in Rido's studio and involved vodka and hangovers… but we feel they all positively contributed to the music! I loved Rido's tracks on Metalheadz and I'm really pleased with how this came together. Audio, Black Sun Empire and Pendulum in particular have been smashing this one."
VITAL CONDITION
"I'd had Coppa's vocals laying around for a while but I didn't want them to go to waste, especially because Marvin takes great care over getting good recordings of his vocals. So I pulled up an older project and reworked it and it became 'Vital Condition.' This is really a celebration of Coppa's vocals and shows a deeper side to my production."
NEXT LEVEL
"This collab with Meth is one we'd been meaning to do for a while. I have admired his tunes for some time, we both have very similar tastes in dnb and are both fans of the old RAM sound. We definitely tried to infuse some of that into this track."
TRANSMISSION
"This was another studio session involving a lot of alcohol! I have been friends with Mob Tactics for a while. They released on Trendkill last year and just dropped an EP on Chase & Status' MTA Records so it's great to welcome them back. And even better to make a track with them. This one has had loads of support from Noisia and DC Breaks and I'm really proud of how it turned out."
The 'Transcendent' EP goes beyond expectations, drawing on five huge talents and bringing them together on Prolix's own Trendkill Records to create an EP that's been destroying dance floors in the sets of the bass-heavy elite including Andy C, Noisia and Excision. This EP will transcend your expectations when it drops this September.
http://www.beatport.com/release/transcendent-ep/1350698