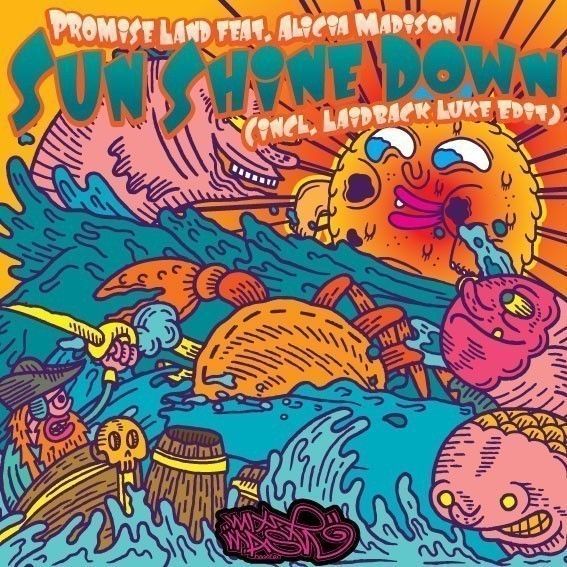 Promise Land ft Alicia Madison – Sun Shine Down
After the huge success Promise Land had with 'Bad DJ', the follow up 'Sun Shine Down (Laidback Luke edit)' featuring Alicia Madison is set to match its equally dizzying heights. The track will be released through Mixmash on the 16th December.
'Sun Shine Down' is a fun, bouncy track that will transport you back to fond memories of summer, taking you away from the cold and misery of winter and thrusting you back into scorching sunshine and golden beaches.

Featuring beautiful vocals from Alicia Madison over a fast paced melody of synths and drums, this catchy EDM track will stick in your head for days.
The pair are no strangers to releases on massive labels, with consistent productions for Size, Spinnin, Doorn to name but a few, and for their latest release they turn to Laidback Luke's imprint, 'Mixmash'.
Italian duo Promise Land, aka Nazario and Fabio began DJing back in 1995 but their first release as Promise Land, 'Walking All Together' with DJ Nick wasn't released until 2003.
Fast forward to 2013 and the pair have had success with releases such as 'Gangsta' on Spinnin and their championed remix of Swedish House Mafia's 'Don't You Worry Child', which still receives regular support from their DJ peers.
Their remix of 'Glow' by AN21 & Max Vangeli earlier in 2013 also earned Promise Land a reputable name, but their most prominent release to date is without doubt 'Breaking Up' featuring Amanda Wilson, which was produced alongside Dirty Dutch pioneer Chuckie.
Hailing from New Jersey, EDM singer/ songwriter Alicia Madison will sing to anyone who'll listen. Starting off as an intern at Warner Brothers Records, vice president of A&R Tommy Page got word that Alicia was a singer, and asked if she would sing for him. A week later she set up with Big Management and the rest is history.
After extensive touring and building her name Alicia now has upcoming releases with Mixmash, MODA, Central Station and Musical Freedom.
# # #
For more information on Promise Land:
http://www.djpromiseland.com/html/
https://www.facebook.com/djpromiseland/
https://soundcloud.com/djpromiseland
https://twitter.com/DjPromiseLand
http://www.mixcloud.com/PromiseLand/
For more information on Mixmash see below:
http://www.mixmashrecords.com/
https://www.facebook.com/MixmashRecords
https://soundcloud.com/mixmash-records