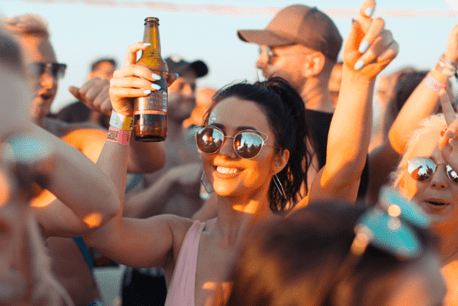 Pukka Up Ibiza Reveals 2019 Sunset Boat Parties, After Parties & Pool Party Plans
Known for staging memorable sunset boat parties and offering unbeatable value, Pukka Up once again set the standard in Ibiza for 2019 with quality house DJs, pre-parties, after parties at Amnesia and Eden and pool parties at O Beach from May until September
Pukka Up has a well-earned reputation for offering the most essential boat parties in all of Ibiza and that continues in 2019. Offeringthree weekly events of sumptuous sounds and scenery, there will be sailings from San Antonio Harbour on Tuesdays (4th June – 17th Sept), Thursdays (6th June – 26th Sept), and Saturdays (25th May to 21st Sept), where a flotilla will take to the Med to catch Ibiza's cosmic sunset. Each one will kick off with a pre-party at the prestigious San Antonio venue Rio Bar complete with roof top views of the harbour, followed by afterparties with leading brands Together, ABODE and WNDRLND at world renowned clubs Amnesia and Eden, and the day after, luxury pool parties at O Beach. Tickets are unbelievably good value with boat only starting at €45 and full packages from €65, available from www.pukkaup.com.
The Pukka Up Sunset Boats are full on floating party paradises. Next to a world class sound system pumping out uplifting house music, revellers can expect an unforgettable trip amidst CO2 and confetti cannons, inflatables, huge giveaways and other surprise experiences. They'll dance under the sun to Pukka Up's on-point resident DJs, James Campbell, Cansen and DAYL, regular guest DJsthroughout the summer, and live sax performances by Matt Saxx. Each boat party lasts three memorable hours and takes in 360-degree views of the crystal-clear blue ocean and jaw-dropping sunset, providing the perfect photo opportunity. Pukka Up is an industry leader when it comes to value, cramming four parties into one ticket.
Each weekly event starts with a pre-party at Rio Bar at 4pm (3pm in September) where guests meet fellow party passengers, sip on cocktails with picturesque views across the harbour, and listen to fresh beats from the cutting-edge VOID sound system. The boat then officially sets sail from 6pm – 9pm (5pm – 8pm in September) where three free drinks will be served up for each guest.
After the Tuesday boat parties, party goers can opt for the notorious Together at Amnesia with travel courtesy of Pukka Up. This famously festival-size night brings A-list acts in drum'n'bass, dubstep and bass such as Andy C, Pendulum, Chase & Status and Wilkinson to one of the most famous and spectacular clubs in Ibiza. When the dancing is over, head home for a quick rest then it's onto Hotbed at O Beach (formerly known as Ocean Beach) on Wednesday for a giant pool party that is vibrant and colourful with soulful music and world class production.
The Thursday afterparty is also held at Amnesia this time for ABODE, one of the hottest and edgiest young nights on the White Isle, again with travel included. Names like Skream, Steve Lawler, Santé and Alan Fitzpatrick all made it the most vital event in 2018 and are an indication of what's to be announced for 2019. The following day, revellers join Pool Party at O Beach featuring the very best in vocal house in a stunning open-air pool arena with day beds, table service and the indistinguishable O Beach vibe.
For Saturdays, Pukka Up takes the troupes to WNDRLND at Eden. Formerly known as 'Tropical Wonderful', WNDRLND will now host, on rotation, an assortment of outlandish themes, such as Voodoo, Wilderness and Down The Rabbit Hole. Each is set to transport clubbers into immersive new dimensions with bigger production, crazier entertainment, and the best in house music. Co-hosted parties with Hedkandi, Retro, Garlands and Judgement will also feature throughout the summer. The following day, its back to O Beach for the perfect carry on with a rotating cast of party experts like Sin Sundays, House In Paradise, Ibiza Spray, Boat Club and Candypants, all taking care of the sound track in the sun.
With more than 16 years on the White Isle behind them, Pukka Up has conquered far and wide with its action-packed seafaring parties. The friendly and welcoming brand has thrown events all over the world from Asia to Australia and Brazil to the Balearics, entertaining more than 200,000 people just last year.
Pukka Up continues year-on-year to be the boat party of choice for holidaymakers and through its club packages, offers an even longer-lasting experience for such an amazingly affordable price. Tickets for all this non-stop fun cost from €45 (boat only) and from€65 (club package), with no hidden booking fees. Visit www.pukkaup.com to buy.
To keep up to date with Pukka Up Ibiza including announcements for special guest appearances, follow Pukka Up on Facebook www.facebook.com/pukkaupfanpage
EVENT INFO
Every Tuesday from 4 June – 17 September 2019
– After party: Together at Amnesia
– Pool party: Hotbed at O Beach
Every Thursday from 6 June – 26 September 2019
– After party: ABODE ay Amnesia
– Pool party: Pool Party at O Beach
Every Saturday from 25 May – 21 September 2019
– After party: WNDRLND at Eden
– Pool party: various
26.05 – Ibiza Spray @ O Beach
02.06 – Sin Sundays @ O Beach
09.06 – Boat Club Promotions @ O Beach
16.06 – House In Paradise @ O Beach
23.06 – Candypants @ O Beach
30.07 – Ibiza Spray @ O Beach
07.07 – Sin Sundays @ O Beach
14.07 – House In Paradise @ O Beach
21.07 – Boat Club Promotions @ O Beach
28.07 – Ibiza Spray @ O Beach
04.08 – The Zoo Project @ Benimussa Park
11.08 – House In Paradise @ O Beach
18.08 – TBC @ O Beach
25.08 – Ibiza Spray @ O Beach
01.09 – House In Paradise @ O Beach
08.09 – Candypants @ O Beach
15.09 – Boat Club Promotions @ O Beach
22.09 – Sin Sundays @ O Beach
All pre-parties are at Rio Bar and restaurant. Customers must come to the Rio at 4pm June to August and 3pm in September to exchange tickets for wristbands.
TICKETS
Boat only from €45
Club package from €65
www.pukkaup.com
LINKS
www.pukkaup.com
www.facebook.com/pukkaupfanpage
www.twitter.com/pukka_up
www.instagram.com/pukka_up