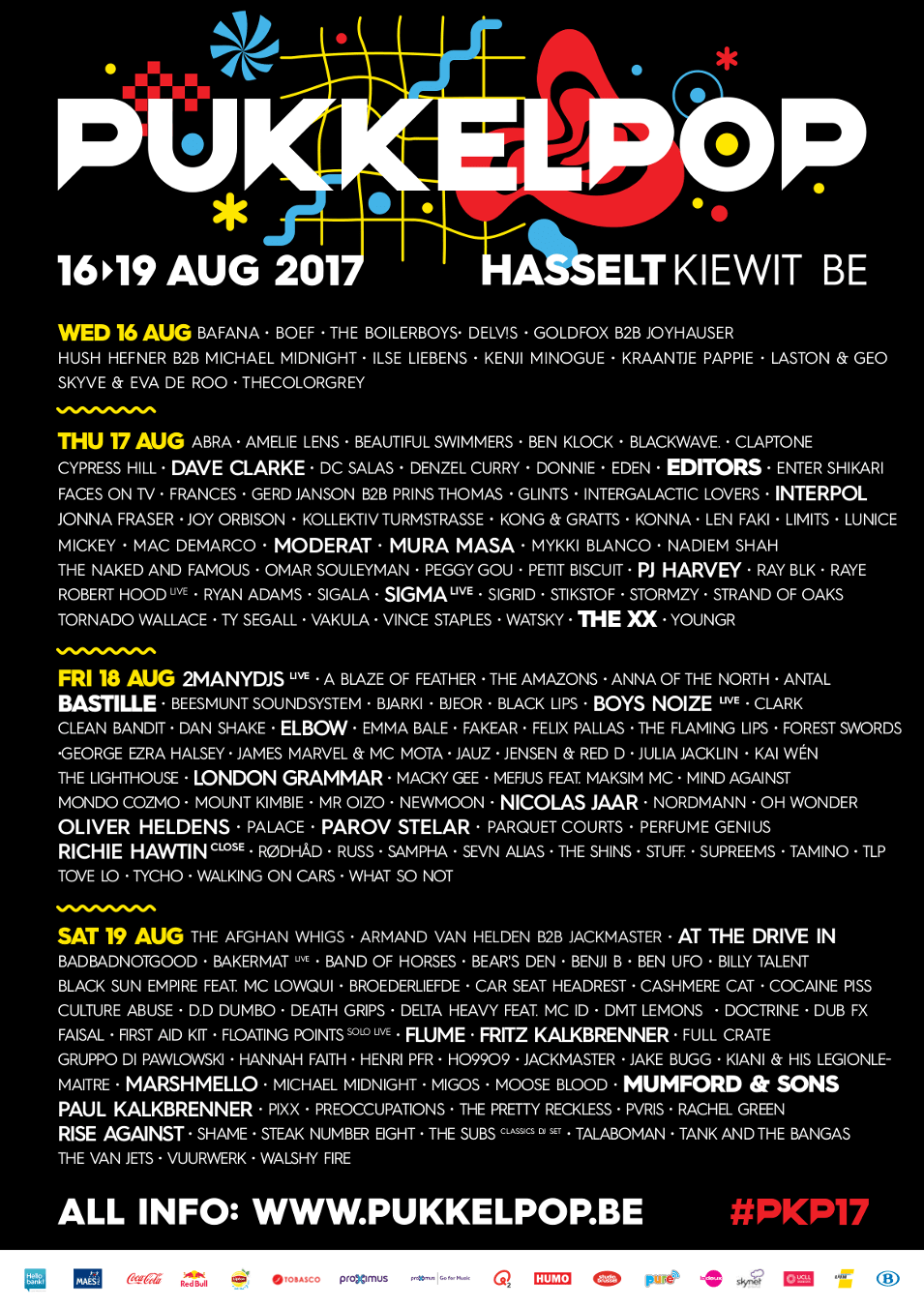 Pukkelpop Festival 2017 Adds Even More Names!
Pukkelpop Festival, Belgium's most eclectic and revered festival, is pleased to announce even more names set to join this year's remarkable line-up.

Poised to invade the Boiler Room on Thursday is the masked German house phenomenon, Claptone, who is set to deliver an unforgettable dance set as the Saturday makes way for The Subs play an exclusive classics-only DJ set, in line with Paul Kalkbrenner's Back To The Future project.

Up-and-coming Belgian dance toppers Mickey, Henri PFR and Limits promise to dive into the biggest dance tents of our summer festival. While Wacky combo Tank and The Bangas, hailing from New Orleans, are a monument to positivity carved out of solid soul, funk and set to blow Belgium crowds away. Also appearing across the weekend are blackwave. and TheColorGrey – Belgium's' most highly-anticipated urban artists.

Electro-trashers Kenji Minogue are opening the ball on Wednesday, and the alienating pop of Felix Pallas can be enjoyed in the Club on Friday.

People with a Thursday or combi ticket are welcome to our big opening party on Wednesday, spearheaded by Boef, Delv!s and Kraantje Pappie. Now we also have the full Belgian line-up for the Boiler Room with Laston & Geo, Skyve & Eva De Roo, Ilse Liebens and The Boiler Boys. Meanwhile, The Booth bounces up and down to tunes by Hush Hefner b2b Michael Midnight, Bafana and Goldfox b2b Joyhauser.

With these incredible names, it'll come as no surprise that Saturday Day tickets have completely sold out! Combi tickets, Thursday, and Friday Day tickets for Pukkelpop are still available but are selling fast. Festival fans are urged to buy their tickets from official ticket agents as soon as possible to avoid disappointment.

Taking place from 16th – 19th August, Pukkelpop will see unforgettable performances from Mumford & Sons, The XX, The Editors, and Bastille. In addition to these mammoth headliners, Pukkelpop are set to showcase the best in modern music with sets from over 100 additional incredible acts, with more still to be announced.

NEW ADDITIONS
Wednesday 16th August – Bafana, Goldfox B2B Joyhauser, Hush Hefner B2B Micheal Midnight, Ilese Liebens, Kenji Minogue, Skyve & Eva De Roo, The Boilerboys, TheColorGrey
Thursdays 17th August – blackwave., Claptone, Limits, Mickey.
Friday 18th August – Felix Pallas
Saturday 19th August – Henri PFR, Tank and The Bangas, The Subs.

Go to www.pukkelpop.be for a full overview of all additions.