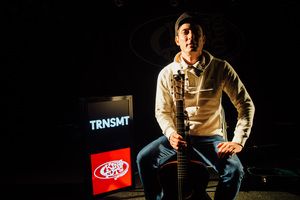 Trnsmt Fever Takes Over Glasgow!
With just two weeks to go until Scotland's newest and biggest festival TRNSMT is set to bring international headliners Radiohead, Kasabian and Biffy Clyro to Glasgow Green,TRNSMT celebrated with a local talent takeover in King Tut's Wah Wah Hut. Bands performed covers of fellow TRNSMT acts Radiohead, Kasabian, Biffy Clyro, The 1975 and Catfish and the Bottlemen.
Set to play the King Tut's Stage Powered by Utilita, Be Charlotte, Gerry Cinnamon, JR Green, The LaFontaines, The Van T's, The Vegan Leather, Vistas and Wuh Ohdemonstrated their festival credentials on stage, with some of the acts performing special one-off warm-up covers of the headliners, before this year's festival.
Be Charlotte performed an incredible acoustic cover of Biffy Clyro's 'Machines'. Catching up with the Dundee singer-songwriter after her performance Charlotte Brimner said: "Everyone is so excited today! There's always something special about the first ever festival. It's an amazing lineup and it's nice to be able to be a part of that and to still be an unsigned band."
Glasgow's Gerry Cinnamon brought the iconic venue's stage to life, with his outstanding rendition of Catfish and the Bottlemen's 'Cocoon', whilst The Van T's performed a beautiful version of Radiohead's 'Climbing Up the Walls'. Gerry Cinnamon said: "Glesga Green. Who doesn't want to play there?. I've been hibernating in the studio for the last year so it'll be good to get back in about it. Once I'm on stage it'll be business as usual."
The Vegan Leather brought the fun to Tut's with their version of The 1975, 'Somebody Else' and Vistas picked the chart-topping 'You're In Love with a Psycho' by Saturday headliners Kasabian.
JR Green, The LaFontaines and Wuh Oh joined fellow King Tut's Stage powered by Utilita acts and spoke about their upcoming performances at TRNSMT. The LaFontaines will headline the stage on Saturday 8th July and frontman Kerr Okan said: "It's always great to be part of something new and exciting, and with such a strong lineup, you can tell it's going to be special. Scotland's been crying out for a premier festival – hopefullyTRNSMT will fit the bill."
The festival also added a host of brilliant new names to the Jack Rocks line-up, including the exciting breakthrough band Black Honey and local talent additions Medicine Men and Tijuana Bibles. The full line-up includes, The Wytches, Superfood, Neon Waltz, The Shimmer Band, Vida, RedFaces, BlackWaters, The Phantoms, Strange Bones, Judas, Moonlight Zoo, Paves, The Assist, Sugarmen, Sahara, Foggy City Orphan, Heavy Rapid and Carousel. *See full line-up below
Dance fans can look forward to an outstanding line- up at #SmirnoffHouse, curated by the one and only Mixmag. The stage will play host to unmissable performances from electro-goddess Monki, Syreeta, Jaguar and Feel Good Smalls on Friday 7th July . A DJ set from Dance pioneers Coldcut, Nightwave, jazz-queen Rebecca Vasmant and Mosteph on Saturday 8th July and Glasgow's own Jasper James, Columbian twin DJ duo The Menendez Brothers, Silicone Soul and Sean Claude on TRNSMT's closing night. Full line up can be found below.
TRNSMT 2017 LINE-UP

FRIDAY 7TH JULY: Radiohead, Belle & Sebastian, London Grammar, Rag'n'Bone Man, Everything Everything and JP Cooper
KING TUT'S STAGE POWERED BY UTILITA: Honne, Louis Berry, Saint Motel, Be Charlotte, Wuh Oh, The Vegan Leather
JACK ROCKS STAGE: Black Honey, The Wholls, The Sundowners, The Phantoms, Sahara , Moonlight Zoo, BANG BANG ROMEO, Carousel
SMIRNOFF HOUSE CURATED BY MIXMAG: Monki, Syreeta, Jaguar, Feel Good Smalls

SATURDAY 8TH JULY: Kasabian, Catfish and the Bottlemen, George Ezra, The Kooks, Stormzy, Circa Waves and Cabbage
KING TUT'S STAGE POWERED BY UTILITA: The LaFontaines, Sundara Karma, Fickle Friends, Gerry Cinnamon, The Vryll Society, The Van Ts, Vistas
JACK ROCKS STAGE: The Wytches, Neon Waltz, Medicine Men, Vida, JUDAS, Paves, The Assist , Sugarmen, Heavy Rapids
SMIRNOFF HOUSE CURATED BY MIXMAG: Coldcut (DJ Set), Nightwave, Rebecca Vasmant, Mosteph

SUNDAY 9TH JULY: Biffy Clyro, The 1975, Two Door Cinema Club, Twin Atlantic, Blossoms, The View and The Strypes
KING TUT'S STAGE POWERED BY UTILITA: Tom Grennan, Clean Cut Kid, The Amazons, Declan McKenna, Lewis Capaldi, Vukovi, JR Green.
JACK ROCKS STAGE: Superfood, The Shimmer Band, RedFaces , Tijuana Bibles, The Blinders, White Room, Strange Bones, BlackWaters, Foggy City Orphan
SMIRNOFF HOUSE CURATED BY MIXMAG: Jasper James, The Menendez Brothers, Silicone Soul, Sean Claude

TRNSMT 2017 TICKETS

Standard (excl booking fee)
1 Day – £59.50
2 Days – £110
3 Days – £155
VIP (excl booking fee)
1 Day – £99
2 Days – £185
3 Days – £235

*SUBJECT TO BOOKING FEE