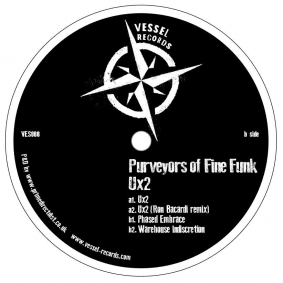 Purveyors of Fine Funk – Ux2
Vessel Records return with a release from Dan Curtin's Purveyors of Fine Funk moniker including remixes from Ben Sims' Ron Bacardi and Barrow Boy aliases.
Known for many significant moments in techno, the Metamorphic Recordings label boss Dan Curtin returns to his house roots through his Purveyors of Fine Funk alter-ego that's highly regarded for releases on Peacefrog Records, Nepenta and Bass Culture. The fantastic Vessel Records founded by Back to Basics resident James Barnsley come into its fourth year following releases from Politics of Dancing, DJ W!ld, Trackers, DJ Honesty and the label boss himself.
'Ux2' begins proceedings with funk-infused drums, fluttering melodies and mellifluous keys setting a soulful atmosphere to the EP. Techno legend Ben Sims dons his Ron Bacardi alias for a weighty, bottom heavy house interpretation which echoes his recent output on Bass Culture in the last few years.
Weaving acid shots, euphoric pads floating around the resonant kicks take the focus in 'Phased Embrace' before 'Warehouse Indiscretion' employs a fusion of techno and disco, blending punchy low end, groove-filled vocals and glorifying strings.
Ben Sims' alternate alias, Barrow Boy, famed for a remix of UK Rave Classic, 'Dominator' offers up a heavy, hardcore influenced roller, as the enticing notes balance harmoniously with rippling elements and alluring leads before a reprise of 'Phased Embrace' soothingly rounds off the pack.
Purveyors of Fine Funk 'Ux2' drops on Vessel Records on 7th June 2019
Tracklist:
1.     Ux2
2.     Ux2 (Ron Bacardi Remix)
3.     Phased Embrace
4.     Warehouse Indiscretion
5.     Ux2 (Barrow Boy Remix)
6.     Phased Embrace (Reprise)