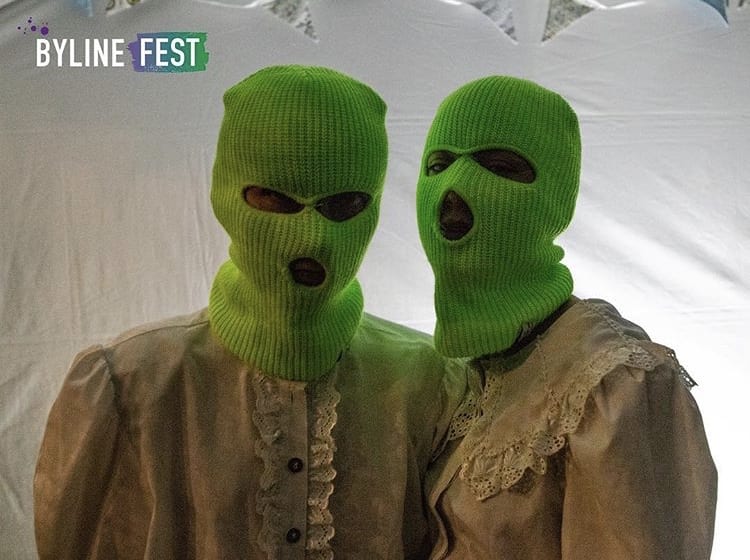 Pussy Riot announces their exclusive return to Byline Festival
Pussy Riot's exclusive return to Byline Festival 23rd-26th August 2019 announced.
It's not just John Cleese who has chosen Byline Festival as his only British performance, Pussy Riot are returning to Byline Festival for their exclusive UK tour date.
Pussy Riot blew away a crowd of thousands last year, so we are eagerly anticipating their electrifying return as even more of the group are set to take to the main stage this year.
Byline Festival may be new on the scene but is quickly becoming a favourite among household names like John Cleese and protest feminist punk group Pussy Riot, who, have both decided to give one-off UK performances this year at the festival, 23rd-26th August 2019.
Comedy, Music, Journalism and Activism will take over Ashdown Forest for the third time 23-26th August 2019.
Byline Festival is busy defining itself as a festival unlike any you've ever been to before. Every conversation, experience and performance will give tangible meaning to the tagline: DANCE, LAUGH, DISCUSS AND CHANGE THE WORLD.
Lowkey, the young activist and rapper will join Pussy Riot on the line up adding another socially conscious musician with an important message to change the world. This year at Byline Festival there is an eclectic mix of genres including Latin and jazz-inspired Matt Bianco; new wave giants The Blow Monkeys, Don Letts from Big Audio Dynamite, Jerry Dammers, founder of The Specials and Two-Tone; Kevin Rowlands, Joey Base and The Priscillas.
Extinction Rebellion is bringing their 'Rebel Rebel' stage where festival goers will have the chance to be trained in their non-violent direct action.
Hilarious interludes from Hardeep Singh Kohli, Joanna Scanlan and The House of Comedy and our Poet Laurette Salena Godden and a festival favourite: the Bad Press Awards.
With immersive experiences such as the Human Library and Walk a Mile in my Shoes from the Empathy Museum, the Belarus Free Theatre, Kitchen Revolution and over 100 workshops, there's plenty to get your teeth into.
We offer plenty of activities for all ages, whether it's taking a well-earned break from all the fun at Woodland Spa or one of our many kids experiences there is something new for everyone to do at Byline Festival.
ENDS
Buy tickets www.bylinefestival.com/2019
Press: [email protected]