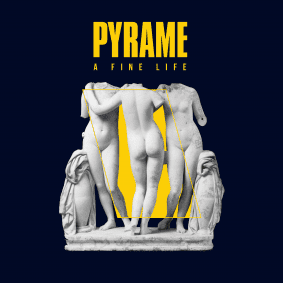 PYRAME – A Fine Life Remix EP
Rodion, Acid Washed, Days of Being Wild and Omer provide four rapturous remixes of PYRAME's 'A Fine Life' EP on HIFI/LOFI Records.
PYRAME is the brainchild of David Naville, a traveller and cosmic poet living in Berlin who makes his debut to HIFI/LOFI Records following their releases and work with artists like Languages, Local Suicide, Atelier Francesco and label boss Franz Matthews. 'A Fine Life Remix' EP sees PYRAME invite four exciting artists to remix this galvanising, cosmic package including Italian artist Rodion who has releases on Gomma and Les Disques De La Mort, London's Days Of Being Wild, Love On The Rocks' artist Omer and French electronic masters Acid Washed, fronted by Andrew Claristidge.
'Losing Control' Days of Being Wild remix begins proceedings with effervescent oscillations, ecstatic pads in the distance and undulating euphoria before Omer's remix of 'Where Are We Now?' deploys vibrant percussive loops, fluttering cosmic synths and enrapturing melodies.
Acid Washed then progresses into a chugged-out remix of 'A Fine Life' delivering low-slung bass grooves, tranquil pad sweeps and warming vocals until Rodion's interpretation of 'Platonic' finishes things off with acid-tinged elements, eccentric vocals from Moon Wave and pulsating modulations keeping the energy flowing throughout.
PYRAME 'A Fine Life Remix' EP drops on HIFI/LOFI Records on 28th June 2019 (Vinyl). The Remixes will then be released digitally every two weeks.
Pre-order: https://hifilofirecords.bandcamp.com/album/a-fine-life-ep-2
www.facebook.com/pyramemusic
ww.instagram.com/pyramemusic
http://hifilofirecords.com
https://www.facebook.com/hifilofirecords
Tracklist:
1. Losing Control (Days of Being Wild Remix)
2. Where Are We Now? (Omer Remix)
3. A Fine Life (Acid Washed Remix)
4. Platonic feat. Moon Wave (Rodion Remix)
Digital release dates
1. Where Are We Now? (Omer Remix): 10th July
2. Platonic (Rodion Remix): 25th July
3. A Fine Life (Acid Washed Remix): 20th August
4. Losing Control (+ Full remix EP): 30th August