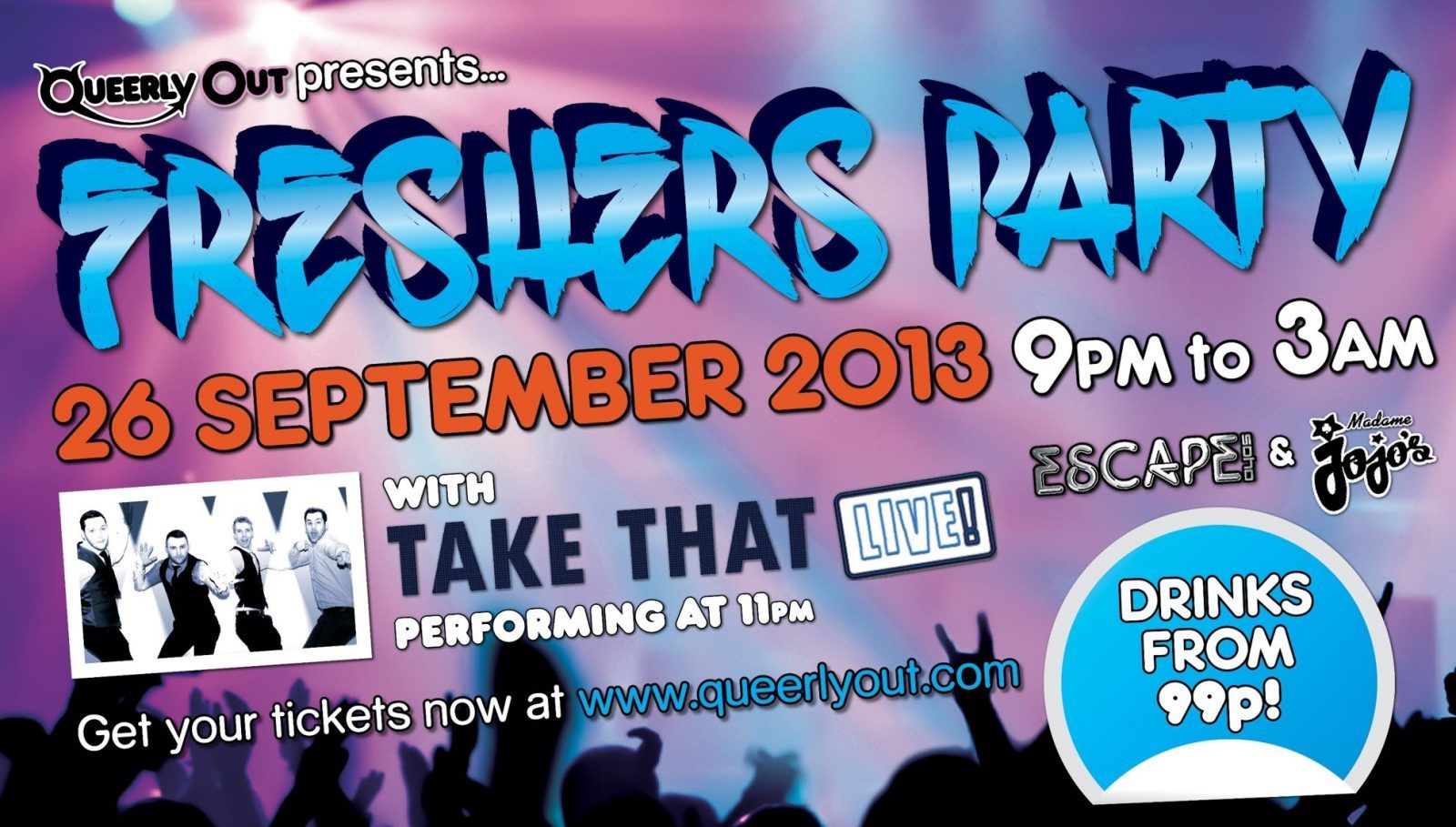 QueerlyOut's Fresher's Party with Take That! Tribute Act
BOYZ Gold Award Winning QueerlyOut hosts its BIGGEST party of the year, our annual FRESHERS PARTY, which returns to London on Thursday 26th September!
We take over Escape Bar ad Madame Jojo's to bring you the best in live entertainment, with the UK's No. 1 Tribute Act, Take That! Live performing in Madame Jojos from 11pm. There's also be karaoke in Escape Bar from 9pm with Jason Prince and DJ Matt Unique, and the best in commercial pop, dance and RnB spun by our award-winning resident DJ, Robby D.
More info at http://original.jpgwww.liveshowentertainment.co.uk/takethatlive.html
Our drinks prices are the CHEAPEST in Soho, and available ALL NIGHT LONG:
Tequila shots – 99p
Sambuca shots – 99p
Vodka + mixer – £1.60
Whiskey + mixer – £1.70
Bud '66 – £1.80
Advance tickets will be available online NOW at:
http://original.jpgtinyurl.com/k96c5h3
Or can be purchased from QueerlyOut on Thursdays or QueerlyPOP! on Tuesdays.
Tickets:
£8 – Advance tickets only – only available until Friday 13th September – guaranteed entry + queue jump
£10 – Standard ticket price – guaranteed entry + queue jump
£12 – On the door. No guaranteed entry
Entrance price gets you into both venues.
Don't miss a night to remember!! See you at the bar 😉