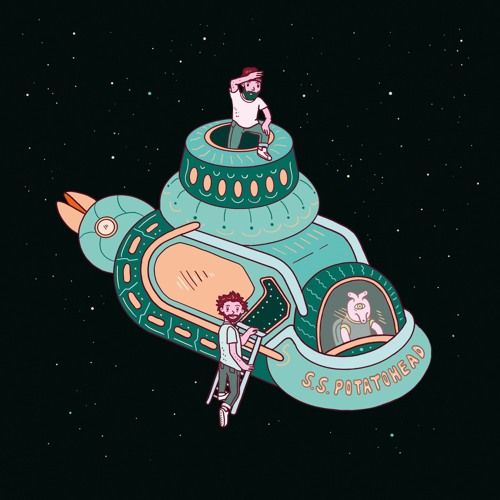 Potatohead People - Quest For Love
Comprised of Vancouver producers Nick Wisdom and Astrological, Canadian duo Potatohead People boast a number of noteworthy accolades thanks to a signature sound that can be described as a J Dilla-esque hip-hop / future electronic feel. Beginning with a series of EP's, including their landmark "Kosmichemusik" EP, Potatohead People's productions quickly made their way to artists like Illa J who tapped the duo to produce his now critically acclaimed self-titled album, as well as producers like Kaytranada who co-produced Illa J's "Strippers" with the pair. Adding to their list of supporters, acts and collectives such as Soulection, Nightmares on Wax, Pomo, Exmag, Big Boi, and Phife Dawg have also played formidable roles in championing the sound of Potatohead People.
Now with two years since their last release, 2015's critically acclaimed debut album Big Luxury, Potatohead People are ready to reveal the next installment of their discography with a brand new album titled Nick & Astro's Guide To The Galaxy. Due out May 11th via Brooklyn label Bastard Jazz, Nick & Astro's Guide To The Galaxy picks up right where the pair left off with a batch of forward thinking instrumentals and singles. Today, we're getting our first glimpse into the record with LP cut "Quest For Love."
A lush and laidback production, "Quest For Love" sees Potatohead People return with a hip-hop influenced foundation that is beefed up with bouncing boom bap rhythms, guitar and horn instrumentation, and looped vocals to complete a mesmerizing effect. Setting the tone for the remainder of the album, fans can expect 11 more brand new tracks from the project, including collaborations with Illa J, K-Maxx, Nanna B, Kapok, Moka Only, and Trian Kayhatu.
Nick & Astro's Guide To The Galaxy will be available everywhere, on digital and vinyl, May 11th.