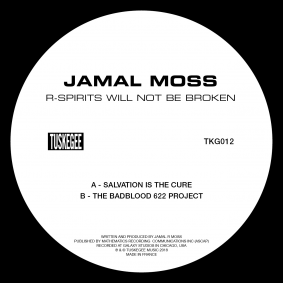 Jamal Moss - R-Spirits Will Not Be Broken EP
Seth Troxler & The Martinez Brothers' Tuskegee Music welcomes a standout dance music innovator with a new EP from Chicago great Jamal Moss.
Moss is best known as Hieroglyphic Being, an artist who cooks up raw, inventive, rule breaking tracks and live sets of techno, house, and acid. His uncompromising style is informed by having grown up seeing the likes of Ron Hardy play at the legendary Muzic Box in his native Chicago. He runs the esteemed Mathematics label and is hugely prolific as well as being an artist who very much does things on his own terms, much to the delight of global press and his hardcore fanbase alike.
This double pack vinyl release opens up with the uniquely raw deep house of 'Salvation is the Cure', featuring icy hi hats and jacking drums which all have a live and authentic sound. A skewed acid line sprays about for extra ruggedness and distant chords bring a sense of futurism to the whole thing. 'The Bad Blood' is a majestic track of tumbling drums and off kilter percussive sounds all backed by exquisite synth work that exudes a pained sense of soul. It's loose limbed and dynamic, always evolving and featuring the sort of killer bassline that will send clubs wild.
Title track, 'R-Spirits Will Not Be Broken' then ups the ante with knackered, hard hitting drums that are frazzled and lo-fi, spinning hi hats that teeter on the edge of all out chaos. It's a bristling, edgy brew of in your face sounds that will blow the roof off whenever it's dropped. Last of all, 'The Low End Theories' is six more minutes of impressively instinctive, scuffed up drums, hits and twisted cosmic melodies. It sounds like chaos at first, but over time patterns emerge and you cannot help but be consumed by the strange beauty of it all.
This is a typically unique and expressive house offering from one of the most innovative names in the game.
Tracklist:
1. A1 – Salvation Is The Cure
2. B1 – The Bad Blood 622 Project
3. C1 – R-Spirits Will Not Be Broken
4. D1 – The Low End Theories