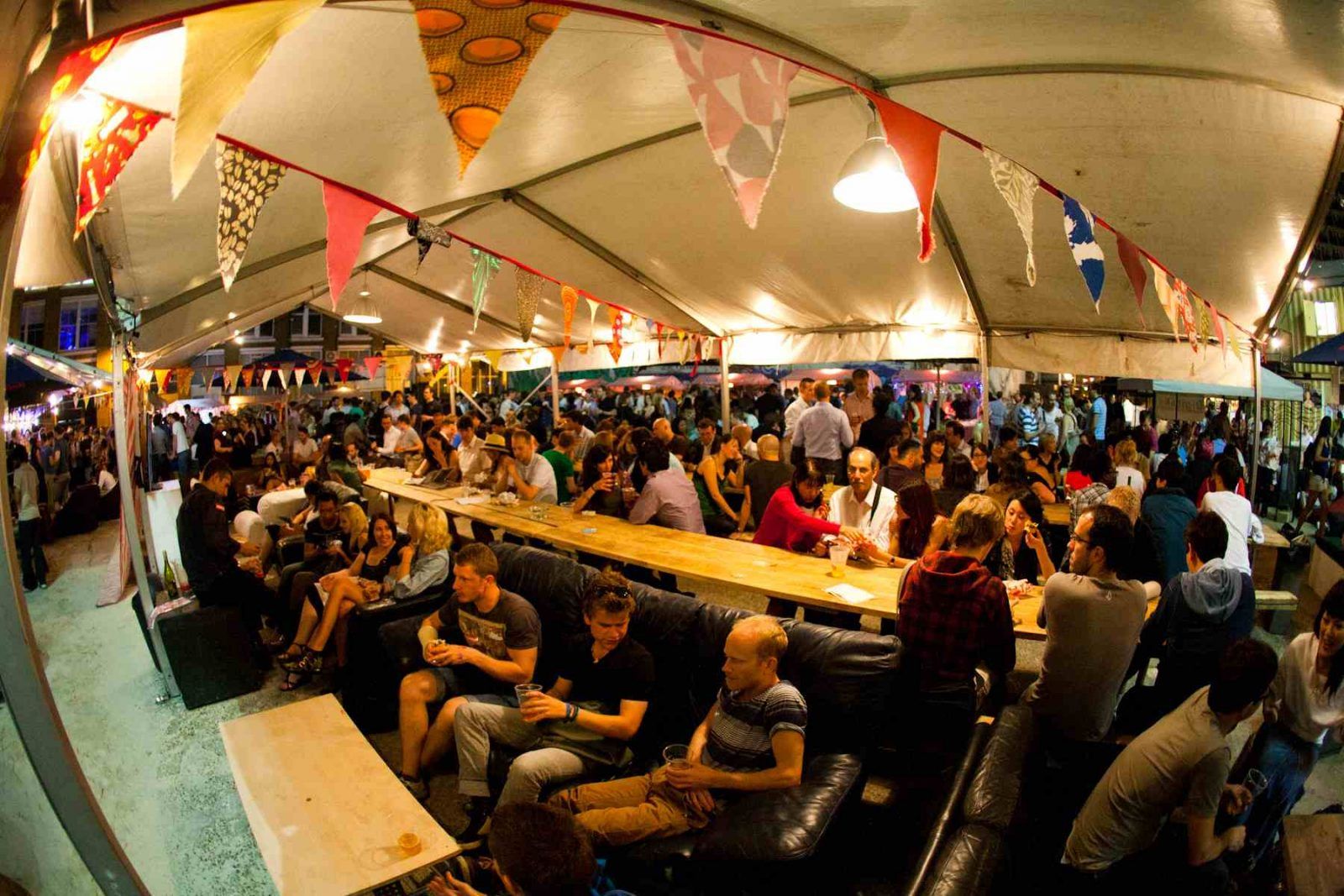 #R3D Market announces closing parties
#R3D Market, the nocturnal street market organised by Red Gallery, which has helped revolutionise the street food market scene in London, will be throwing its closing parties this Thursday 15th and Friday 16th August in Old Street, Shoreditch.
Spurred on by great food and great music, the event has seen capacity crowds of local artists, young creatives, international students, partygoers and foodies alike, all celebrating #R3D Market's Balearic sunset vibe in the middle of London's East End. As well as hosting some of the hottest street food vendors in London, this year's market has been soundtracked by DJs from Rough Trade, Phonica, Dalston's Vortex on Thursdays and Phil Mison and friends including Chris Coco, Pete Herbert and Moonboots, bringing the Balearicos party to the heart of urban Shoreditch on Fridays.
This Friday, legendary Café Del Mar DJ, resident Phil Mison will be joined by special guest DJs Justin Robertson and Nancy Noise bringing their own take on Balearic to the proceedings. Much-loved former Hacienda DJ & Lion Rock producer, Justin Robertson, remixed artists such as Fatboy Slim, Chemical Brothers, Bjork, Stone Roses, Happy Mondays while remaining a creative force in house and techno for over two decades. He has recently released an album under The Deadstock 33s moniker and is a firm favourite at festivals including Beat-Herder, Secret Garden Party and Bestival. Justin is joined by original acid house, Spectrum & Ibiza DJ veteran, Nancy Noise. Meanwhile Thursday hosts The Diaz Brothers, Sandeman & Dickie from Wildkats and Tboy https://soundcloud.com/straf_werk/wildkats-straf_werk-daytime-11
Now in its third year, #R3D Market has bolstered its culinary reputation by choosing the award winning Burger Bear Tom to select some of the city's finest independent food outlets to take part. Mark Hix's Fish Dog, Pasta e Basta, Lovesmilejerk and many more also involved. Cocktails have been supplied by Background Bars, whose first-rate bar and table service has helped to keep the good times rolling.
#R3D Market is a multifunctional 500-capacity outdoor venue offering a music and art program throughout the summer and is curated by the Red Gallery http://redgallerylondon.com/.
Complete with table service, marquees, extended undercover tables and seating, hammocks, a roof terrace and a sandy beach (and is child-friendly).