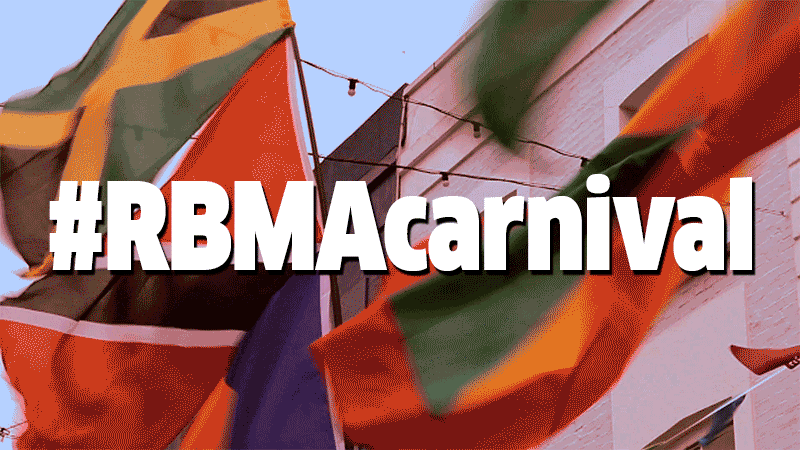 Tickets for Red Bull Music Academy Carnival available NOW
As summer heats up, prepare for things to get a little hotter as those horns blare in the distance, the bass reverberates far and wide, and the waft of jerk chicken fills the air… it's Carnival time! Red Bull Music Academy is delighted to announce the return of their legendary Notting Hill Carnival party under the Westway on Monday 26th August.
Returning for its sixth year, the Red Bull Music Academy Notting Hill party will once again be THE party of carnival. This year the king of carnival – David Rodigan MBE – extends his usual 15-minute secret RBMA carnival appearance with a full on Ram Jam experience. For the first time ever at Notting Hill Carnival, David Rodigan MBE rolls out the green, yellow and black carpet to the legendary Marley Brothers. Damian 'Jr Gong' Marley, Stephen 'Ragga' Marley, and Julian Marley are, of course, the musical genius offspring of Jamaica's reggae legend Bob Marley, with Stephen's son Joseph Marley (aka Jo Mersa) joining this special line-up. Also appearing as part of the Marley collective are fellow Jamaican reggae artists Wayne Marshall, Christopher Ellis and Black Am I who, alongside Jo Mersa, form part of the Ghetto Youths Crew – the label founded by the Marley Brothers.
Also getting ready for an exclusive Carnival set are Disclosure, the brotherly duo who are viewed as electronic gods of the UK's music scene, having recently steamed straight to #1 of the UK album charts with their debut album 'Settle' which was part-recorded at Red Bull Studios.
No strangers to Red Bull Music Academy parties, MJ Cole returns for a special carnival back to back set with Wookie and a special secret guest, while former Academy alumni XXXY and Nightwave turn up the heat, the latter playing a back to back set with Rinse FM's Éclair Fifi. Fellow Rinse FM DJ and one of this year's New York Academy participant T Williams triumphantly flying the RBMA flag, all keeping their wings in full flight mode for what will be one of Red Bull Music Academy's all-time carnival history highs.
Pairs of tickets for this year's RBMA party at Notting Hill Carnival will be available by a ballot held at www.redbull.co.uk/carnival. The ballot will be open to entry from 10am on Monday 12 August until 5pm on Friday 16 August. Lucky entrants will then be notified on Monday 19th August.
Fans can pick up on the action afterwards, whether there or not, with sets being available to stream via www.RBMAradio.com.