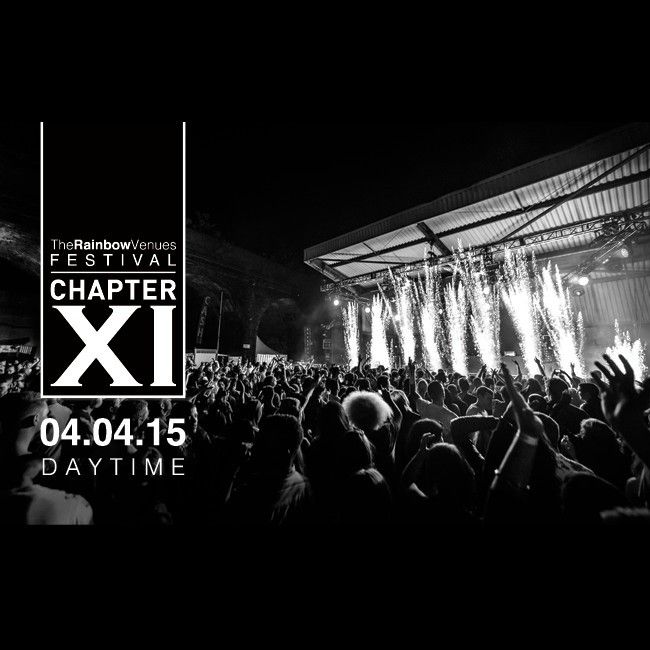 Rainbow Venues 11th Birthday Festival
The Rainbow Venues annual birthday celebration. In 2015 we enter chapter 11, our most ambitious year to date, creating a full on metropolitan festival experience for our 11th Birthday weekend.
On Saturday 4th April, combining our unique industrial spaces, The Arena, The Warehouse, The Garden plus 2 new venues The Basement and The Arch, we set host to our grandest event to date, uniting thousands of music fans for a 14 hour marathon. Teaming up with the cities best brands we showcase a huge poole of international DJ talent and some of our favourite DJs of the last decade, creating a mixed musical theatre of genres.
Birmingham's newest techno brand Blackdot hosts the distinctive Arena stage, welcoming heavy hitters such as Desolat's Loco Dice and king of Berghain Ben Klock, with support from Hector and local lads Whyt Noyz.
In the Warehouse one of the cities most exciting brands The Portal takes centre stage, joined by the infamous talents of Birmingham house music legend Steve Lawler alongside Robert Dietz and Paradise favourites Richy Ahmed and Patrick Topping. As always with Portal, the staging and production will be innovative and unlike anything you will have witnessed before.
FACE & Resonate showcase the newly refurbished Garden, which will now boast natural light and a complete venue transformation. It is here you will catch the distinctive musical styles of Irish duo Bicep along with Daniel Avery, Paul Woolford and Ejeca.
New Venue The Basement aims to encompasses a true rave atmosphere, with low ceilings and bespoke, minimal lighting, providing a truly immersive dance floor experience. It is in here you will find the big bass sounds of acts like Shadow Child, DJ Zinc, T.Williams & Tom Shorterz as Seedy Sonics & 02:31 take charge.
The second of the new venues The Arch will provide a new break out space from the Mezzanine. Nestled underneath the Rainbow's defining feature, it doubles up as a chill out or as another room of music, allowing for an intimate party vibe. This is where you will stumble across the unique sounds of the SWAMP81 Collective as Shadow City host Loefah, Benton, Chunky and Klose One.
To end the weekend we bid farewell to one of the countries most loved and respected parties; Below. On Sunday 5th April the iconic event comes to an end after a decade of clubbing service, hosting one last show in it's home The Rainbow Courtyard. You can expect some very special performances from a carefully selected list of DJs, having invited back those who have supported the event over it's 10 year life. The admiration for Below lead to the show selling out in a matter of minutes, with party goes from all around the country uniting for one last dance.
Saturday 4th April – Rainbow Venues Chapter XI
The Arena – Blackdot
Loco Dice Seth Troxler Ben Klock Hector Whyt Noyz Stephanie Sykes
The Warehouse – Portal X Dolce Vita
Steve Lawler Robert Dietz Richy Ahmed Patrick Topping
The Garden – FACE X Resonate
Bicep Daniel Avery Paul Woolford Ejeca
The Basement (New) – 02:31 X Seedy Sonics
Shadow Child DJ Zinc T. Williams Tom Shorterz
The Arch – (New) – Shadow City presents SWAMP81
Loefah Benton Chunky Klose One
Sunday 5th April – The Last Ever Below
Line up TBA