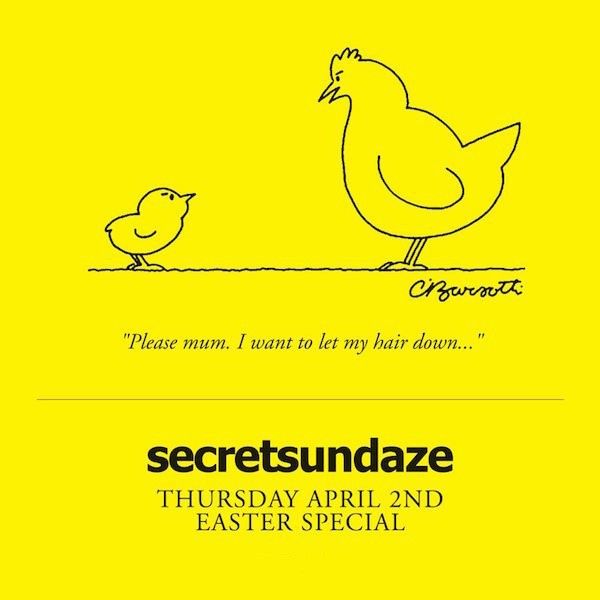 secretsundaze Easter Special
secretsundaze reveal full details of their Easter Special party and announce the release date of headliner DJ Qu's 'SS1' EP out on secretsundaze 16/03/15.
secretsundaze today reveals the line-up for the third party of 2015, returning to the basement of The Laundry in Hackney for their annual Easter Thursday event. Guests DJ Qu, Mosca and Virginia will perform, along with residents James Priestley and Giles Smith.
Headlining the party secretsundaze invite firm favourite DJ Qu (Strength Music, NYC). Qu has played for them on numerous occasions quite simply because he always brings the heat. His productions are incredible and range from the sublimely soulful (check 'The Way') to more edgy weird fare to out right dance floor bombs. 'Party People Clap' anyone? Alongside his friends Levon Vincent and Fred P he has pushed the NYC sound to new heights.
secretsundaze are very happy to reveal that headliner DJ Qu will be releasing a stunning 3 track EP on secretsundaze on 16th March just a few weeks before the party. After playing at the party numerous times both in the UK and abroad with Giles and James a release on the label was a natural progression.
secretsundaze also invite the UK's Mosca back for his second appearance. Mosca is a man on a mission with previous radio shows on Radio 1 and Rinse as well as his current monthly show on NTS. His passion for music, be that house, techno or his roots of bass and garage, is evident. Releasing on the likes of Numbers, Hypercolour and his new label Not So Much, his DJ sets are varied and exciting and his set at secretsundaze is sure to impress.
The final guest for the night is Panorama Bar and Ostgut Ton artist Virginia. Known perhaps equally well as a vocalist as a DJ she manages to combine the two when spinning and the last time secretsundaze played alongside her she stood on the edge of the booth bellowing out over a Chicago house jam! She has been working hard on her own productions and has released 2 EPs on Ostgut Ton with 'Tanglish' being a secretsundaze favourite. Her DJ sets are a romp through all that is good within house and techno.
secetsundaze fine residents Giles Smith and James Priestley will of course will be forever present and bookmarking the evenings proceedings as they have been doing since day one.
So the scene is set for another epic night at The Laundry. Easter Thursday at secretsundaze is the perfect way to start the bank holiday weekend. You know what to do!
secretsundaze Easter Special
Thursday 2 April 2015
22:00 – 06:00
The Laundry, 2-18 Warburton Rd, E8 3FN
DJ Qu
Mosca
Virginia
James Priestley
Giles Smith
Tickets from £9.50