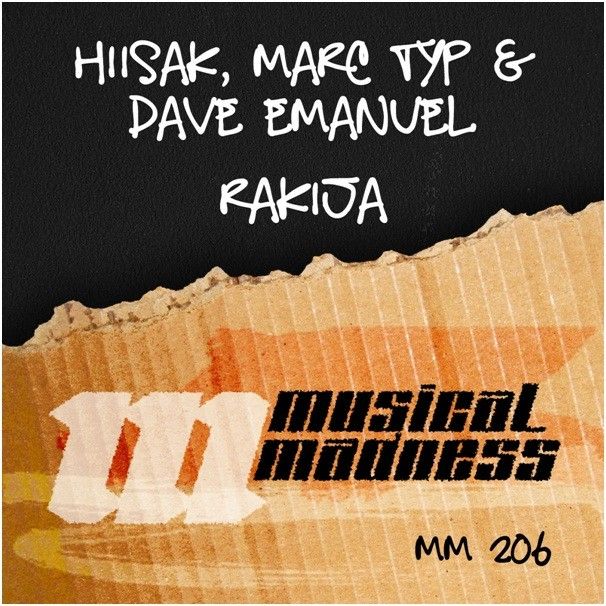 Hiisak, Marc Typ & Dave Emanuel - Rakija
Up-and-coming DJ and producer Dave Emanuel is back again, firing another top notch release to add to his already rich catalogue. After putting his name on distinctive releases such as: 'Desert', 'Hermes', 'Epos', 'Fury', 'Azuria', 'Cheops' and 'Ares', he's now offering another exciting effort by the name of 'Rakija', in collaboration with the talented duo Hiisak and Marc Typ.
David Horhager, the man behind the Dave Emanuel moniker, is a versatile artist proposing a unique blend of sounds dabbling into various electronic music genes and extending into Classical, Jazz and Folk influences. Along the years the Swiss talent has managed to land deals with elite labels such as: Streamlined (Spinnin'), Hotfingers, JUMMP, Flashover, Be Yourself Music, Plasmapool (TRXX), Vous, Arisa Audio and Big Fish amongst others. His highly original style has also attracted the attention and support of top international DJs like: Hardwell, Nicky Romero, Tiesto, Armin van Buuren, Diplo, Swanky Tunes, Chuckie, Blasterjaxx, Sikdope, Ferry Corsten, Above & Beyond, Paul van Dyk, Giuseppe Ottaviani, Cosmic Gate, W&W and Judge Jules to name a few, whilst also boasting important collaborations with: Tom Ferro and Nick Double.
Dave Emanuel's newest creation 'Rakija' is a team-up with Italian duo Hiisak and Marc Typ, pitching in their Mediterranean influences. The single starts off with punchy kicks, off-beat snare patterns and infectious synth phrases, before intensifying the low end with a bass-boost. A huge ascension resolves into a subby breakdown, characterised by rumbling bass-synths and catchy brass melodies. 'Rakija' gains massive momentum with a seismic drop featuring EDM elements and World music inspirations, adding a unique flavour to the track whilst a slowing tempo then introduces the Arabic feel section, driven by traditional Darbouka rhythms, epic string arrangements and trumpet passages before bursting into another vicious chorus. The production trio then start stripping away energy levels, directing 'Rakija' into a mellower ending.
'Rakija' is now part of Musical Madness' growing catalogue. The brainchild of world renowned DJ and producer Marcel Woods, the imprint is the culmination of his musical vision, breaking boundaries between different styles and offering an enticing new breed of sounds. Musical Madness has seen an exponential growth along the years and has been home to prominent names such as: Ruby & Tony, Ironiq, NekliFF, Assino, Regilio, Arlo, Blasfem, Frame, DJ Rob, Jonas Stenberg, Incognet, Andy Power, Lunar, Dark Drake, Lost Rush and many more. Dave Emanuel, Hiisak and Marc Typ are certainly a remarkable addition to the Musical Madness family and are surely representing the newer generation of talents that will continue to help grow this label's capital in the years to come.