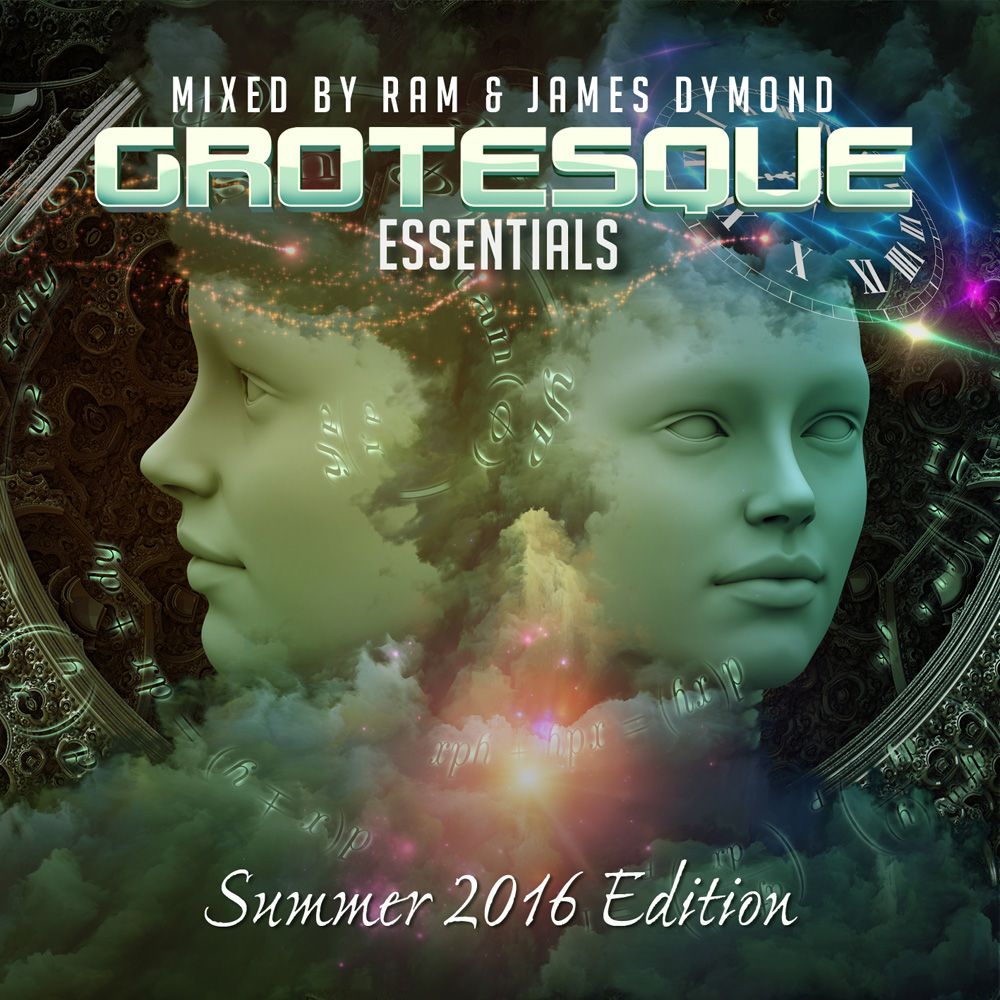 Various Artists - Ram & James Dymond – Grotesque Essentials Summer 2016 Edition
Grotesque, as any switched-on/tuned-in/tranced-up party-head knows, has pivoted from being the purveyors of some rather fine boutique trance events to one of middle-Europe's most rapidly expanding music brands. It's spawned record labels, given birth to radio shows, orchestrated arena-sized blowouts, hosted festival stages and – most recently – landed on Ibizan shores.
'Essentials' by name, essentials by nature, RAM's wastes zero time injecting peak-time summer ordinance into his mix. Frontend, that means Stoneface & Terminal's irrepressibly sunny 'Keep Going', the Beatport chart topping 'Neba' from Ferry Corsten's Gouryella and 'Bound To Redshift 7' from M.I.K.E. Push. Further in, things become instrumentally uplifting thanks to The Noble Six's 'Oddworld', vocally uplifting courtesy of Sneijder & Katty Heath's 'The Only Place', and out-of this-world uplifting through Giuseppe Ottaviani/Orkidea collab 'North Star'. RAM and Indecent Noise ensure things culminate in suitably banging fashion through their 'Doom Device' co-op, before UCast's rework of Kamaya Painters 'Endless Wave' gives his mix that end-of-the-night anthemic after-touch.
Keeping the Grotesque fires burning every bit as bright, James Dymond salvos Adam Ellis' 'Mr. Mayhem', Mark Sherry's 'Gravitational Waves', 'Sapera' from Factor B and A.R.D.I.'s rewire of Somna & Jennifer Rene's 'Hands' into the mix. Latterly he rolls out more headline material, firing up Will Atkinson's remix of John O'Callaghan's 'Lies Cost Nothing', his own take on Aly & Fila's 'It Is Love?' and Sied van Riel's roof-destroying rewire of Tiësto's 'Traffic'.
32 2016 hot season 'Essentials', all on one album and expertly mixed by two of the scene's most exciting decktitions. Summer just went supernova!
RAM & James Dymond – Grotesque Essentials Summer 2016 Edition
Mix 1 – RAM
01. Stoneface & Terminal – Keep Going
02. Dimension & Ryoji Takahashi – Hidamari
03. Ferry Corsten, Gouryella – Neba
04. Orla Feeney & Kriess Guyte – Vortex
05. M.I.K.E. Push – Bound To Redshift 7 (2nd Phase Remix)
06. Sneijder & Katty Heath – The Only Place
07. Matt Bukovski & Andy Elliass – Sphinx
08. The Noble Six – Oddworld
09. Craig Connelly featuring Tricia McTeague & Rory O'Grady – Meet At The End
10. Giuseppe Ottaviani & Orkidea – North Star (Extended Mix)
11. Sneijder & Giuseppe Ottaviani – Nero (Solarstone Retouch Extended Mix)
12. Andy Moor vs Orkidea – Year Zero (Mike Sanders Remix)
13. Daniel Skyver & Lee Osborne – Rivalry Aside
14. Rene Ablaze featuring Diana Leah – Don't Turn Away
15. Indecent Noise & RAM – Doom Device
16. Kamaya Painters – Endless Wave (UCast Remix)
MIX 2 – James Dymond
01. Adam Ellis – Mr. Mayhem
02. Tempo Giusto & Ima'gin – Pachinko (Edit)
03. Mark Sherry – Gravitational Waves
04. Kristy Jay – Jersey Jesus
05. Factor B – Sapera
06. Somna & Jennifer Rene – Hands (A.R.D.I. Remix)
07. Forerunners – Lifecycle (Amir Hussain Remix)
08. Alex Ryan – Connect
09. James Dymond – Defector (Extended Mix) (7:45)
10. Mike Sanders – Palma
11. John O'Callaghan & Clare Stagg – Lies Cost Nothing (Will Atkinson Remix)
12. Aly & Fila featuring Ever Burn – It Is Love? (James Dymond Remix) (8:01)
13. Sunscreem – Please Save Me (James Dymond Remix)
14. Menno de Jong – Ahimsa (Indecent Noise Remix)
15. Mallorca Lee & Stephen Kirkwood – 2029 (Jamie Walker Remix)
16. Tiësto – Traffic (Sied van Riel Remix)
www.facebook.com/ramofficial
www.twitter.com/djramnl
www.soundcloud.com/djram-nl
www.blackholerecordings.com
www.soundcloud.com/blackholerecordings